West (Westen), Christian Schwochow's insightful and powerful tale of one womans escape to the West - Jurassic World is an all claws and jaws fun adventure spectacle - London Road is an impressive, darkly funny and thought provoking adaptation of the National Theatre hit - Joshua Oppenheimer's stunning The Look of Silence focuses on the victims of the 1965 Indonesian genocide with mesmerising power - Age of Kill, a low budget feature tries for the high octane Liam Neeson Taken action thriller but doesn't quite make it.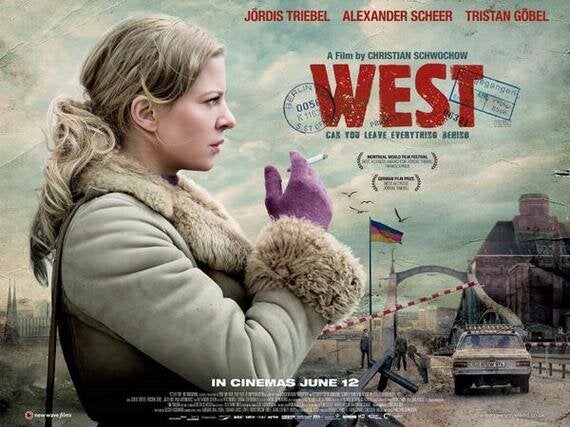 Director: Christian Schwochow
Cast: Jordis Triebel, Tristan Gobel, Alexander Scheer, Jacky Ido
language: German, English, Russian, Polish with English subtitles
Country of Origin: Germany 2013 102 mins.
FIPRESCI Prize & Best Leading Actress (Montreal 2013), Special Mention of the Critic's Jury (Arras 2013), Best Actress: Jördis Triebel (German Film Award 2014)
It's been three years since Vasily Batalov, a Russian physicist left for a conference in Moscow and wrapped a white jumper around his son Alexei's (Tristan Gobel) shoulders. Nelly Senff (Jordis Triebel) stands nervously in her flowery summer dress with two suitcases, her exit visa in her bag and her son Alexei clutches his school bag and a cuddly toy. A VW draws up and a West German takes them to the checkpoint. Nelly's pretended to get married to a man from the West but it's freedom she craves. A final humiliating strip search at the checkpoint and then the lights glow. Nelly and Alexei are in West Berlin.
Home is the Marienfelde Refugee Centre, the first step towards a flat and a job and a new life but first she needs to confront a new system - invasive examinations, questions, forms and interrogations. It's humiliation by the very system that Nelly assumed would free her. The Americans are interested in Vasily. CIA agent John Bird (Jacky Ido) thinks that he wasn't killed in a car crash in Moscow. Was he a Stasi agent ? Is he alive? Did Nelly ever know Vasily ? An ever increasing paranoia consumes Nelly. Surveillance and suspicion, Interrogations continue, uncertainty, fear and distrust. Everyone's a potential Stasi informer. Who's to be trusted? Polish musician Krystyna (Anja Antonowicz) who befriended Nelly or Hans Pischke (Alexander Scheer) who's always there when Nelly needs something and has taken Alexei under his wing ? Can past memories be erased and Nelly and Alexei have a a new beginning in the West?
Heide Schwochow's script based on Julia Franck's novel 'Lagerfeuer' offers an vivid insight into living with unease, uncertainty fear and distrust during that dark period of division between East and West. Frank Lemm's hand held camera adds a documentary feel, the cast are excellent and Berlin simmers with intrigue.
Released by New wave Films 12th June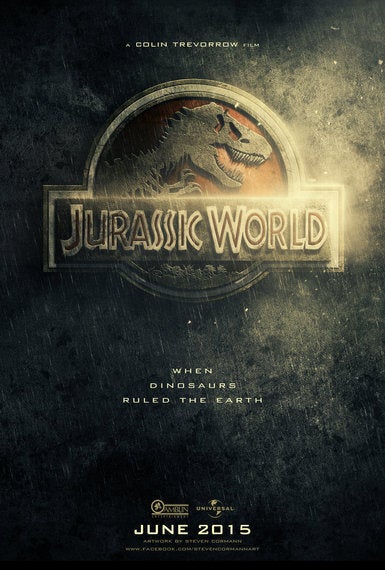 Director: Colin Trevorrow
Cast: Chris Pratt, Judy Greer, Ty Simpkiur
Genre: Action Adventure Sci-Fi
Country of origin: USA 2015
Released by 20th Century Fox
Jurassic World, the fourth film in the dinosaur franchise is a fun summer blockbuster, an all claws and jaws adventure that's thrills and visual driven with narrative and character development secondary. It's 22 years since Jurassic Park based on Michael Crichton's novels but it's the same island with an updated plot, sit back and enjoy the thrills and spills tongue in cheek.
Jurassic World, the island theme park has thrills and spills but billionaire owner Simon Masrani (Irrfan Khan) senses that the kids want more so it's up to Dr Henry Wu (B.D. Wong) and a bit of genetic engineering to come up with a bigger is better dinosaur. Indominus Rex, intelligent, terrifying, she loves to hunt, is super quick on her feet with claws and jaws made for quick kill feasting and a deafening roar that would wake the dead. Jurassic World's hit the crowd pulling jackpot. Of course any decent Indominus Rex isn't going to sit around grinning at the crowds when she could be feasting on them so it's break out time and a Jurassic World in melt down panic. It's time to bring in motor bike riding Indiana Jones in all but name, Owen Grady (Chris Pratt) who's been taming Velociraptors that could be used by the military and Park Operations Manager Claire (Bryce Dallas Howard) who swops her business suite for adventures galore as they go in search of her teenage nephews, Zach (Nick Robinson) and his younger brother Gray (Ty Simpkins) before they're gobbled by the roaring, kill anything that moves, hybrid Indominus Rex.
Sure, it's ridiculous but it's a fun spectacle, Chris Pratt and Bryce Dallas Howard do the Indiana Jones to the rescue bit and the thrill visuals make for an easy and fun 124 minutes action adventure viewing.
Released by Universal Pictures 12th June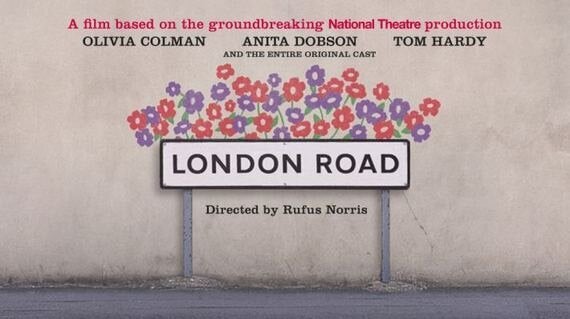 Cast: Olivia Colman, Eloise Lawrence, Anita Dobson, Kate Fleetwood
Genre: Adventure, Musical, Mystery
Country of Origin: UK 2015 91 mins.
Outstanding performances and a spot on direction makes the transfer of London Road, a National Theatre hit, to the big screen a resounding success.
London Road, Ipswich had struggled for years with soliciting and kerb crawling and the discovery of five bodies, the media scrum and the conviction of a local man Steve Wright seemed the most unlikely of subjects for a musical but with lyrics based on Alecky Blythe's recorded interviews a critically acclaimed musical drama emerged that showed how the residents coped and rebuilt their community. Darkly funny and thought provoking, the film adaptation reunites eleven of the original cast with Olivia Colman as Julie, outspoken mother and worker who just wants to make things better, to resurrect a community feel, Tom Hardy as the taxi driver Mark with a know-it-all obsession with serial killers and Anita Dodson who plays June, sympathetic to the plight of the girls. The girl's lives are an on-going struggle and their stories are revealed with a heart breaking and frightening honesty. And London Road, a fragmented community, terrified by the thought of a murderer in its midst got itself together and emerged triumphant. And they all sing, don't forget this is a musical. Adam Cork's imaginative musical score, Alecky Blythe's script and terrific cast performances capture the mood and fear within the community and the mixed reactions to the sex workers. An impressive adaptation for the big screen that's darkly funny and thought provoking.
Released by Picture House Entertainment 12th June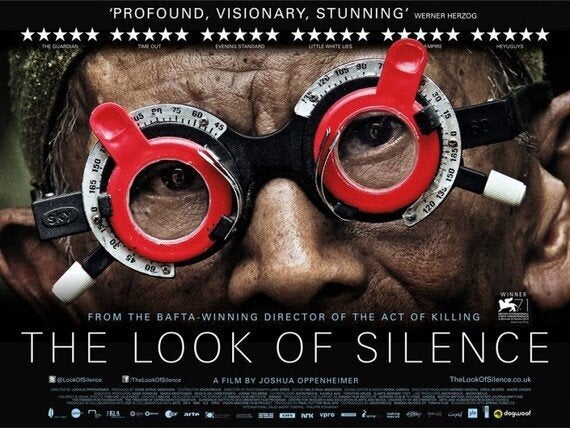 Director: Joshua Oppenheimer
Country of Origin: Denmark, Finland, Indonesia, UK 2014 98 mins.
The Act of Killing reflected on the Indonesian mass slaughter of communist sympathisers and ethnic Chinese in 1965. The Look of Silence, Joshua Oppenheimer's powerful companion piece focuses on the victims and Adi, an optometrist who has the courage to confront the men, some of whom remain in power, who murdered his brother Ramli. In silence Adi watches Oppenheimer's 2004 footage of these men on the very spot where they butchered his brother. With immense courage he confronts the killers speaking to them about the past while testing their eyes with a trial fame and glasses. How will these old men react to Adi delving into the past? Will they reflect on their past? It was a time when the community conspired in mass slaughter and those who were in the death squads drank the blood of their victims to prevent them going mad, but the seeds of madness must already have been there. Survivors still live in fear, silenced by terror with paramilitary death squad members living alongside their victims families.
Adi's elderly mother remains consumed by the terror of the past and the death of her son as she cares for her 103 year-old husband who's Alzeimer's has all but cleansed his mind of the horror. Theirs is a life trapped in a perpetual memory of horror. Stunning, powerful, mesmerising and heart breaking.
Released by Dogwoof 12th June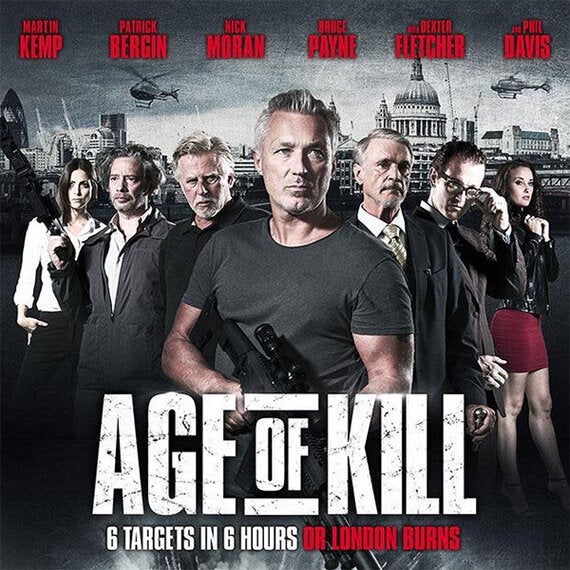 Cast: Martin Kemp, Dexter Fletcher, Philip Davis, Bill Weybridge
Country of Origin: UK 2015 86 mins.
A UK low budget feature that tries for the high octane Liam Neeson Taken franchise action thriller but doesn't quite make it.
When his daughter Joss (Dani Dyer) is taken hostage, disgraced special ops sniper Sam Blake (Martin Kemp) is forced into doing the bidding of a mysterious psychotic international terrorist - assassinate six seemingly unrelated random targets within six hours.
Fights, shoot outs and the Mets finest in the form of DI Hannah Siddiq (Anouska Mond) and her side kick, DC Hicks (Chris Brazier) in close pursuit feature but the limitations of a low budget are painfully obvious. Try it late Friday night with a take away.
Released by Platform Entertainment 12th June