George Miller's Mad Max : Fury Road is a 5-star V-8 supercharged majestically surreal extravaganza that burns the screen with noise and colour - The Tribe, Winner Critics' Week Grand Prix at Cannes 2014 is a riveting, original and intense drama of the raw and fragile world of isolated youth with a magnificent non-professional deaf and mute cast - Clouds of Sils Maria, Olivier Assayas' intelligent and fascinating melodrama has terrific lead performances - James D. Cooper's Lambert and Stamp charts the entertaining and comical story behind The Who - The Man Who Saved The World recalls an incident in 1983 when the West and the Soviets were on the brink of nuclear war and A Fuller Life is a loving and nostalgic portrait of the legendary American maverick Sam Fuller.

Cast: Tom Hardy, Charlize Theron, Nicholas Hoult
Country of Origin: Australia, USA 2015 120 mins.
A 5 star V-8 supercharged ride to hell and back across a Namibian landscape peopled by characters drawn from a Hieronymus Bosch canvas with a Terry Gilliam Python tongue-in-cheek touch that grabs medievalism and pastes it to a post-apocalyptic, octane fuelled, ear blasting, majestically surreal balletic extravaganza, that burns the screen with noise and colour. Perhaps I should stop there.
It's 45 years since the fall of the world and there's no rule of law. Wild tribes roam the Wasteland or cling to the Citadel tyrannised by the warlord Immortan Joe (Hugh Keays-Byrne). When alpha female Imperator Furiosa (Charlize Theron) diverts the War Rig off the scheduled run the war drums beat and the road war begins. It's not the loss of his treasured War Rig that's got to Immortan Joe, it's the cargo and Max (Tom Hardy) is released into the dust and sun drenched mayhem.
It's quite a way from Mel Gibson's 1979 Mad Max screen blast to Mad Max : Fury Road, a master blast rock n'roll shrieking, manic, 120 minutes, heat haze, dust filled theatrical journey. Great action, great cinematography, great cast, great leads, and that's not just Tom Hardy and the wonderful Charlize Theron who takes first prize, it's the vehicles as well. I emerged from Monday's screening exhilarated, buzzing and exhausted. Wonderful.
Mad Max:Fury Road screens at Cannes this week with a Warner Bros UK release Thursday 14th May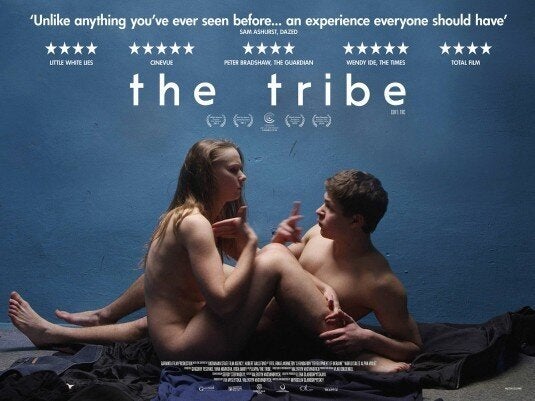 Director: Miroslav Slaboshpitsky
Cast: Grigoriy Fesenko, Yana Novikova, Rosa Bably
Language: Ukranian with English subtitles
Country of Origin: Ukraine, Netherlands 2014 132 mins.
Original, intense and riveting, The Tribe Winner of the Critics' Week Grand Prix at the 2014 Cannes Film Festival is remarkable and memorable cinema. Without subtitles, the only sounds are background noises, the deaf and mute non-professional cast communicate by Ukranian sign language.
Sergey (Grigory Fesenko), a deaf mute enters a Kiev boarding school for the deaf-and-dumb and is initiated into the Tribe's brutal world with its own laws and hierarchy that controls crimes and prostitution. Rising in the ranks of the Tribe Sergey takes part in a series of robberies and pimps Anna (Yana Novikova) and Svetka (Rosa Babiy), the Tribe's concubines but his love for Anna, the 'King's (Alexander Osadchiy) concubine breaks all of the unwritten rules of the tribe.
Compelling and innovative, The Tribe is an original and riveting drama. Brutal, sexually explicit and unforgettable with one of the most harrowing scenes of a back street abortion that I've seen. The non-professional cast are magnificent and Vacentyn Vasyanovych's long takes offer a documentary feel as we're drawn into this raw fragile world of isolated youth, the Tribe's world of power, humiliation and despair.
Stunning and original but would subtitles have detracted from the overall impact ?
Released by Metrodome 15th May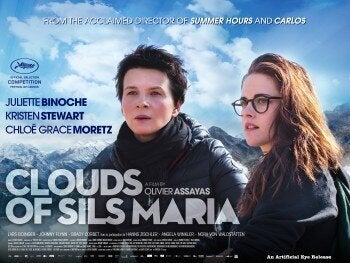 Director: Olivier Assayas
Cast: Juliette Binoche, Kristen Stewart, Jo-Ann Ellis
Language: English, French, German with English subtitles
Country of Origin: France, Switzerland, Germany 2014 124 mins.
Olivier Assayas's intelligent and fascinating melodrama about acting, unreality, time and mortality has terrific lead performances but is somewhat self-indulgent and overlong.
Maria Enders (Juliette Binoche), a 40 something internationally known actress is travelling with her young something PA Viv (Kristen Stewart) to Zurich for accept an award on behalf of the playwright Wilhelm Melchier who gave Maria her first big break. Viv, ever busy with mobile phones ensuring Maria remains in the rarified bubble receives news that Wilhelm Melchier's died. They continue to Zurich, tributes are paid, Maria fits in a Chanel photo shoot and is asked to revive Melchier's play 'Maloja Snake' with the roles reversed to when she played Sigrid, a manipulative 20 something who seduces her older boss Helena and drives her to suicide. Maria and Viv retreat to Melchier's widow Rosa's (Angela Winkler) chalet near Sils Maria to rehearse and hears that a 20 something gossip scandal loving Hollywood actress Chloe Grace Moretz (Jo-Ann Ellis) will play Sigrid. What roles await Maria ? Sci-fi and digitally enhanced out-of-this-world adventures.
Thoughtful and intelligent with terrific lead performances, time and mortality linger and the 'Maloja Snake' references Fassbinder's 1972 film 'The Bitter Tears of Petra von Kant which places 'Clouds of Sils Maria in the art house category. Olivier Assayas fans will love it.
Released by Artificial Eye/Curzon Film Releasing 15th May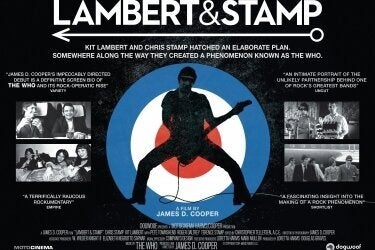 Director: James D. Cooper
Cast: Chris Stamp, Kit Lambert, Roger Daltry, Pete Townsend, Terence Stamp, Richard Barns, Heather Daltrey
Country of Origin: USA 2014 117 mins.
Released by Dogwoof 15th May
It's the 60s, London's buzzing and for an aspiring film maker the Academy cinemas in Oxford Street and the French New Wave are heaven. Unfortunately dreams and reality don't always mix. What to do ? Chris Stamp, Terence Stamp's younger brother and upper class Oxford educated Kit Lambert looked for a rock band to manage, mentor and film. They found the rebellious and restless,'High Numbers' in a London club, renamed them The Who and the rest's history.
This entertaining documentary portrait with early 60s archive footage of The Who will please fans and is at its best when Pete Townsend, Roger Daltry and Chris Stamp recall past glories. After Tommy, the rock opera, they were all rich but there was salt in the wound. Ken Russell directed the film. Comical and entertaining it was a complex, comedic and tragic relationship with Keith Moon death in 1978, Kit Lambert, whose idea it was to get Roger Daltry to stutter in 'My Generation' died in 1981 and John Entwistle in 2002. It's somewhat overlong at 117 minutes but critical comments are easily forgotten because The Who are indelibly imprinted on a generation's mind.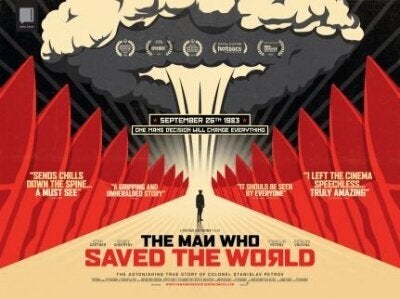 Cast: Stanislav Petrou, Kevin Costner, Sergey Shnyryov
Language: English and Russian with English subtitles
Country of Origin: Denmark 2014 110 mins.
The Cold War era, bluff and counter bluff is a distant memory but Russia's recent military parade in Red Square echoed that era.
On the 5th September 1983 a Korean plane with 269 passengers was shot down over Soviet territory, President Reagan labelled the USSR an 'evil empire' and the Kremlin assumed that America would retaliate with a nuclear strike. On the 26th of September 1983, Stanislav Petrov inside Serpakhov-15, an early warning satellite facility monitoring US missiles intercepted five nuclear missiles on their way to Russia. Why only five missiles? Should Russia counter attack in defence and start World war III ?
Stanislav Petrov, who doesn't consider himself a hero went against protocol, relied on his own instincts and blamed technical computer errors. Now a shadow of his former self, Petrov's lost his family, lives in a small apartment and hovers between two choices - should he forgive his mother, who expelled him as a youngster, and love the only family he has left or embrace the Vodka bottle.
Released by Kaleidoscope Entertainment 15th May

Director: Samantha Fuller
Cast: Jennifer Beals, William Friedkin, Tim Roth, Wim Wenders
Country of Origin; USA 2013 80 mins.
'A Fuller Life' celebrates Sam Fuller, the American legendary maverick who did it all - copyboy, crime reporter, travels across America, novelist, the trauma of world war II with 16mm archive footage Fuller shot on the front lines and of course the movies. Producer and director of low budget, hard hitting classics such as 'Pick Up on South Street', 'Shock Corridor' 'The Big Red One' and 'White Dog' his individuality and passion shone through. Adapted from Fuller's own 2003 autobiography 'A Third face,' Samantha Fuller paints a loving and nostalgic portrait of her father with tributes from actors and directors who knew him. It's a loving portrait but disappointing as Sam Fuller's work in cinema takes second place to his well documented early life.
Released by Contemporary Films 15th May
For further Film and DVD/Blu ray reviews see www.film-reviews-and-news.co.uk