'Brooklyn' can't fail to charm and Saoirse Ronan's terrific - Aptly titled 'Burnt' seems more akin to a bland Gordon Ramsey TV throwback - Davis Guggenheim's documentary looks beyond Malala the activist but offers sparse background reference to the Taliban and fundamentalism - 'Kill Your Friends' goes for the shock treatment as it trawls the 1990s music business but it's satirical teeth need sharpening.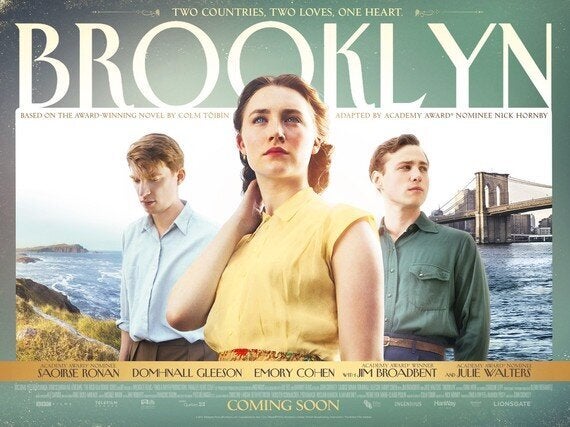 Cast: Saoirse Ronan, Domhnall Gleeson, Emory Cohen, Jim Broadbent, Julie Waters
Country of Origin: UK, Canada, Eire 2015 105 mins.
Saoirse Ronan's terrific performance and Nick Hornby's witty adaptation of Colm Toibin's novel, make 'Brooklyn an easy to love film.
With the help of her sister Rose (Fiona Glascott) and the local priest, Father Flood (Jim Broadbent) now based in Brooklyn, Eilis (Saoirse Ronan) says goodbye to her family and Enniscorthy, County Wexford and moves to Brooklyn, New York to seek a better life. Her job, arranged by Father Flood in Bartocci's department store can't hide her desperate homesickness but love and a future beckons when she meets Tony (Emory Cohen), an American-Italian at a church dance who's instantly smitten with her. When Ellis receives tragic news of her sister's death, she returns to Enniscorthy. With the relaxed company of old friends and the eligible Jim Farrell (Domhnall Gleeson) attracted by her new found sophistication and natural charm, Eilis's dilemma hangs on a secret which will decide whether she remains in Ireland or returns to Tony and the freedom that her new life offers.
Nick Hornby's witty script, Yves Belanger's cinematography, the 1950s period feel, innocence and great performances ensure a tear in the eye. Watch out for Julie Waters as Ma Kehoe, Eilis's landlady - she's a hoot and carries killer lines as only she can but the moment that echoes the bleeding heart of Ireland is a man singing a heartbreakingly beautiful Irish song to the strong and weatherworn faces far from home who built the roads and tunnels and now sit in a soup kitchen on Christmas day with stout and turkey. That does bring a tear.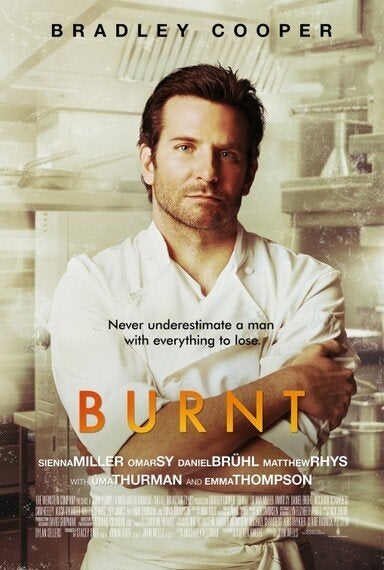 Cast: Bradley Cooper, Sienna Miller, Daniel Bruhl
Country of Origin: USA 2015 100 mins.
'Burnt', is a great title for a 100 minute menu of ego driven kitchen tantrums spewed from a spoilt child with dreams of culinary fame and a third Michelin star who throws his toys out of his pram while 'yes chef' submissives bow to the bully and diners await God's pleasure.
Michelin starred Adam Jones (Bradley Cooper) was top of the Paris restaurant scene until booze and a white powder habit took over. Everyone thinks he's under the soil until he barges into London's culinary scene in 'Dirty Dozen' style to get a team together which includes ex-con Max (Riccardo Scamarcio), chef Michel (Omar Sy) whom he shafted in Paris, protege David (Sam Keeley), a psychiatrist (Emma Thompson), a love interest, weak-at-the-knees fellow chef Helene (Sienna Miller) and pal Tony (Daniel Bruhl), maitre d' at the Langham Hotel who's got a thing for Adam Jones and whose family hold the cash. Add a brief appearance by Uma Thurman as the Evening Standard's food critic and a couple of Michelin Star inspectors who order a half bottle of wine, tap water and place a fork on the floor. Is this for real? It seems more akin to a bland Gordon Ramsey TV throwback. Where's the passion and pleasure?
Watch 'Babette's Feast', 'Tampopo' and 'Jiro Dreams of Sushi' - that's the real thing.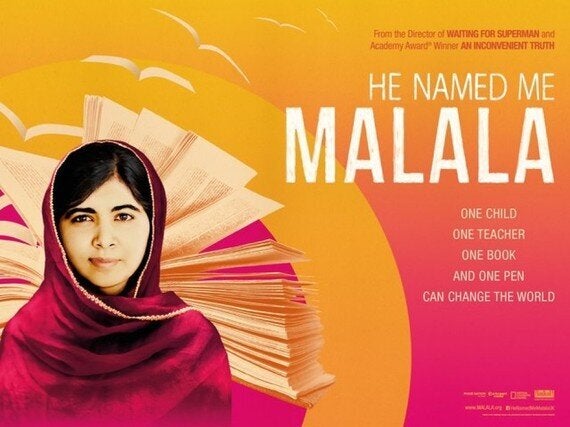 Director: Davis Guggenheim
Cast: Malala Yousafzai, Ziauddin Yousafzai, Toor Pekai Yousafzai
Country of Origin: UAE, USA 2015 88 mins.
Composed, courageous, charismatic, inspirational and winner of the Nobel Peace Prize at 17-years-of-age, that's Malala Youdafzaiaud, the spokeswoman for the power of education - 'One child, one teacher, one book and one pen can change the world.'
Part of a family of teachers and activists in the Swat Valley in North West Pakistan, her blog about life under the Taliban led to the October 2012 attack when the Taliban stopped her school bus and shot her in the head. Her recovery was miraculously and the rest is history.
Davis Guggenheim's documentary filmed over 18 months looks beyond Malala the activist to her life in Birmingham and we see a self-assured, warm, intelligent and compassionate teenager, at ease with her family and proud of her Pashtun culture with her father Ziauddin as prominent a figure as his famous daughter but what nags is the sparse reference to the Taliban, fundamentalism and the family's relationship to their fellow villagers in the Swat Vally.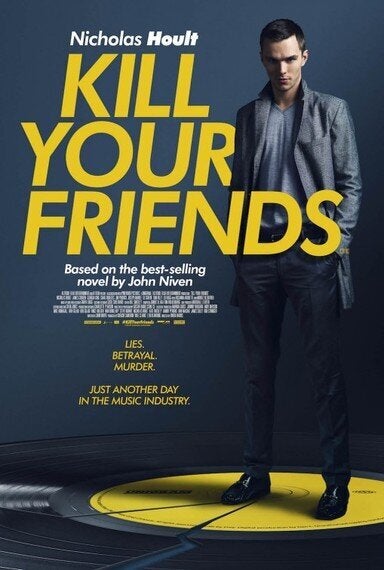 Cast: Nicholas Hoult, Craig Roberts, Tom Riley
Country of Origin: UK 2015 103 mins.
'Kill Your Friends' goes for the shock treatment in Owen Harris's try for a satirical black comedic gaze at the late 1990s UK music scene with London based, music hating, arrogant A & R man Steven Stelfox (Nicholas Hoult) creeping through a coke and booze haze as he goes for the kill to get to the top of the heap or is it sink to the bottom of the pit. Scripted by John Niven, an ex A & R from his 2008 novel, Owen Harris goes for the 'American Psycho', and 'The Wolf of Wall Street' touch but trips into overkill, with few laughs and it's satirical teeth need sharpening.
For further Film & Blu-Ray/DVD reviews see www.film-reviews-and-news.co.uk