Danny Collins, hilarious, heart felt and appealing with dazzling performances, Timbuktu mesmerising, visually stunning and breathtaking, Guy Myhill's The Goob is an accomplished and spontaneous debut feature, Man Up, a frenetically paced British romcom seems straight jacket constrained and desperate to burst out and hit the funny button, Cedric Jimenez's The Connection (Le French), a euro add-on to the French Connection and San Andreas, a disaster movie.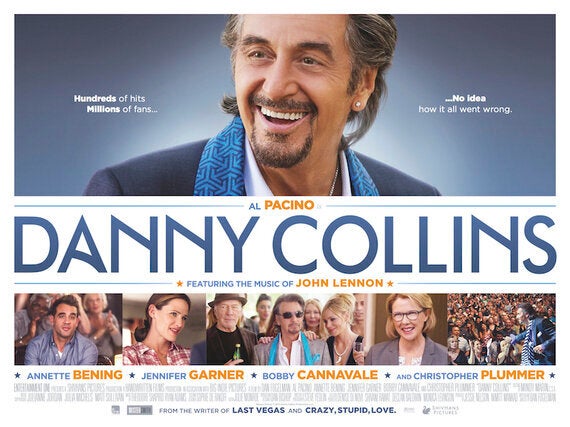 Cast: Al Pacino, Annette Bening, Jennifer Garner, Christopher Plummer, Bobby Cannavale
Country of Origin: USA 2015 106 mins.
'Hilarious, heartfelt and appealing with a dream team cast that mesmerises.'
40 years in the game and Danny Collins (Al Pacino), an ageing rock star has got it all - money, fame, legions of adoring fans who just want to hear 'Hey Baby Doll' the song that started the journey and now his life's propped up by booze, drugs and young women. When manager and best pal Frank Grubman (Christopher Plummer) gives him a never-delivered letter 40 years late from John Lennon, Danny cancels a sold-out tour and checks into the Woodcliff Lake Hilton in New Jersey to rediscover his creative spirit and seek out his 40 year-old son Tom (Bobby Cannavale) from a one night stand whom he's never met.
Dan Fogelman's script is loosely based on a true story. In 1971 fledgling folk musician and songwriter Steve Tilston gave an interview to Zig Zag magazine and when asked whether he thought wealth and fame would be detrimental to his songwriting, suggested that it would. In reality he never sold out. In 2005 Steve Tilston was asked by a memorabilia collector to authenticate a letter addressed to himself from John Lennon who had read the Zig Zag article.
The spot on script grabbed full on by the Al Pacino, Christopher Plummer, Annette Bening dream team with a backdrop of nine original John Lennon songs makes for 106 minutes of appealing, hilarious comedic drama with a feel of effortless fun, spontaneity and a near few tears. Pacino and Plummer, masterful and elegant and the perfect foil for one another, Bobby Cannavale as Danny's 40 year-old son offers everything the role demands but it's Annette Bening who plays hotel manager Mary Sinclair that hits the top number with a walk off the screen witty, inventive and captivating performance. She dazzles.
Released by e One 29th May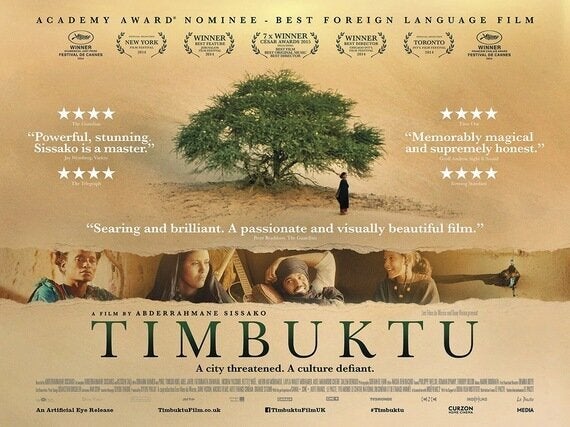 Director: Abderrahmane Sissako
Cast: Ibrahim Ahmed, Toulou Kik, Abel Jafri, Fatoumata Diawara
Language: English, French, Touareg and Arabic with English subtitles
Country of Origin: France, Mauritania 2014 97 mins.
'Stunning, absorbing, mesmerising, funny, sad, passionate and breathtaking'.
When Islamic jihardists arrive in a town in northern Timbuktu in 2012 and announce that they're imposing Sharia law the joys and freedom of life, singing, dancing, smoking cigarettes and playing football are prohibited and women are cast into the shadows.
Based on the forceful takeover of Mail in 2012, the story centres around Kidane (Ibrahim Ahmed), a cattle farmer and a cow called 'GPS'. Kidane, a gentle and caring man has built a life for himself, his wife Satima (Toulou Kiki), 12 year-old daughter Toya (Layla Walet Mohamed) and Issen (Mehdi A.G. Mohamed), his little shepherd boy who tends the cattle. When 'GPS' becomes trapped in Amadou's fishing nets Kidane's family life changes forever and he finds himself in a Sharia court.
Sissako brilliantly interweaves Kidane's story with with other scenes from life in Timbuktu - Fatou (Fatoumata Diawara), the singer who wails her forbidden songs as she is publicly flogged, a public stoning, a teenager unable to recant his love of rap for the video camera, and the football team forbidden from playing getting round sharia law by using an imaginary ball, funny but desperately sad. Ironically the jihardists despite their rhetoric about Sharia law, love their mobile phones, 4-wheel drives, video cameras and best of all their guns.
Visually stunning, poetic and absorbing cinema, a tale of hope and despair with brilliant images that linger in the mind.
Released by Artificial Eye/Curzon Film Releasing 29th May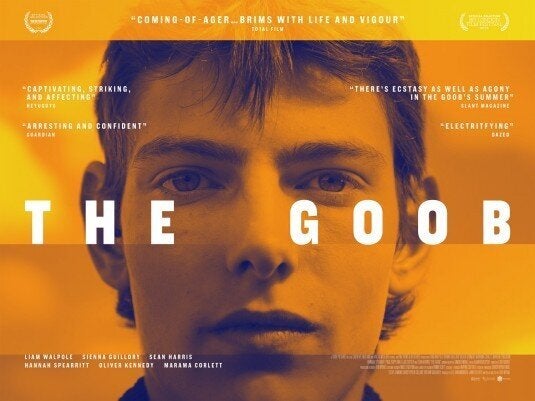 Cast: Sienna Guillory, Sean Harris, Hannah Spearriff, Liam Wilpole
Country of Origin: UK 2014 86 mins.
Intelligent and spontaneous, writer-director Guy Myhill's debut feature is an accomplished coming-of-age drama set in the flat and desolate Norfolk fenlands.
'Get out of this shithole', is the advice the bus driver offers 16 year-old Goob Taylor as he sheds his uniform on his last day at school. It's now the freedom of the Fens, Goob on his moped, the summer sun, helping his mother Janet (Sienna Guillory) in the greasy spoon and harvesting the pumpkin fields under the ever watchful eye of vicious would-be amateur stock car champion Gene Womack (Sean Harris) whose pleasure in life is to control and undermine Goob. With newcomer Elliot (Oliver Kennedy) adding an independent touch of humour and romance blossoming between Eva (Mariana Corlette), a migrant worker and Goob tensions rise.
The call to get out won't be answered. The Goob will remain and any vision for the future will remain a dream. With strong naturalistic performances and cinematographer Simon Tindall's images capturing a desolate and decaying fenland 'The Goob' is an accomplished and spontaneous debut.
Released by Soda Pictures 29th May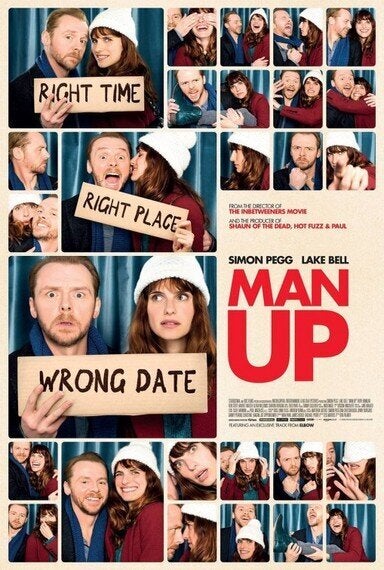 Cast: Simon Pegg, Ophelia Lovibond, Lake Bell
Country of Origin: UK 2015 88 mins.
'Man Up' hops on the conventions of the romcom to fashion a very English version carried by the leads with a splattering of one-liners.
New Yorker Lake Bell takes on a flawless English accent as 34 year-old cynic Nancy, still single and tired of her sister Elaine (Sharon Horgan) bending her ear and the well-meaning match making efforts of her friends. And the last straw's her friend's engagement party, another vision of Dante's Inferno. It's the end of the road. Let sanity reign. Not in a romcom. Nancy chats with stranger Jessica (Ophelia Lovibond) on the train which leads to her standing under Waterloo Station clock holding a book and meeting 40-something on-going divorcee Jack (Simon Pegg) who mistakes Nancy for his blind date. Go for it Nancy and see what happens. Pack it all in. A few beers on the South Bank, shots in a Mexican Cantina, a bowl-off at Bloomsbury Lanes, pal from the past over-the-top yawn lech Nancy's ex-school fancy you Sean (Roy Kinnear), Jack's ex-wife (Olivia Williams) and Nancy's parents (Harriet Walter & Ken Stott) who expect her for their 40th wedding anniversary but she's on the grand London tour.
'Man Up' seems uncertain whether it wants to drop into the funny, rich, warm or the lecherous snigger and dirty laugh-filled slot. For all the frenetic pace and one-liners it feels constrained in a straight jacket and desperate to burst out and hit the funny button. There's great screen chemistry between Lake Bell and Simon Pegg and a strong support cast but it carries that I've been there before predictability, so-so and not so funny.
Released by StudioCanal 29th May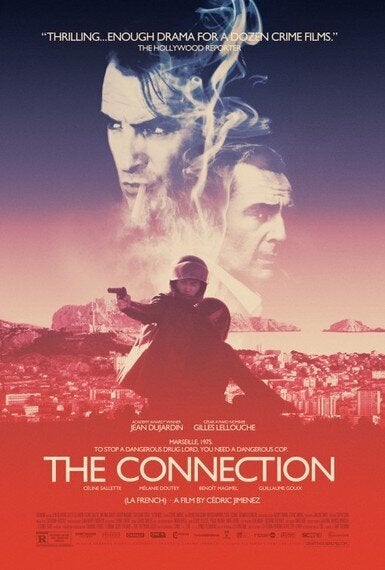 Cast: Jean Dujardin, Gilles Lellouche, Celine Sallette, Melanie Doutey, Benoit Magimal, Guillaume Gouix
Genre: Action, Crime, Thriller
Language: French with English subtitles
Country of Origin: France, Belgium 2014 135 mins.
A European take on The French Connection that flooded New York with heroin in the 70s and how one obsessively dedicated magistrate moved to bring it down.
The Connection (Le French) sets off where William Friedkin's 1976 classic The French Connection left off. The southern port city of Marseille was Gaetan 'Tany' Zampa's (Gilles Lellouche) kingdom and he ruled supreme. Heroin was the trade, the market America and Tany was the untouchable godfather of the French Connection. Most people in power had a price and corruption stretched to the top including the mayor's office and it was a very fine dividing line between the 'Corsican cops' and the gangsters. Into this scene steps clean, dedicated investigating magistrate Pierre Michel (Jean Dujardin) reassigned with his family from Metz to Marseille in 1975 to investigate 'The French Connection.' which is really Corsican -Neopolitan. It's not long before the cat and mouse game becomes personal and Michel ditches his old methods in an obsessive pursuit of Gaetan which puts his wife Jacqueline (Celine Sallette) and family in danger.
It's slick with a vintage 70s feel that can at times feel a bit contrived. The Marseille Cote d'Azur backdrop's great and the hand held camera adds flair but don't look for a Popeye Doyle character intensity and action. This isn't the Friedkin classic, it's clean driven with echoes of Michael Mann's 'Heat' with Lellouche and Dujardin placed in De Niro and Pacino's shoes. The violence comes in short bursts and the duel lasted until 1981 and Francois Mitterand's Presidency and the US DEA on board. The rest's history.
Released by Altitude Film Distribution/PictureHouse 29th May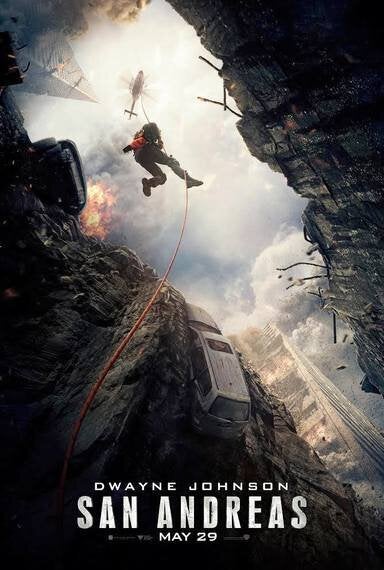 Cast: Dwayne Johnson, Alexandra Daddario, Carla Gugino
Genre: Action, Drama, Thriller
Country of Origin: USA 2015 107 mins.
Digitally enhanced spectacle and the flag of patriotism hover over San Francisco's Golden Gate Bridge. This is man against nature and when it's a magnitude 9 earthquake sound the trumpet and call the man. LA and San Francisco are hit so search and rescue pilot Ray Gain (Dwayne Johnson) who can hover a helicopter as only Ray can between tumbling skyscrapers, falling rubble, explosions and chaos galore snatches ex-wife Emma (Carla Gugino) from the top of a crumbling building and poor old Daniel Reddick (Ioan Gruffudd), Emma's partner built San Francisco's tallest skyscraper. It's now off to find estranged daughter Blake (Alexandra Daddario) who's been rescued by Ben (Hugo Johnson-Burt) and his horrible 11 year-old brother Ollie (Art Parkinson) and when you think it's all over an academic seismologist (Paul Giamatti) suggests that another quake's on the way plus a tsunami.
Digitally enhanced visuals are spectacular but with little attention to human drama, Emma and Blake all but sidelined and a cringe worthy script it all begins to tip into a disaster.
Popular in the Community