'Tangerines', is a compassionate and powerful story that resonates with the 'hidden' wars in Ukraine and the Middle East - Pedro Costa's 'Horse Money' is original, surreal, captivating and mesmerising - 'Bill', the 'Horrible Histories' take on Shakespeare's lost years is a hoot but is there enough to fill the big screen? - July Jung's 'A Girl At My Door' looks at violence, sexism and sexual taboos in a rural Korean community.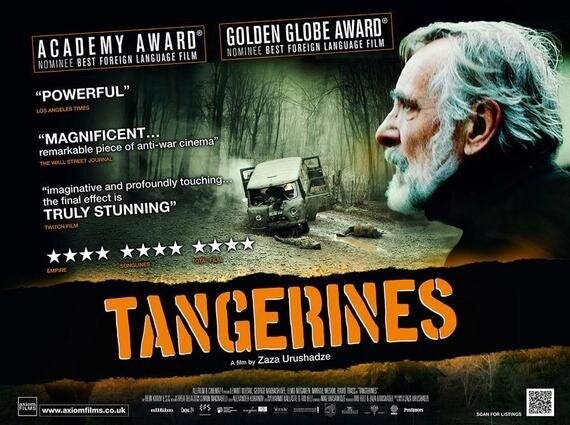 Cast: Lembit Ulfsak, Mikheil Meskhi, Giorgi Nakhashidze, Elmo Nuganeu, Raivo Trass
Language: Estonian, Georgian, Russian with English subtitles
Country of Origin: Estonia, Georgia 2013 121 mins.
The conflict between Georgia and Abkhazian separatists in 1922 forms the background to a compassionate, powerful, distinctive and deeply affecting story that resonates with the 'hidden' wars in Ukraine and the Middle East.
Two immigrant Estonian farmers, the world weary Ivo (Lembit Ulfsak) and his friend Margus (Elmo Nuganen) decide to remain in Georgia to harvest their crop of tangerines. When the conflict arrives at their doorstep Ivo and Margus take in two wounded soldiers from opposite sides, Nika (Misha Meskhi), a wounded Georgian and Ahmed (Elmo Nakhashidze), a Chechen (Abkhazian) mercenary. During their convalescence the 'children of death' are forced by Ivo to confront the reasons for their hatred of one another, and also the conflict that afflicts the gentle beauty of a land ravaged by war.
Intelligent, powerful and poignant with a masterful, dignified and compassionate performance from Lembit Ulfsak, 'Tangerines' shows the futility of bloodshed over racial and ethnic division and the need for trust in human kindness, forgiveness and peace.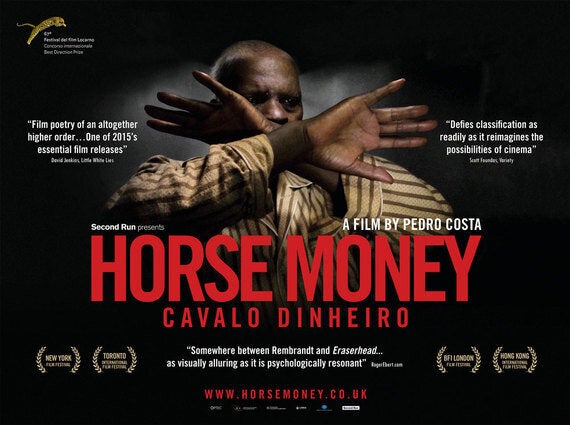 Cast: Tito Furtado, Antonio Santos, Vitalina Varela,
Language: Portuguese and Creole with English subtitles
Country of Origin: Portugal
Golden Leopard Best Direction 2014 Locarno Film Festival
Visually stunning, stylised and atmospheric, 'Horse Money', Pedro Costa's follow-up to 'Colossal' (2006) is an original, surreal and utterly captivating dream.
The charismatic Cape Verdean immigrant, Ventura, plays a version of himself in conversation with Pedro Costa as he traverses an endless night. Descending deep into a dungeon Ventura emerges into a hospital with endless corridors meeting individuals from the past that haunt the decaying urban landscape. It's about the marginalised, poverty, the oppressed and references Portugal's tumultuous history.
How do you describe 'Horse Money'? A poetic dream? Whatever, it's groundbreaking, captivating, tantalising and mesmerising.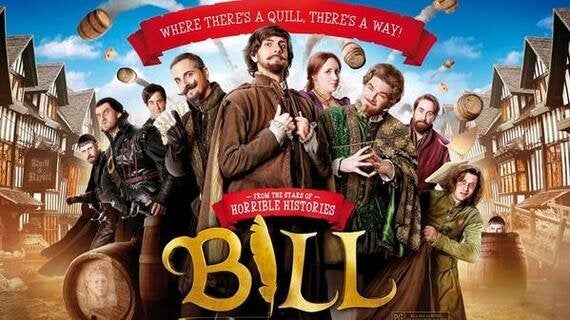 Director: Richard Bracewell
Cast: Matthew Baynton, Simon Farnaby, Martha Howe-Douglas, Helen McCrory
Country of Origin: UK 2015 94 mins.
Six main actors and supporting cast play a variety of roles in The 'Horrible Histories' take on William Shakespeare's lost years. The Bard had tried being in a band but it didn't work out so it's off to London for fame and fortune and a nasty Spanish Catholic plot to kill Queen Elizabeth I.
It's all a hoot with touches of 'Python', 'Blackadder' and 'The Young Ones' as the great and the good of Elizabethan England tread the boards. Damian Lewis does a cameo as Sir RIchard Hawkins, Ben Willbond hams it up as King Philip II of Spain with his trio of assassins, miserable Christopher Marlow (Jim Howick) helps the Bard and Helen McCrory is all you hope for as Elizabeth I.
Great fun but will it fill the big screen?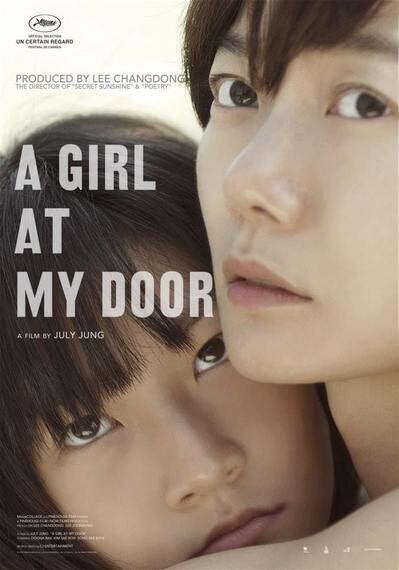 Cast: Doona Boe, Soe-ron Kim, Soe-by eok
Language: Korean with English subtitles
Country of Origin: South Korea 2014 119 mins.
Young-nam's (Doona Bae) 'problem' led to her being moved out of Seoul and posted to a backwater town as Police Chief. Scrutinised and distrusted by the locals it's not long before Young-nam encounters Do-hee (Kim Sae-ron), a young girl who's excluded by the locals and beaten by her stepfather, Yong -ha (Song sae-Byeok) whilst egged on by his batty mother Juh-soon (Kim Jin-gu). Compelled to protect the girl Young-nam takes her in but when her step father decides he wants her back, Young-nam's hidden past surfaces with an outing of her sexuality.
Doona Bae gives a superb nuanced performance as Young-nam, a woman living with her own demons in a story of love, desire and violence that confronts sexism in a rural community which ruthlessly exploits foreign workers and hides its own problems and sexual taboos.
The New Girlfriend (15) 107 mins. Drama comedy ****- Witty, elegant, observant and suggestive with a razor sharp script and outstanding lead performances.
For further details of this weeks film releases, Blu-Ray/DVDs see: www.film-reviews-and-news.co.uk
Related