Jaco Van Dormael's back on form with 'The Brand New Testament,' a flamboyant, original and hilarious satire - Jon Favreau's live-action 'The Jungle Book' is a charming, visually stunning delight - Kore-eda Hirokazu's 'Our Little Sister' is exquisite and elegant - Peter Greenaway adds his personal touch to Sergei Eisenstein, the tragic hero in a white suit and frizzy hair in 'Eisenstein in Guanajuato.'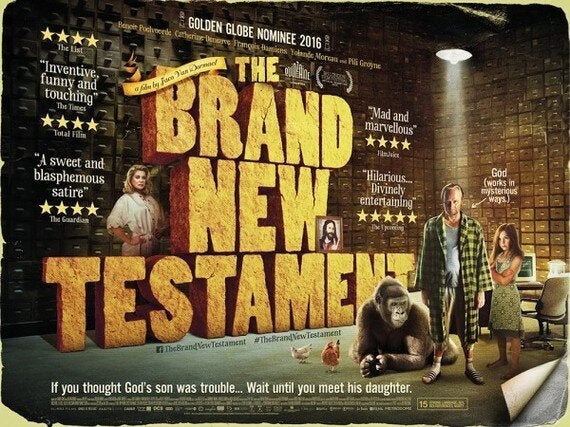 Director: Jaco Van Dormael. Benoit Poelvoorde, Vatherine Deneuve, Yolande Moreau. Comedy.
French with English subtitles. Belgium 2015 113 mins. Official Selection at Director's Fortnight 2015 Cannes Film Festival. (15) ****
Jaco Van Dormael's (Toto the Hero) back on form with 'The Brand New Testament,' a playful, absurdist and original satirical delight.
God (Benoit Poelvoorde) in his tatty dressing gown and T-shirt lives in a depressing Brussels flat, bullies his wife (Yolande Moreau) and 10-year-old daughter Ea (Pili Groyne) and gets his kicks by making people miserable. Ever moved from one queue to another because you think it's shorter only for it to become longer. Geese who's arranging that? God's a real b******. Ea's had enough, seeks advice from her long lost brother 'JC,' accesses 'Deathgate', God's classified files and sends a text message to everyone on Earth notifying them when they're going to die. It happens. They start dropping dead at the prescribed time and it's hilarious. Everyone knows their time schedule, have little interest in God and do your own thing - one man jumps off high buildings and always survives.
Ea flees to Earth and with the help of 6 disciples including bored house wife Martine (Catherine Deneuve) who finds happiness in the arms of a gorilla, writes her own gospel. God's in hot pursuit but it's the first time he's left his grotty apartment and he's trapped in the outside world, powerless and alone. And what of God? Uzbekistan beckons.
Flamboyant, original and hilarious.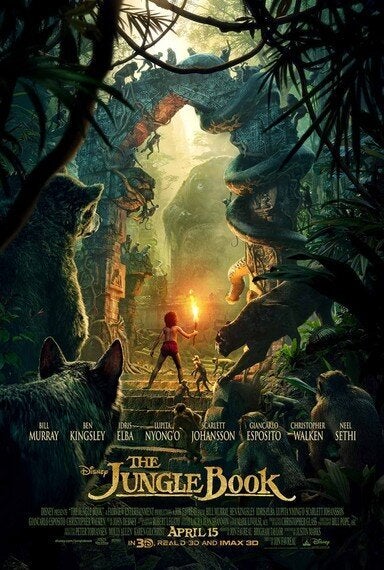 Director: Jon Favreau. Scarlett Johansson, Idris Elba, Lupita Nyong'o, Ben Kingsley, Bill Murray, Christopher Walken. Adventure, Drama, Fantasy. USA 2016 96 mins. (PG) ****
Rudyard Kipling would smile and pinch himself. The lush forest's alive with Kipling's classic characters, so real that you jump with amazement when they speak.
Jon Favreau's take on the 1967 animated movie is a charming and visually captivating live action adventure with Mowgli (Neel Sethi), the boy cub raised by wolves, more akin to a kid's Revenant as he takes on the ever present dangers of the jungle. All the characters are there and what a choice they are. Mowgli's ever present guardian and mentor, the black panther, Bagheera (Ben Kingsley), Shere Khan (Idris Elba), blood thirsty, vicious and menacing, Luther in a tiger's skin, the seductive silky voiced python Kaa (Scarlett Johansson), the bear Baloo, voiced by Bill Murray is off on one with a comic touch that delights and of course King Louie (Christopher Walken), the orangutan Brooklyn godfather in the jungle whose rendition of 'I wanna Be Like You' is a knockout. Yes the songs are there, the voices are great, it's visually stunning and the CGI's a wow. Of course the creatures are real, they've just jumped up the scale for a jungle chat and a song and dance and who takes the crown as King of the Jungle?
Join the queue kids and bring the adults along. You'll love it. Great fun.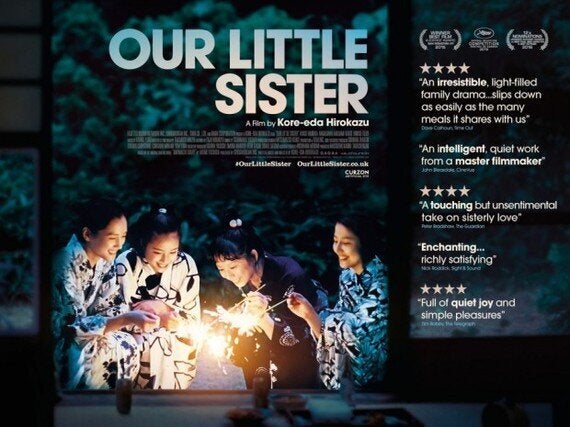 Director: Kore-Eda Hirokazu. Ayase Haruka, Nagasawa Masami, Kaho, Susu Hirose. Romance. Japanese with English subtitles. Japan 2015 128 mins. Official Selection 2015 Cannes Film Festival. (PG) ****
Gentle, observant, tender and emotional, Kore-eda Hirokazu's beautifully constructed 'Our Little Sister' is an exquisite and elegant Chekhov-like family drama.
Three sisters Sachi (Ayase Haruka), a nurse who is having an affair with a married pediatrician (Shinichi Tsutsumi), Yoshino (Nagasawa Masami), a bank clerk and Chika (Kaho) who works in a sports shop happily live together in the ancestral home in Kamakura, a small seaside town near Tokyo. When their long estranged father dies, they meet and bond with their teenage half-sister, Suzu (Suzu Hirose) and invite her to live with them.
This superbly composed and beautifully shot film follows the daily lives of the sisters, reflecting on the past and lost childhoods as it moves through the seasons. The daily preparation of food, laughter, walks together, chatter and quiet moments together, the four sisters offer one another the strength to survive.
Superbly acted with an emotional elegance and gentle quality, it's captivating cinema.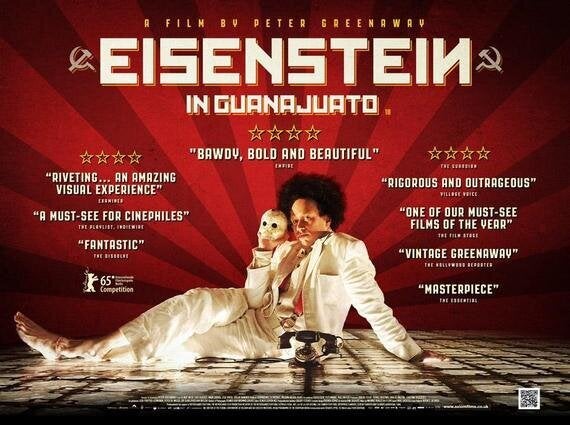 Director: Peter Greenaway. Elmer Back, Luis Alberti, Maya Zapata, Lisa Owen. Drama. Mexico, Netherlands 2015 105 mins. Official Selection in Competition 2015 Berlin Film Festival. (18) **
Soviet film maker Sergei Eisenstein (Elmer Back) arrives in Mexico in 1931 to shoot 'Que Viva Mexico,' a film about the Mexican people. Off limits to Hollywood and backed by American financier Mary Craig Sinclaire he shot 250 miles of footage but we don't see the revered filmmaker at work. It's a Peter Greenaway's film and he does it his way with a tie between Eros and Thanatos, sex and death and a dash of CGI.
A theatrical extravaganza with superb compositions, magnificent baroque sets, split screen, archive footage, Bolshevik revolutionary history, reference to Eisenstein's 'Strike', 'Battleship Potemkin' and 'October,' Charlie Chaplin and James Joyce amongst others drop in, lots of name dropping, the mummies museum and of course flies. Pity about the banal voice over and tedious dialogue. Eisenstein chats to his penis and looses his virginity to his chaperone, Palomino Caneto (Luis Alberti), a scholar of comparative religions who places a red flag in his buttocks. Sergei Eisenstein, a Russian cultural icon, a tragic hero in a white suite, a homosexual clown with frizzy hair. That won't go down well in Putin's Russia.
A comedic fantasy with strands of the absurd.
For further FILM & BLU RAY/DVD REVIEWS see www.film-reviews-and-news.co.uk
Popular in the Community