Marshland, a noir thriller set in 1980s Spain, a country still haunted by Franco's brutal era is visually stylish and gripping - Aleksey German's Hard To Be A God astonishes, mesmerises and captivates - 52 Tuesdays, Sophie Hyde's low budget inventive and ambitious directorial debut is a remarkable achievement - David Gordon Green's Manglehorn seems rather contrived, somewhat pretentious and disappoints.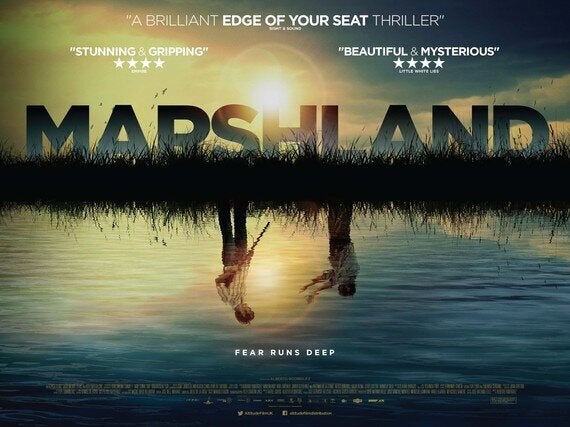 Director: Alberto Rodriguez
Cast: Javier Gutierrez, Raul Arevalo, Maria Varod
Language: Spanish with English subtitles
Country of origin: Spain 2014 105 mins.
2015 Goya Awards Best Film, Best Director, Best Actor, Best Screenplay, Best Cinematography
'Marshland' opens with stunning aerial shots of the marsh, remote and rich in colour, with the arteries of the Guadalquivir river hinting at past secrets hidden within it's desolate beauty. it's 1980, five years since General Franco's death and Spain struggles with its emerging democracy and the scars of its brutal fascist past. Two teenage girls from the rural town of Villa Franco del Guadalquivir are missing and detectives Juan (Javier Gutierrez), a man with a past in Franco's Political-Social Brigade and left wing, soon-to-be a father Pedro (Raul Arevalo), conscious of the past and hopeful for the future are assigned to the case. The girl's brutalised bodies are found on the marshes but a wall of silence and an unsympathetic Guardia Civil adds frustration to the existing level of distrust and unease between the two detectives. A burnt photo negative given to Pedro by the girl's grieving mother Rocio (Nerea Barros) suggests that the case of the abducted girls isn't a solitary crime and could have links to the past and the continued corruption of those with power.
'Marshland' is a stylishly visual, gripping and intelligent noir thriller. Alex Catalan's cinematography captures the isolated and desolate landscape as a character in itself, claustrophobic, brooding and menacing that hides secrets from the past, Julio de la Rosa's musical score is spot on and the lead characters are terrific.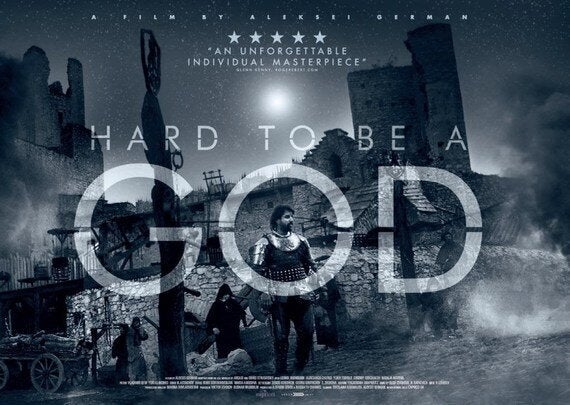 Cast: Leonid Yarmolnik, Gali Abaydulov, Yuriy Ashikhmin, Remigijus Biulinskas
Language: Russian with English subtitles
Country of Origin: Russia 2013 177 mins.
Aleksy German's 'Hard To Be a God' is a journey into hell, a world of the grotesque. Snot drips from noses, boils ooze puss, corpses rot and the rain teems down. It's the earth-like planet Arkanar, trapped in a medieval era where art, culture, freedom of thought and knowledge are suppressed by the Greys and the brutal monastic warrior order, the Blacks who patrol the filthy streets instilling fear. Into this world drenched in blood steps an observer, a scientist from Earth, Don Rumata (Leonid Yarmolnik), cultured, civilised and disguised as an aristocratic swordsman but sworn to an oath of non-intervention. Will Don Rumata change this world or will he succumb to the squalor, stench, blood and tears? Will he be taken for a god?
'Hard To Be a God' astonishes, mesmerises and captivates. The design sets by Sergei Kolovkin, Giorgy Kropachev and Elena Zhukova are astonishing and Vladimir Ilin's black and white cinematography traps the viewer in a claustrophobic Bosch and Breugal landscape with the characters looking full onto camera, each frame filled to bursting with images of this desperate world. Adapted from the 1964 novel by Arkady and Boris Strugatsky and shot over 6 years, the director died before completion and it was his wife and co-writer Svetlana Karmolita and his son Aleksei German who finished this film. Be patient, very patient, 177 minutes is quite a time but you'll be rewarded with an astonishing and unique movie.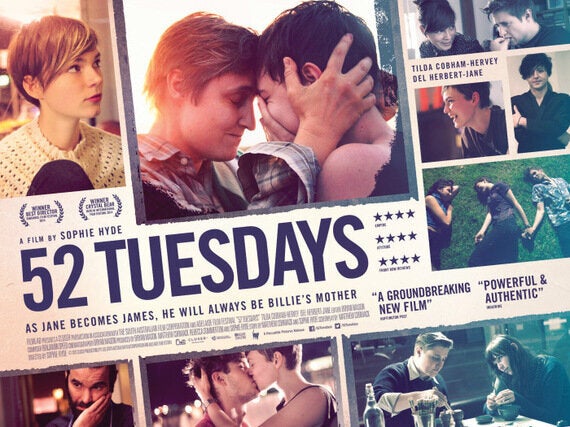 Cast: Tilda Cobham-Hervey, Del Herbert-Jane, Beau Travis WilliamsSam Althuizen, Imogen Archer
Country of Origin: Australia 2013 114 mins.
Winner Best Director 2013 Sundance Film Festival; Crystal Bear Berlin International Film Festival
Inventive and ambitious, '52 Tuesdays,' Sophie Hyde's small budget directorial debut and winner of Best Director at Sundance, is an intimate coming-of-age portrait of Billie (Tilda Cobham-Hervey), a young girl coming to terms with her emerging sexuality at the same time as her mother Jane (Del Herbert-Jane`) is undergoing a gender transition. Filmed one day, every week, for a year and with the amateur cast given the scene script one at a time adds a documentary-like authenticity to the naturalistic performances. The cast are excellent and Tilda Cobham-Hervey's to be applauded for her naturalistic emotional performance as Billie, a young girl, coming to terms with her sexuality and embarking on sexual experimentation with friends Josh (Sam Althuizen) and Jasmin (Imogen Archer) whist coping with her family and their conventions.
With its authentic feel, outstanding performances and a documentary sense of real time, '52 Tuesdays,' an intimate portrait of the developing bond between Jane/James and Billie, is a remarkable achievement but it's questionable whether Billie's perspective should take preference over Jane/James' feelings, which was the agreed view point between the director and the screenwriter, Matthew Cormack.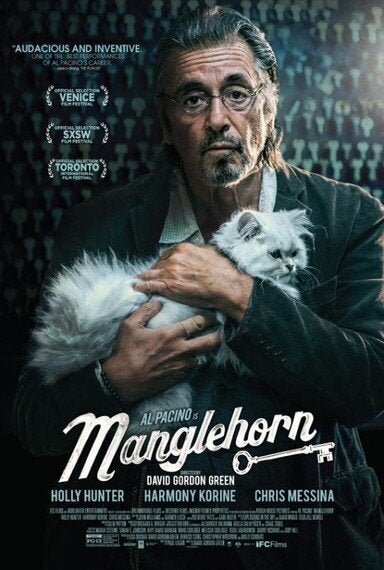 Director: David Gordon Green
Cast: Al Pacino, Holly Hunter, Chris Messina, Harmony Korine
Country of Origin: USA 2014 97 mins.
Al Pacino may play the eccentric A.J. Manglehorn (Al Pacino) with consummate ease, but David Gordon Green's experimental character piece of a man trapped in the past seems rather contrived and somewhat pretentious at times.
Clara, the girl who left A.J.Manglehorn 20 years ago, or you could say got away and Fanny the cat make up A.J. Manglehorn's life, a loner who communicates best with children and animals and has his own set of rules. His locksmith shop in a small rural town in Texas brings in the cash, there's intermittent contact with his son Jacob (Chris Messina) and bank clerk Dawn (Holly Hunter) who hopes that something will come out of their Friday morning free coffee and doughnut meetings. Will Dawn win the day? It's a two hander between Pacino and Holly Hunter and they come out of it well but overall the film disappoints and doesn't hang together.
Director: Abderrahmane Sissako
Language: English, French, Touareg and Arabic with English subtitles
Country of Origin: France, Mauritania 2014 97 mins
Stunning, poetic, absorbing, mesmerising, funny, sad, passionate and breathtaking.
Based on the forceful takeover of Mail in 2012, Timbuktu is an extraordinary fable about the dangers of religious extremism that also conveys the rich cultural heritage of the Malian people.
It's All So Quiet (Boven is het Stil)
Language: Dutch with English subtitles
Country of Origin: Netherlands, Germany 2013 93 mins.
Poignant, lyrical, with an ambient beauty - a beautifully crafted reflection on solitude and sexuality.
Helmer, a farmer in the remote Dutch countryside searches for happiness as he comes to terms with the death of his father and desires within himself that he's tried hard to repress.
For details of other films, Blu-Ray/DVDs see www.film-reviews-and-news.co.uk
Related