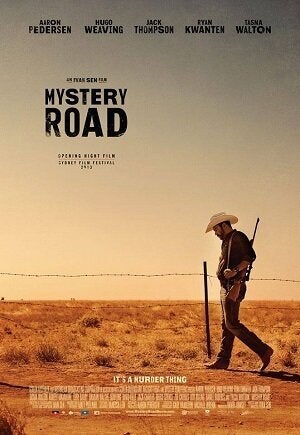 Cast: Aaron Pendersen, Hugo Weaving, Ryan Kwanten, Jack Thompson, Jack Charles, Tony Berry, Tasma Walton
Country of Origin: Australia 2013 112 mins.
'An impressive, powerful, slow burning superbly scripted and directed thriller.'
When Aboriginal Detective Jay Swan (Aaron Pedersen) returns to his rural home town in the Queensland outback to solve the brutal murder of a teenage aboriginal girl he's a self-imposed outsider, estranged from his ex-wife Mary (Tasma Walton) and daughter Crystal (Tricia Whittton), alienated by the white-dominated police force to which he's attached and ostracised by the local aboriginal community.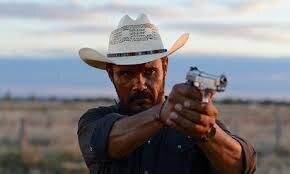 The striking opening sequence is a visually stunning introduction to 'Mystery Road', a slow burning brooding thriller of festering menace, superbly scripted and directed with cinematography that captures the sun bleached red earth breadth, beauty and isolation of the Australian outback. The film doesn't shy away from race relations, exploring the town's barely suppressed tensions with the abandoned and marginalised aboriginal community and explores the sexual exploitation of aboriginal girls.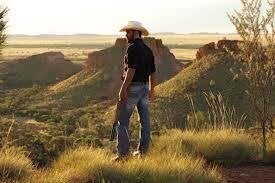 Aaron Pendersen gives a superb lead performance as Jay Swan and the movie's graced with some impressive characters that make it complete - Jack Charles, the community elder with a knowing wink and a nod, veteran Jack Thompson as Mr Charlie Murray holding a clue to Mystery Road, police sergeant Tony Barry and Hugo Weaving who plays Johnno, a fellow cop who maybe on the wrong side in this web of lies and deceit.
A powerful, intelligent and masterful modern-day take on the Western genre, with strong social and political commentary. A great watch.