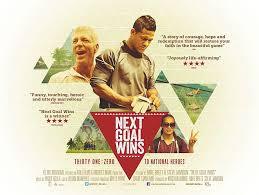 Icon
Director: Mike Brett & Steve Jamison
Cast: Thomas Rhongen, Jaiyah Saelua, Nicky Salapu
Genre: Sport Documentary
Language: English
Country of Origin: UK 2014 97 mins.
Rating: ****
Shout to the heavens and celebrate, it's part and parcel of the sporting life but when it's a world record defeat American Samoa 0 - Australia 31 and you're officially the worst football team in the world without one competitive win !! Do you laugh or cry? Can't be true. But it is.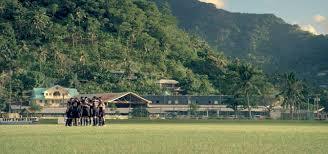 Icon
Can maverick Dutch coach Thomas Rongen be the miracle maker and coach the team to win a match ? One player's transgender, the goalkeeper's emotionally scarred, the team's clinically obese and their best player's joined the US military and been posted 6000 miles away and they want to compete at international level !!
Thomas Rongen embarks on a gruelling World Cup Qualification campaign to transform this ragbag team of losers into a winning team. Do miracles happen and how will this affect Thomas Rongen?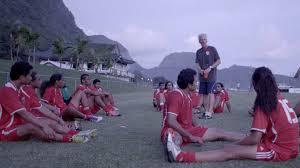 Icon
You don't need to be a football fan to love this film. It's a sensitive and joyous portrait of a team of amateurs from a South Sea island far from the glitz and and momentary glamour of the big clubs who have a passion for the game and an everlasting memory of a 31 nil defeat. They just want to win one match, that's all. And they're in the play-offs for the World Cup!! Will they do it?
'Next Goal Wins' is a movie about some Samoans who love football and have a dream and it's sentimental and Roger Goula's score will help bring a tear to the eye but it's a win win movie.
Released by ICON 2nd May 2014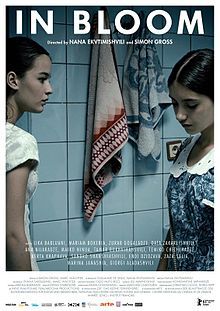 Artificial Eye/Curzon Film World
Director: Nana Ekvtimishvili & Simon Gross
Cast: Lika Babluani, Mariam Bokeria, Zurab Gogaladze, Ana Nijaradze, Data Zakareshovili, Mai Kowinua
Genre: Drama
Language: Georgian with English subtitles
Country of origin: Georgia, Germany, France 2013 102 mins.
Winner C.I.A.C.E. Jury Award 2013 Berlin International Film Festival
Rating: ****
The debut feature from Georgian filmmaker Nana Ekvtimishvili, is a powerful coming-of-age story that takes place in Tbilisi, the capital of Georgia in 1992, just after the collapse of the Soviet Union. With the sudden and dramatic changes in the country and the civil war in the Abkhazia region, the film follows two inseparable 14 year old friends, Eka (Lika Babluani) and Natia (Mariam Bokeria) whose childhood will change as insecurity and fear for the future sets in as they deal with the new world around them. But Eka and Natia, respond to the norms of a 14 year old - the gossip of the classroom, music and boys. With Lado (Data Zakarashovili) and local thug Kote (Zurab Gogaladze) vying for Natia's attention, a pistol becomes a focal point testing the two girl's friendship.That's the secret that they share.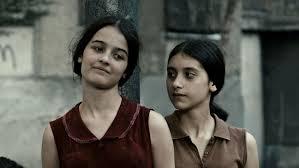 Artificial Eye/Curzon Film World
Oleg Mutu's marvellous camera work (4 Months, 3 Weeks and 2 days and Beyond the Hills) and Lika Babluani and Mariam Bokeris's naturalistic performances makes 'In Bloom' a movie that observes.
It's unsentimental in its portrayal of the powerful and oppressive familial and societal expectations, the violence that permeated Georgian society and the hidden acceptance of unhappiness. Nowhere is this more vividly expressed than when Eka, witness to the unfolding actions spontaneously performs a dance, her face expressionless - a dance of acceptance, in essence a dance of death. Riveting.
Nana Ekvtimishvili wrote the script loosely based on childhood memories and co-directed it with her husband Simon Gross. It's a remarkable accomplishment.
Released by ARTIFICIAL EYE/CURZON FILM WORLD 2nd May 2014
For more film reviews: www.film-reviews-and-news.co.uk