Winner of the Best Foreign Language Film at the Golden Globe Awards and nominated for the BAFTAs and the Oscars, Paolo Sorrentino's 'The Great Beauty' is mesmerising with a tour-de-force performance from Toni Servillo. But don't stop there.Delve back to 'The Consequence of Love' and 'Il Divo' to see why writer-director Paolo Sorrentino is a master of his art.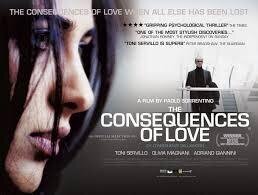 Director: Paolo Sorrentino Cast: Toni Servillo, Olivia Magnani, Adriano Giannini Genre: Drama Country of Origin: Italy 2004 In Competition at Cannes 2004 Language: Italian with English subtitles 108 mins. Rating: *****
'Stylish, elegant, gripping, mesmerising and hypnotic - a tour-de-force performance from Toni Servillo.This is quality cinema and Paolo Sorrentino is a master of his art.'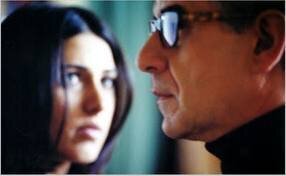 The stunning opening shot holds you and you sense that this ice cool psychological thriller could be something and it is.
Titta di Girolamo (Toni Servillo) has been a resident in a lakeside Swiss hotel for ten years, observes the hotel guests and plays cards at night with the former hotel owners who ironically lost it at a card game. Stylishly dressed, distant and isolated he pays his bills on time, relaxes with a drink and a cigarette in his favourite corner of the lounge and rebuffs conversation. Only Sofia (Olivia Magnani), the bar maid cares for him and will break through his reserve and his organised world.
Titta has a gun, is an insomniac with a once-a-week heroin habit and each week a mysterious woman in black glasses leaves a case full of US dollars outside of his suite which he takes to a Swiss bank to be counted by hand. Never the counting machine, it's got to be counted by hand.
'The consequences of Love' is a gripping tale of imprisonment, isolation and escape which captures the imagination and oozes quality film making. Toni Servillo is magnificent as the anti-hero caught in an all enveloping web of mafia violence. Luca Bigazzi's cinematography frames each moment with visual artistry, Giogio Franchini's precise editing and Pasquale Catalano's highly original musical score adds up to a mesmerising, elegant and stylish film - this is wonderful cinema and Paolo Sorrentino is a master of his art.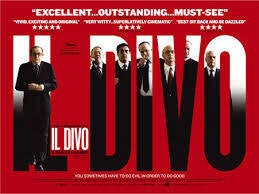 Director: Paolo Sorrentino Cast: Toni Servillo, Anna Bonaiuto, Giulio Bosetti Genre: Drama/Biography Country of Origin: Italy/France 2008 Jury Prize Cannes International Film Festival 2008 Language: Italian with English subtitles 110 mins. Rating:****
'A remarkable blood soaked tale of 'Il Divo', the ultimate Machiavellian that strode the stage of corruption and shame in Italian politics.'
Giulio Andreotti, the Machiavellian insider of Italian politics, seven times Prime Minister, a cunning political survivor reigned supreme from the early 60s to the early 90s. A complex and deeply religious figure, Andreotti was accused of cronyism and corruption,ordering the murder of a journalist and being a member of the Mafia who exchanged a kiss of respect with Salvatore "Toto" Riina, the "boss of bosses". The supreme 'Mr Teflon,' he always emerged unscathed.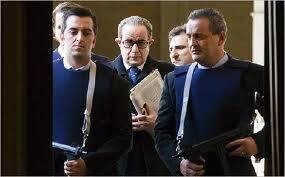 Toni Servillo is the Machiavellian Andreotti - horned rimmed glasses, hands clasped together, chin pushed back, a bull neck and hunched shoulders, ghost-like, remote, withdrawn, the wheeler-dealer of Italian politics pivotal to a corrupt and blood soaked stage that left Italy with the stench of corruption and Silvio Berlusconi.
Fear, violence and gain dominate - politicians, bankers, masons, are dispatched in a bloody manner - "perpetrate evil to guarantee good." The only apparent sense of guilt came from the Red Brigade's murder of former prime minister, Aldo Moro in 1978 when Andreottti refused to negotiate in line with the 'tension strategy' which was designed to initiate chaos to justify clampdowns and offer a platform of legitimacy to the Christian Democrats.
It's a remarkable piece of cinema with a masterful and hypnotic performance from Toni Servillo. Luca Bigazzi's camera work captures portrait-like this complex figure immersed in an arena of corruption and violence against the opulant backdrop and architectural beauty of Rome's governmental offices. A knowledge of Italian politics at that time helps but even without, it's a thrilling piece of cinema.
"I don't believe in chance, I believe in the will of God" - Giulio Andreotti.
"Andreotti had style and class; Berlusconi does not" - Paolo Sorrentino.