'Love And Friendship,' Whit Stillman's adaptation of Jane Austin's novella 'Lady Susan' is a sharp, witty, entertaining delight - 'The Trust' buzzes along with an infectious wackiness laced with black humour that sees Nicolas Cage back on form - Simon Stone's 'The Daughter,' an adaptation of Ibsen's 'The Wild Duck' is a powerful, intense and haunting drama of familial feuds - Ego and desire clash in 'The Price of Desire,' but this tale of the feud between Le Corbusier and Eileen Gray is badly in need of an adrenalin shot.
Director: Whit Stillman. Kate Beckinsale, Chloe Sevigny, Xavier Samuel. Drama, Romance. Ireland, Netherlands, France, USA 2015 92 mins. (U) ****
Be alert because you can't afford to miss a single line of Whit Stllman's delicious adaptation of Jane Austin's posthumously published early novella, 'Lady Susan.'
Lady Susan, elegant, sophisticated, devious and manipulative schemer extraordinaire and a widow is on a mission to find a husband, aided and abetted by her friend Alicia Johnson (Chloe Sevigny). Visiting her in-laws country estate of Churchill, her sister-in-law's eligible younger brother Reginald De Courcy (Xavier Samuel) catches Lady Susan's eye but when her long-suffering, stress-filled daughter Frederica (Morfydd Clark) turns up she arranges for her to be courted by the eligible Sir James Martin, played with hilarious scene stealing delight by Tom Bennett.
The pitch perfect cast carry Whit Stillman's witty script with ease and delight. No husband, no money Kate Beckinsale is superb with a wonderfully controlled performance, Tom Bennett's a comedic delight and the result is 92 minutes of Whit Stillman and Jane Austin centre stage. Sharp, witty, entertaining, a delight.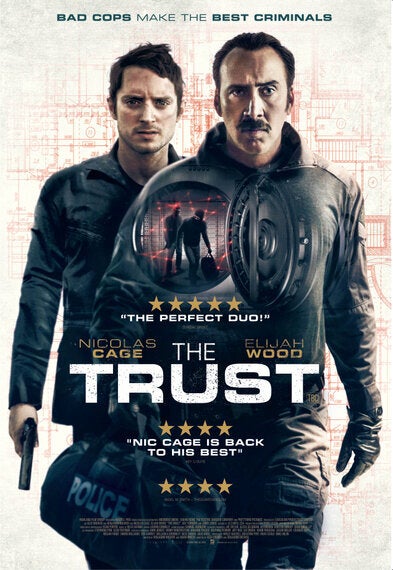 Director: Alex & Benjamin Brewer. Nicolas Cage, Elijah Wood, Jerry Lewis, Sky Ferreira. Crime Thriller. USA 2016 92 mins. (15) ****
'The Trust' buzzes along with a tongue-in-cheek, infectious, off-the-wall wackiness, laced with black humour with Nicolas Cage back on form in a great partnership with Elijah Wood.
Jim Stone's (Nicolas Cage) bored with his job in the evidence room of the Las Vegas police department and David Waters (Elijah Woods) has just split from his wife. It's a mundane day-to-day routine until Jim finds a 200,000 dollar cash receipt for a bailed heroin dealer and drags a reluctant David Waters into some unofficial undercover police work to source the cash. All footprints lead to a grocery store with a vault built into the freezer that puts Fort Knox to shame and so begins the heist of a lifetime - well that's the plan.
With great performances from Nicholas Cage and Elijah Wood, Alex and Benjamin Brewer's debut feature has enough twists and turns to add a touch of reality to a deliciously wacky corrupt cop heist thriller.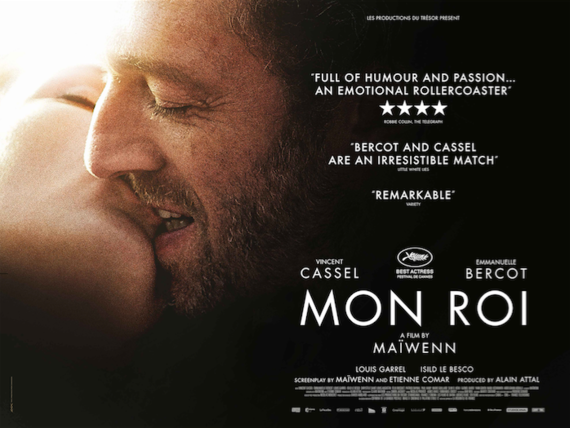 Director: Maiwenn. Vincent Cassel, Emmanuelle Bercot, Louis Garrel. Drama Romance. French with English subtitles. France 2015 128 mins. (15) ****
'Mon Roi' is a roller coaster, romantic drama reflecting on the ten year relationship between two 40-year-old Parisians Tony (Emmanuelle Bercot), a criminal lawyer and Georgio (Vincent Cassel), a charismatic successful restauranteur, egoist and manipulator who laughs at everything.
Told as a series of flashbacks, Tony reflects on their passionate and destructive relationship as she recovers from a skiing accident at a therapy centre on the French coast. From a loving and crazy fun time, marriage and the birth of her son, reality emerges. Debts, a drug problem, an inability to commit, the man that Tony loves, lost, uneasy with himself, the charm superficial, 'I'm the king of jerks' - Georgio's a fake.
Directed and co-written by Maiwenn, 'Mon Roi' gathers food, chat, laughter and sex to weave a frenetic tale which won Emmanuelle Bercot the Best Actress Award at Cannes and sees Vincent Cassel on a roll as Georgio.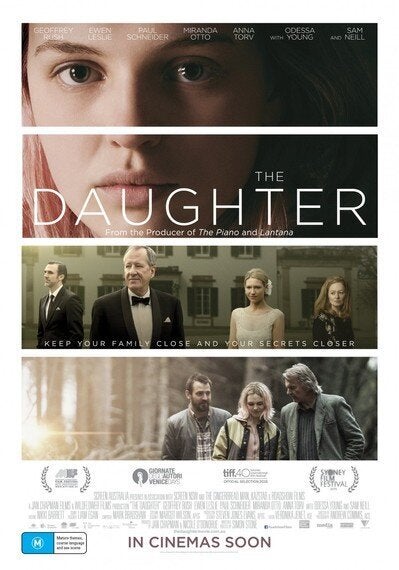 Director: Simon Strong. Sam Neill, Geoffrey Rush, Anna Torv, Paul Schneider, Ewen Leslie. Drama. Australia 2015 96 mins. (15) ****
Simon Stone's screen adaptation of Ibsen's 'The Wild Duck' is a powerful, intense and haunting drama of familial feuds set in a rural Australian township.
Christian (Paul Schneider), Henry's (Geoffrey Rush) estranged son returns from America to be best man at his father's wedding to his young former housekeeper Anna (Anna Torv) and finds that his aloof and distant father is closing the logging mill, the main source of work in the town. Renewing his friendship with his best friend Oliver (Ewen Leslie), recently unemployed due to the closure of the mill, a long hidden family secret emerges that Christian foolishly reveals with devastating consequences on Oliver, his wife Charlotte (Miranda Otto) and their teenage daughter Hedvig (Odessa Young).
Moody, powerful and intense, 'The Daughter' is an accomplished feature debut. Andrew Commis' widescreen cinematography captures a sense of isolation backed by Mark Bradshaw's haunting score and the superb cast with Sam Neill as Walter, Oliver's father and Odessa Young giving a standout performance as Hedvig, Oliver's teenage daughter.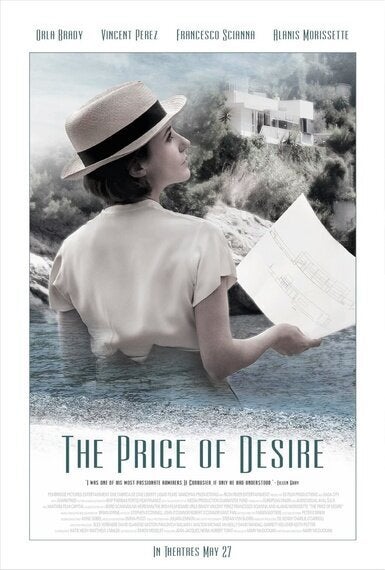 Director: Mary McGuckian. Orla Brady, Vincent Perez, Francesco Scianna, Alanis Morissette. Drama. France 2015 109 mins. (12A) **
The story of the egotistical Le Corbusier (Vincent Perez), 'The Father of Modernism,' determined to erase the Irish bisexual modernist designer Eileen Gray from the memory and her relationship with her lover Jean Badovici (Francesco Scianna), the editor of the influential L'Architecture Vivante is the stuff of rivalry and inflated egos. Unfortunately Mary McGuckian's low budget period biopic is a limp along, lack lustre portrait with a stilted script and at times is more akin to a shoot for a fashion mag.
The story centres around Villa E-1027 designed by Eileen Gray, built in the Cap Martin Woods and Le Corbusier's move to destroy Gray's reputation and covet the villa. It was only in later life that Eileen Gray, who challenged design convention and pioneered 20th Century modernism received the critical acclaim she deserved. Irony has it's place, Le Corbusier died of a heart attack in the sea within sight of Villa E-1027.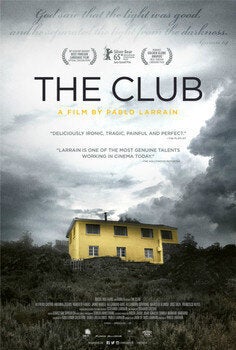 Director: Pablo Larrain. Roberto Farias, Antonia Zegers, Alfredo Castro, Alejandro Goic. Drama. Spanish with English subtitles. Chile 2015 98 mins. Winner Silver Bear 2015 Berlin International Film Festival (18) *****
A masterful, provocative and thought provoking study of hypocrisy which places Pablo Larrain as a master of his craft. The Vatican won't be pleased.
For further FILM & BLU RAY/DVD REVIEWS see www.film-reviews-and-news.co.uk
Related