'Spotlight' offers a riveting, tension filled insight into the Boston Globe's investigation into the cover up of systemic child abuse by Catholic priests in Massachusetts and the Church's complicity in it's cover up - Paolo Sorrentino's 'Youth' visually dazzles and teases with Felliniesque bursts in a tale of lost love and disillusionment - Grant Gee's 'Innocence of Memories' is a remarkable and original journey into a novel and a city.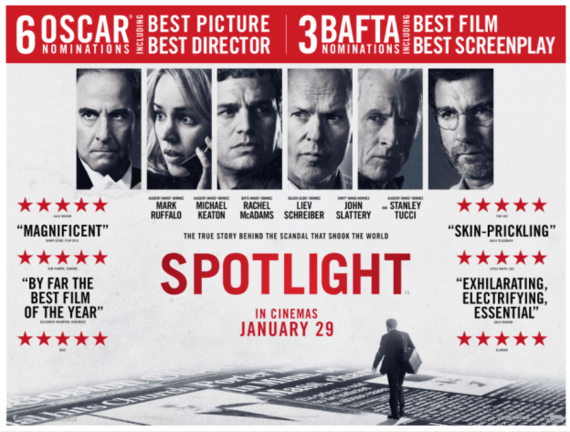 Director: Tom McCarthy. Mark Ruffalo, Michael Keaton, Rachel McAdams, Brian d'Arcy James, John Slattery, Liev Schreiber Drama. USA 2015 128 mins. (15) ****
With it's documentary feel, sharp script and a spot on cast 'Spotlight' is a tension filled insight into The Boston Globe's Pulitzer Prize Spotlight Team's investigation of long hidden systemic child abuse by Catholic priests in Massachusetts and the Church's complicity in it's cover up. It's riveting cinema with shades of 'All the President's Men.'
It took an outsider, The Boston Globe's Jewish editor, Marty Baron (Liev Schreiber), to kick start the investigation which Spotlight had unwittingly buried 10 years earlier. Spotlight editor Walter 'Robby' Robinson (Michael Keaton) and reporters Sasha Pfeiffer (Rachel McAdams), Michael Rezender (Mark Ruffalo) and Matt Carroll (Brian d'Arcy James) investigate a local priest accused of child sexual abuse over a 30 year period which suggests the systemic protection of paedophile priests by the Church.
You don't challenge the Church in Boston, that most Catholic of towns. Boston's Cardinal Bernard Law (Len Cariou) and Church officials bring power to bear as a gentle smile, a drink and cosy chat in a bar, a round of golf, another cosy chat.They're used to getting their way. Lawyer Eric MacLeish (Billy Crudup) has always applied the Boston formula - a private cash settlement, sealed court records and a code of silence. Powerful figures want the investigation shut down.
There's no sensationalism in this first class thriller. It's the slog of investigative journalism and Spotlight are relentless in their search. As the layers are peeled away a pattern emerges and with victim's lawyer, outsider Mitch Garabedian (Stanley Tucci) on board the bits of the puzzle fall into place. On January 2002, The Boston Globe published, the flood gates opened and the true horror was revealed. It's a story that leaves you with an uneasy feeling.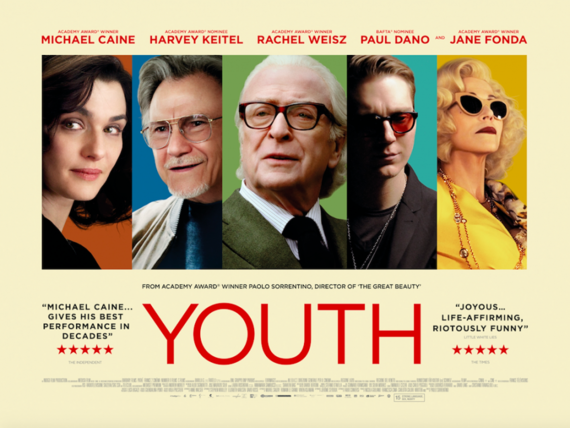 Director: Paolo Sorrentino. Michael Caine, Rachel Weisz, Harvey Keitel, Paul Dano. Drama. Italy, France, Switzerland, UK 2015 118 mins. (15) ***
Luca Bigazzi's camera dazzles and Paolo Sorrentino teases with Felliniesque bursts amidst a visually captivating and stylish alpine journey of regret, lost love, the women that you've never slept with, disillusionment and a lingering obsession with the prostate.
A luxury Swiss health clinic becomes a place of dreams and memories. The Queen's emissary (Alex Macqueen) suggests a knighthood if world weary retired composer and conductor Fred Ballinger (Michael Caine) agrees to a royal command performance of his 'Simple Songs' but Fred's retired. Blink and you'll mistake Michael Caine for Tony Servillo, Paolo Sorrentino's regular who played Jep Gambardella in 'The Great Beauty.' It's the hair that does it. Ageing film director and best pal Mick Boyle (Harvey Keitel), Fred's brother-in-law and his production team are working on the script for 'Life's Last Day' with diva Brenda Morel (Jane Fonda) cast in the lead role but it's not easy going. Cynical LA actor Jimmy Tree (Paul Dano) only remembered for his film role as the robot, 'Mister Q' prepares for a new role. Growing old is never easy. Mick Boyle compares it to looking through the wrong end of a telescope. Everything's so far away.
Mick's son Julian (Ed Stoppard) has dumped his wife Lena (Rachel Weisz) and is besotted with Paloma Faith who plays herself - 'she's good in bed.' There's little Fred can say, he's never had the fatherly touch and his thoughts are focused on bladder and prostate.
Wonderful Felliniesque moments pepper the film. Paloma Faith and Julian's manic musical journey, a wow stroll through a flooded St Mark's Square's and Fred Ballinger conducting a herd of cows, mingle with surreal moments to savour. Diego Maradona (Roly Serrano) pops up, a Buddist monk (Dorji Wangchuk) levitates, the LA actor jumps into costume as Adolf Hitler, Jane Fonda thinks television's the future and has a wobble on a plane and Miss Universe (Madalina Diana Ghenea) casts a sultry shadow of love lost and the fear of ageing.
Fascinating, visually captivating with bursts of Felliniesque magic but 'Youth' doesn't quite capture the audacity, verve and bitter sweet tragicomedy of 'The Great Beauty.'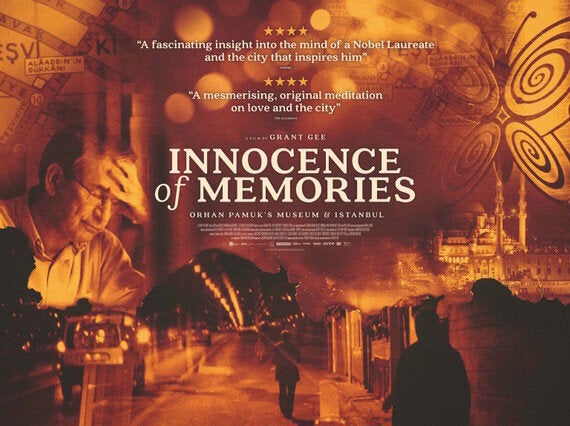 Director: Grant Gee. Documentary. UK 2015 90 mins. (12) ****
Grant Gee's 'Innocence of Memories' is remarkable. Beautiful, rich in content, a mixture of fact and fiction, a visual poem that absorbs you into its collective memory. it's a wondrous cinematic journey that quietly amazes and mesmerises.
The Museum of Innocence established in 2012 in Istanbul's Cukurcumar quarter by Orhan Pamuk, Turkey's Nobel Laureate for Literature, traces a fictional doomed love affair in the 1970s between Kemal, heir to a fortune and engaged to the aristocrat, Sibel and his distant cousin and shopgirl, Fusan. Unable to forget the love he felt for Fusan, Kemal collects objects emotionally connected to her from jewellery to lipstick stained cigarette butts which are displayed in the Museum of Innocence, a visual expression of their love affair and one of Istanbul's cultural attractions.
Novel, city and museum blend as the camera slowly glides through the shadowy nocturnal streets of Istanbul live with stray dogs, archive footage reflects on the city's past and Orphan Pamuk narrates as one of his novel's characters. Beautiful, visually poetic and quite remarkable.
A touring exhibition of The Museum of Innocence opens at Somerset House 27th January - 3rd April and the film 'Innocence of Memories' is released 29th January.
For further FILM and BLU RAY/DVD REVIEWS see www.film-reviews-and-news.co.uk