'Star Wars: The Force Awakens' is a 5-star gateway into intergalactic heaven that will have fans drooling - Steve Martino's 'Snoopy and Charlie Brown:The Peanuts Movie,' is a dose of feel good nostalgia with the well-loved comic strip characters - 'In the Heart of the Sea' puts man against a monstrous whale but this true life story lacks the adrenalin excitement punch.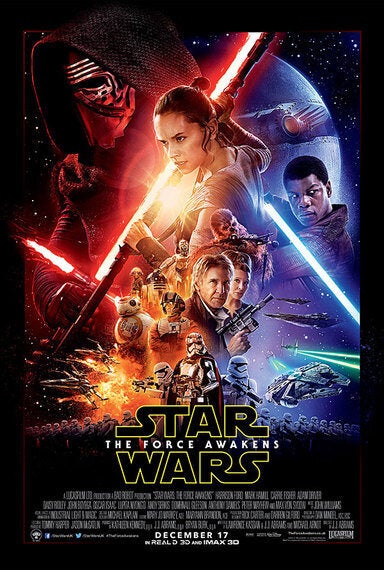 Director: J.J. Abrams. Harrison Ford, Mark Hamill, Carrie Fisher. Action, Adventure, Fantasy. USA 2015 135 mins. (12A) *****
J.J. Abrams's nailed it. The battle's won. 'Star Wars: The Force Awakens' is 135 minutes of high energy, excitement and escapism with a wow capital E that will have fans drooling.
Walt Disney's 4 billion dollar acquisition of the Stars Wars franchise in 2012 led to a world wide book-your-seat 'Star Wars : The Force Awakens' mania that spawned pre-bookings, competitions that would sap the galactic energy of all but the most hardened fans and days of nerve racking 'will it, won't it' live up to the hype. It does. it's a triumphant 5-star gateway into intergalactic heaven.
Nostalgia rules and the old gang's teamed up with Hollywood's latest in a panoramic, buzz-filled adventure that pulls all the strings. The mystery bag pops open to reveal Jakku, the mysterious desert planet, the search for Luke Skywalker (Mark Hamill), triumphant new heroes Rey (Daisy Ridley) and Stormtrooper Finn (John Boyega), Harrison Ford, world weary look in place is terrific as Han Solo, Carrie Fisher who played Princess Leia now works with the Resistance, Stormtroopers parade as never before and Kylo Ren (Adam Driver) could be up for intergalactic villain of the year. Add in airborne battle scenes to die for and for once the hype matches the product.
Fans and even the curious caught up in the hype should sit back and go for the ride. Let it unfold. You won't be disappointed. Terrific fun.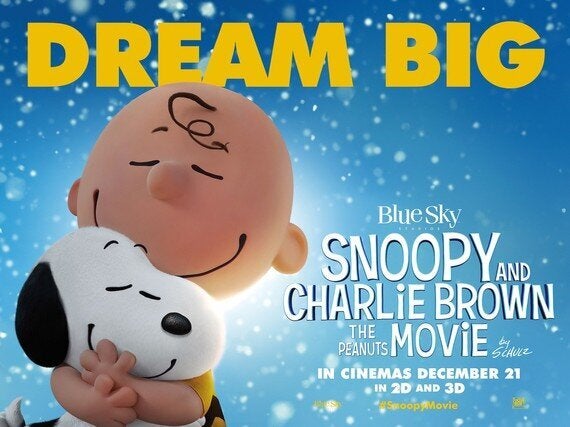 Director: Steve Martino. Family, Animation. USA 2015 93 mins. (U) ***
Charlie Brown's (Noah Schnapp) up for fun, games and adventure with Snoopy (Bill Melendez), and their friends. Theirs is a world without adults sticking their nose in.
Steve Martino's adaptation of Charles M. Schulz's renowned and well-loved comic strip character penned by Craig and Bryan Schulz, son and grandson of Michael Schulz may have 3D computer generated models and cling to it's roots but it's hard to spin it out to a full length 96 minute feature.
Charlie Brown's smitten with his new neighbour, Little Red Haired Girl (Francesca Angelucci Capaldi) but his plans to impress her at the school's talent contest don't go well, ace pilot Snoopy's up in the air chasing the Red Baron and Fifi (Kristin Chenoweth) the pink poodle's caught his eye, but he'll help Charlie in his quest to win the love of his heart and Linus (Alex Garfin) is still Charlie's best pal. The gang's all there including know-it-all Lucy (Hadley Belle Miller) always ready to to tell Charlie what he should be doing but he's a good boy who has adventures with his pals.
It's not laugh out loud, rather a dose of feel good nostalgia and smile along with Charlie Brown and Snoopy and their pals.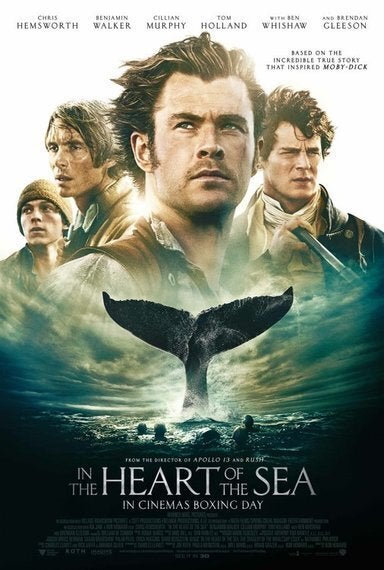 Director: Ron Howard. Chris Hemsworth, Cillian Murphy, Brendan Gleeson. Action Adventure Drama. USA 2015 121 mins. (12A) ***
Survival against the odds, man against a monstrous beast, the sense of adventure, obsession and desperation. The ingredients are there for a block buster, man against a monstrous sperm whale but this real-life story struggles as it tries to offer too much and becomes predictable and unconvincing.
With the ineffectual and arrogant Captain George Pollard (Benjamin Walker) at the helm the whaling ship Essex sails from Nantuck, Massachusetts in the winter of 1820 in search of whale oil. First Mate Owen Chase (Chris Hemsworth) knows that the captain isn't up to the command but family connections have won the day.
This real-lfe drama became the inspiration for Herman Melville's (Ben Whishaw) novel 'Moby Dick' and Ron Howard's adaptation takes this centre stage in a tale of a monstrous sperm whale, that sank the Essex, whose surviving crew lost at sea engaged in a desperate struggle for survival which led to cannibalism. That's quite a story and if anything it's too much to cram in and negates the excitement buzz of a gigantic whale sinking a ship. There's some great CGI and it's one hell of a whale but the edge of the seat adrenalin rush isn't there. It needs a 'Jaws' bite that pushes you over the edge.
For further Film and Blu-Ray/DVD Reviews see www.film-reviews-and-news.co.uk