'Sicario', is an intense, action packed drug cartel thriller- 'Suffragette', pays a compelling and passionate homage to the women who fought for the right to vote - 'Red Army', Gabe Polsky's fascinating documentary offers an insight into the role of sport in Cold War politics - 'Zarafa' is a delightful animation story of a young boy risking his life to save an orphaned giraffe.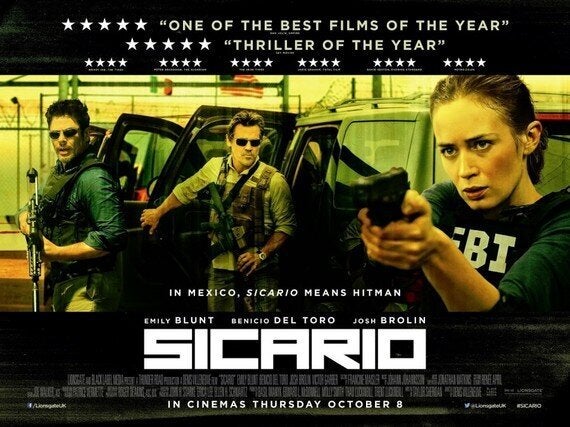 Director: Denis Villeneuve
Cast: Emily Blunt, Josh Brolin, Benicio Del Toro
Genre Action, Crime, Drama
Language: English & Spanish with English subtitles
Country of Origin: USA 2015 121 mins.
'Sicario' is an intense action packed drug cartel thriller wrapped in a thundering and haunting score that matches its fierce action and emotion.
The discovery by FBI agent Kate Mercer (Emily Blunt) of a nondescript suburban house not far from Phoenix whose walls are stuffed with the rotting bodies of the Mexican drug cartel's enemies eads her into the dark, brutal and ambiguous world of the drugs war.
Emily Blunt's is terrific as FBI agent Kate Mercer, idealistic and vulnerable recruited by Matt Graver (Josh Brolin) the swaggering government task force official, to aid in the escalating drugs war but it's Benecio Del Toro who holds the screen as Alejandro, the former Colombian prosecutor with a past that's eaten into his soul.
Seen through Kate Mercer's eyes, it's a brutal world where anything goes and lines are crossed as trips back and forth over the Mexican border use drugs cartel boss Manuel Diaz (Berbardo Saracino) as bait to flush out the big cat, Fausto Alarcon (Julio Cesar Cedillo). It's no longer the war on drugs, more a war for drugs as the powers that be jokey for control of the trade.
Tension filled with superbly staged action set pieces, a great script, Roger Deakin's cinematography, Joe Walker's spot on editing, a haunting score and Denis Villeneuve's superb feel for the genre makes 'Sicario' a bulls eye hit thriller.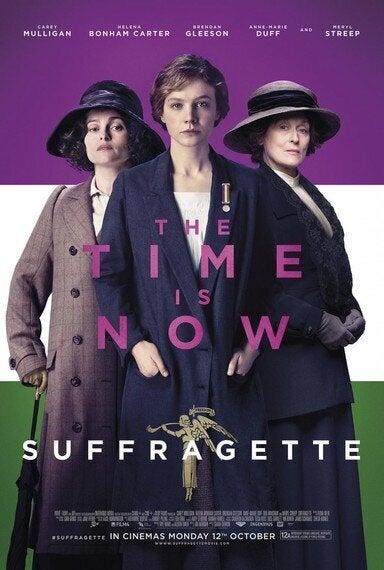 Cast: Carey Mulligan, Helena Bonham Carter, Anne-Marie Duff, Mereyl Streep
Country of Origin: UK 2015 106 mins.
Compelling and challenging, Sarah Gavron takes a fictional working class family to trace the origins of the feminist movement that fought for a woman's right to vote and sees Carey Mulligan give a passionate and emotional performance and Meryl Streep pops up in a cameo role as Emmeline Pankhurst.
Life's brutal for Maud Watts (Carey Mulligan) and the women in the Bethnal Green laundry overseen by a vicious and exploitive Norman Taylor (Geoff Bell). Her husband Sonny (Ben Whishaw) goes with the flow but she has her son George (Adam Michael Dodd), the love of her life. Inspired by Emmeline Pankhurst, encouraged by fellow worker Violet (Anne-Marie Duff) and with a growing sense of injustice, Maud joins the Suffragette cause at the expense of her instincts as a mother as it commits to a more radical approach and links with fellow agitators, pharmacist Edith Ellyn (Helena Bonham Carter) and Emily Davison (Natalie Press). Increasing police brutality, the intervention of a not unsympathetic Inspector Arthur Steed terrifically played by Brendan Gleeson who tries to enlist Maud as an informer, imprisonment and force feeding does nothing to dim their resolve which led to Emily Davison being killed by George V's horse at the 1913 Epsom Derby and world wide press coverage.
Beautifully shot with an authentic feel for the period 'Suffragette' is a powerful homage to the women who fought for the right to vote and makes you realise how hard the battle can be to win a basic human right. The final credits say it all. What was there to fear in giving women the vote? Nothing to fear and everything to gain.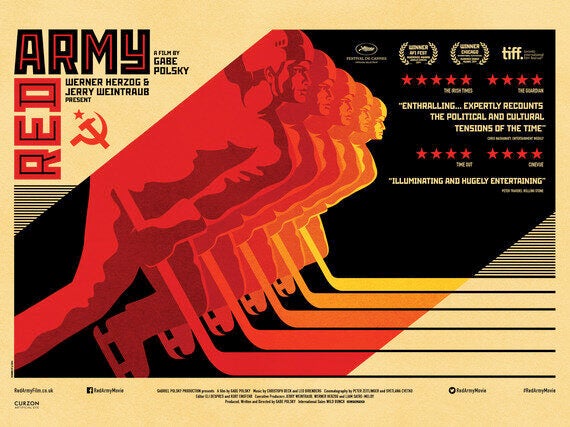 Cast:Viacheslav Fetisov, Scotty Bowman, Mark Deakins
Language: English, Russian with English subtitles
Country of Origin: USA, Russia 2014 84 mins.
'Red Army', Gabe Polsky's fascinating documentary offers an insight into the role of sport in the Cold War politics of the Soviet Union. Formed in the 1950s, the Red Army ice hockey team coached by the innovative Anatoli Tarasov were unbeatable and the sporting symbol of communist supremacy at the height of the Cold War. In 1977 KGB agent Vicktor Tikhonov replaced Tarasov, introduced an oppressive and isolating training regime and the team became a pawn in the game of Cold War politics. With simmering unrest and resentment at the lack of respect the team suffered the ultimate humiliation, defeat by the Americans at the 1980 Olympics at Lake Placid but bounced back to win gold in 1984. With archive footage and the personal testimony of the charismatic Slava Fetisov, their legendary captain and star of the team, Gabe Polsky relates the rise and fall of the Red Army ice hockey team, life in the Soviet Union and the confusion of adapting to the NHL after the collapse of the Soviet Union.
Interesting to see that Vladimir Putin celebrated his birthday with a game of ice hockey.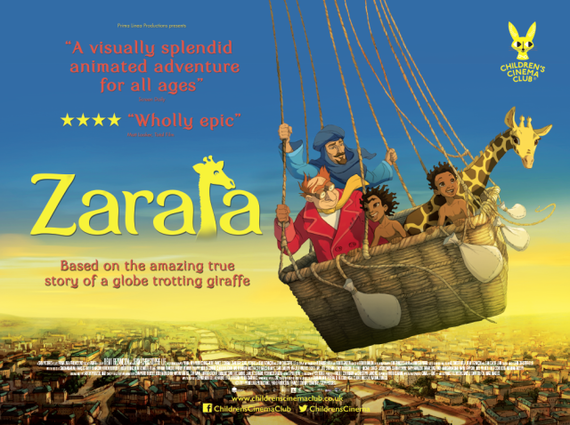 Director: Jean-Christophe Lie, Rémi Bezançon
Cast: François-Xavier Demaison, Max Renaudin Pratt, Simon Abkarian
Country of Origin: Belgium, France 2015 78 mins.
With hints of Disney and wonderful hand drawn visuals the Belgium animation feature, 'Zarafa' references France's dark imperial past with an affecting story of 10-year-old Maki (Max Renaudin), a Sudanese slave escapee who wants to rescue the orphaned giraffe Zarafa from the bedouin Hassan (Simon Abkarian) who's been ordered by the Pasha of Egypt to take her as a gift to King Charles X of France. They all pile into the aviator adventurer Malaterre's (Francois Xavier-Mavon) balloon with the cows Mounh and Sounh and it's off for Paris with the slave trader Moreno (Thierry Fremont) in hot pursuit and the possibility of a bit of romance with Hassan and the Greek pirate Princess Bouboulina (Ronit Elkabetz).
For further details of film and Blu Ray/DVD releases see www.film-reviews-and-news.co.uk