'The Lobster,' a satire on love and romance is edgy and peppered with rich deadpan absurdist moments - Lance Armstrong, Tour de France hero bathes in ego and drugs in 'The Program,' - 'Censored Voices,' Mor Loushy's riveting and relevant documentary glances back at Israel's Six day War - 'Beasts Of No Nation' thrusts the viewer into the blood drenched world of Africa's child soldiers.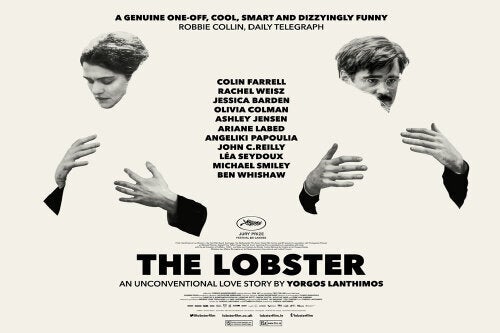 Director: Director: Yorgos Lanthimos
Cast: Colin Farrell, Jacqueline Abrahams, Roger Ashton-Griffiths, Jessica Barden
Language: English, French with English subtitles
Country of Origin: Ireland, UK, Greece, France 2015 118 mins.
Edgy and surreal, peppered with rich deadpan absurdist moments,'The Lobster,' Jury Prize winner at Cannes offers a hilariously bizarre glance at contemporary mating habits.
In the near future singles check into The Hotel run by the tyrannical Olivia Colman - it's dance and interact but no masturbation with 45 days to find a genuine partner or they're transformed into an animal of their choice.
If lonely architect David (Colin Farrell) can't find a partner he wants to be a lobster. He tries the hotel dances and forays into The Woods to kill Loners but picking the heartless woman (Angelika Papoulia) was a disaster and the man with the limp (Ben Whishaw) and the man with the lisp (John C. Reilly) are only so so pals. David seeks happiness and that's his problem so it's escape into The Woods, obey the Loner's rebel Leader (Lea Seydoux) and fall in love with the previously unseen narrator Rachel Reisz which breaks the rules.
The cast are terrific, The Hotel's spot on but as it moves into The Woods it stretches itself and fumbles somewhat for ideas. Bizarre, absurdly funny, off-the-wall. This is the age of Tinder dating.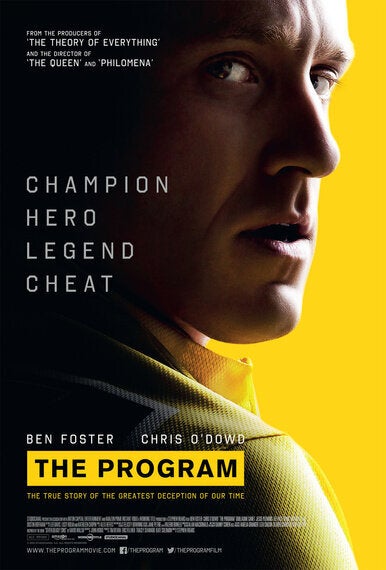 Cast: Jesse Plemons, Lee Pace, Ben Foster
Language: English & French with English subtitles
Country of Origin: UK, France 2015 103 mins.
'I have never tested positive for performance enhancing drugs' - Lance Armstrong 7 times winner of the Tour de France.
Lance Armstrong, an OK cyclist took the US Postal Services Team to the forefront in the Tour de France and made the gruelling mountain climb seem like a walk in the park. Seven times winner, adored by the public and press, the man who'd beaten testicular cancer. Everyone loves a winner and Dr. Michele Ferrari's 'learn to fly' EPO and a few other body enhancing tricks hit the win, win button. Sunday Times sports journalist, David Walsh (Chris O'Dowd) was the sole doubter.
Lance Armstrong, ego driven, relentless in his quest for glory, a man above men. A journalist questions his motives - 'I'm Lance Armstrong, and he is f...... no one.' Ego rules, ego destroys. Team mate Floyd Landis (Jesse Plemons) tests positive and spills the beans, others follow and Oprah Winfrey waits in the wings for the 2013 confession.
With the thrill and spill hell of The Tour, Ben Foster offers a convincing portrait of an ego driven manic Armstrong with strong support roles, particularly from Jesse Plemons. Lance Armstrong, a drugs cheat amongst many, win at all costs, everyone loves a winner. Ring a bell?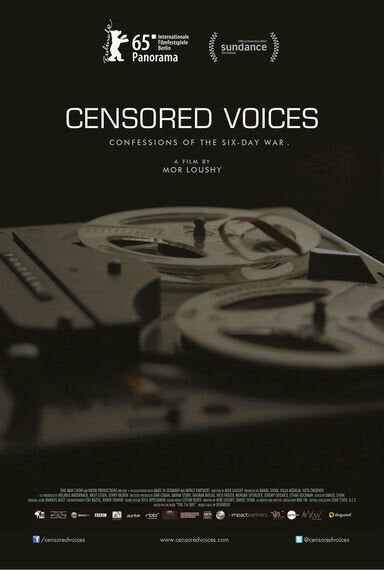 Language: Hebrew with English subtitles
Country of Origin: Israel, Germany 2015 84 mins.
The 1968 Six-Day war - the Sinai Peninsula, some of the Golan Heights, the West Bank, Gaza and Jerusalem are taken. Victory. One week after the war a group of young kibbutzniks led by author Amos Oz and Editor Avraham Shapira recorded the thoughts of young reservists who had returned home from war, guilt-ridden and traumatised. 'They never said 'Leave no one alive' but they said 'Show no mercy.' Censored by the army, the recordings lay forgotten.
With full access to the recordings 'Censored Voices' offers a perspective to the Israeli-Palestinian conflict with the interviewees 48 years later listening to their regrets at the horrors inflicted on Arab civilians who were taken and turned into refugees, intercut with archive footage of the war. 'When you see a whole village go, like sheep, wherever they're taken and there is no sign of resistance, you realise what holocaust means.'
Mor Loushy's riveting documentary has never been more relevant with clashes at the Al-Aqsa mosque, Israelis grabbing for gun permits and a real fear of a third intifada.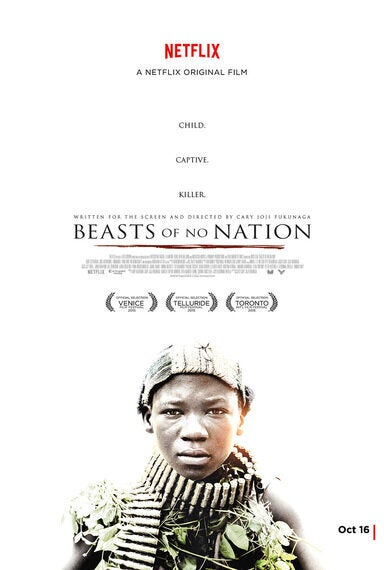 Cast: Idris Elba, Abraham Attah, Amy Kaufman
Country of Origin: USA 2015 136 mins.
'Beasts Of No Nation', Cary Fukunaga's adaptation of Uzodinma Iweala's 2002 novel of the same name thrusts the viewer into the blood drenched world of the child soldier.
In an unnamed African country, Agu (Abraham Attah), orphaned when civil strife hits his village, is picked up a rebel group led by the sinister Commandant (Idris Elba). Initiated into the group during a voodoo-like ceremony, Agu is enlisted as The Commandant's personal boy servant and like fellow boy soldier Striker (Emmanuel Nii Adom Quaye) steps into the drug induced gut wrenching theatre of blood, his innocence replaced by a blood lust.
Idris Elba excels as the charismatic, psychotic Commandant, a pawn in the larger game of power politics but it's Abraham Attah who amazes in this brutal portrait of opportunistic power politics. The Chinese businessman, sweating in suite, collar and tie with credentials approved by Beijing takes precedence over The Commandant. He's done his bloody job.
Netflix's first feature film release has ruffled a few feathers but well done Curzon who took it up for a limited UK 8th October release.
For further details of this weeks film and Blu Ray/DVD releases see www.film-reviews-and-news.co.uk
Popular in the Community