With Julianne Moore winning Best Actress for her portrayal of a woman suffering from early-onset Alzheimer's in Still Alice, and the tragic loss of Sir Terry Pratchett to the unrelenting disease only last week, it is clear that Alzheimer's and the devasating effects it has on patients and their families is still at the fore of public attention. It dominates news stories across the world and though there has been reportedly real progress in scientific understanding of it, for those suffering from the disease today, there is little comfort in the promise of future antidotes.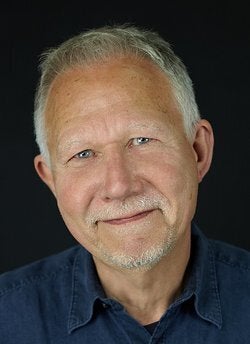 So when I had the opportunity to meet J. Paul Henderson, author of Last Bus to Coffeeville, I felt incredibly lucky. Having watched his mother suffer from subtle stroke dementia for 10 years, Paul set out to write a novel that dealt with the incredible sad struggle against Alzheimer's in an uplifting and humourous way. The result is a brilliant novel which is sure to strike a chord with fans of The Best Exotic Marigold Hotel, The Unlikely Pilgrimage of Harold Fry and The 100-Year-Old Man Who Jumped Out of a Window and Disappeared. I asked Paul what he thought about the prominence of Alzheimer's in the media today: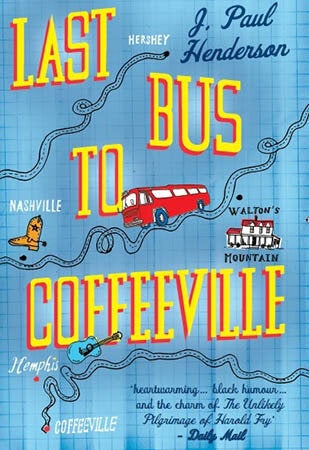 It used to be the Big C that people feared and talked about, but now it's the Big A. Roll over cancer and make way for Alzheimer's - a disease with real cajones, a disease without cure or effective treatment and one that puts you in the shade, old chum. The King is dead, long live the King!
Alzheimer's is mainstream now, and there's never a day goes by without some mention of it on television or in the newspapers. And it's made it to Hollywood and come to the attention of publishers. Alzheimer's has hit the big time. It's commercial!
Life never used to be this good for Alzheimer's. For a long time it appeared only in off-Broadway productions and earned its living waiting tables. But then the audiences started to age and Alzheimer's got its break. Overnight it became a sensation and a star was born.
I first heard the word Alzheimer's in the mid-sixties. My mother taught it to me the day I came home from school and found her in the kitchen sorting the aluminium from the non-aluminium pans, and piling the aluminium ones in a corner ready for my father to take to the dump when he got home from work. (His next job was to remove the asbestos from the garage roof).
It wasn't madness that made my mother do this, but the fear of madness. She'd heard on the radio that there was a link between aluminium and Alzheimer's and so was taking precautions. My mother was practical, no-nonsense and planned ahead. Death never frightened her, but the world of nursing homes and dementia did.
The word Alzheimer's meant nothing to me then, and neither did dementia. Old people in the neighbourhood occasionally went 'batty' or 'lost their marbles', but they were too few and far between to capture the nation's mood. But then people started to live longer, more of them went batty, and the battiness was given a name: Alzheimer's. It was time for people to cross their fingers, mark their doorposts with lamb's blood and hope for a Passover. No such luck. The plague struck all households.
Alzheimer's is just one of the waves of dementia that has crashed to shore in recent years. It matters little if a person is suffering from Alzheimer's, vascular dementia, Fronto-temporal dementia, Binswanger's disease or dementia with Lewy bodies. It's all the same: brains are pounded to mush and lives made wretched. It's one thing to die from a disease that consumes your body, another entirely to die from one that ransacks your brain.
When my mother turned eighty, the aluminium pans my father had taken to the dump crept back into the house and started to tap her on the head. It wasn't the Alzheimer's she'd feared, but subtle stroke dementia, and the dementia robbed her and our family of the last ten years of her life. At first its incidence was funny: she laughed at the things she did and so did we. If the disease had stopped there it would have been manageable, but dementia knows no bounds: it's hard-working and tireless, never takes a holiday, and is always prepared to go that extra mile. It has a work ethic the Puritans would have been proud of.
The disease progressed, stripping layer after layer from my mother's being until she was only an outline of her former self, and eventually another person entirely - and not one you'd necessarily want to spend time with. The disease dumped her at the Gates of Hell not knowing who she was or why she was there and unable to recognise the family standing right there at the Gates of Hell with her.
There's nothing to prepare a person for the misery of caring for someone with dementia. There's no road map to follow, no ordnance surveys to consult. It's a matter of trial and error, and usually it's error. All you can do is be patient and remember that the person you're talking to isn't the person you think you're talking to.That person has long since gone.
Cancer and dementia are both cheerless and unforgiving diseases, but at least you can communicate with a person who has cancer. Your words still count for something, and though they can't cure the disease they can at least console the person suffering from it. With dementia it's different: words are meaningless and the sufferer is destined to suffer alone. Words can cut through tumours but not nightmares.
The only silver lining to my mother's death was that she died at home. My father promised her she'd never go into a nursing home and he lived up to his word, disregarding the toll it took on him. He gave a star performance. Her passing was sad, but also a relief. She was off the hook, and so too were we. That's the guilty and uncomfortable feeling you have to live with when you lose someone to dementia. You're not all that sorry they've gone. And it takes time before you can remember the person as they used to be rather than the person they became. There's no two ways about it: dementia is a bugger!
My mother never expected to receive a medal for growing old, but neither did she deserve the dishonourable discharge from life given to her by dementia. No one does. And there are times when I wonder if another person in my mother's position, knowing the fate that awaited them, would have done more than just throw out a few aluminium pans.