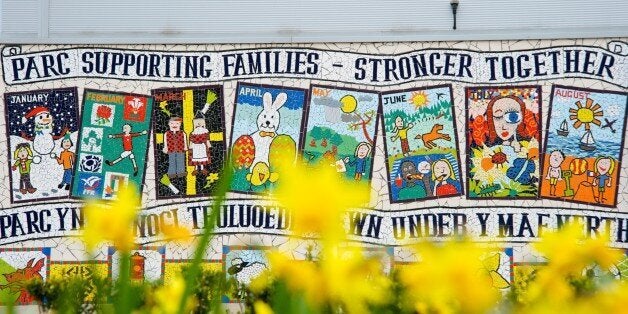 Tuesday's documentary for BBC Children in Need has shone a light on the plight of more than 200,000 children in England and Wales with a parent in prison. To put that figure in context, this is two and half times the number of those in care and over six times the number on the Child Protection Register. Of these, six out of 10 boys with a convicted parent are likely to end up in custody themselves.
When you work with offenders, I believe the most powerful way to engage and motivate is to talk about family. That is not to say that family interventions work is easy, or that it represents a magic bullet for rehabilitation. But having worked intensively on establishing Invisible Walls Wales at HMP & YOI Parc, Bridgend, the very tangible results of the project speak for themselves.
Invisible Walls Wales arose out of an inspection report 10 years ago that identified a lack of input with children and families at the privately-run prison, the largest in Wales (and second largest in the UK). It is a sector-leading model that we have developed ourselves and recently praised by an independent inspection as "innovative, radical, and probably the best [programme] we have seen in any prison."
There are three strands to the project: an overhaul of the prison visits facility; the institution of a family interventions unit - the first of its kind anywhere, with a dedicated 64-bed facility that opened in October 2010; and a new approach to partnership working, with community and statutory services, with charities and other organisations with whom prisons might never normally engage.
'Invisible Walls' comes from the idea that where we can show the prisoner's family that he is taking positive steps, and where we can show the prisoner some of the effects of his incarceration on his children - including bedwetting and night terrors - then there's positive change on both sides. We work with social services, the probation service and the prison to identify twenty families each year who are deemed to have a 'heightened need'. Usually, there will be children in care, or at risk of being taken into care; there will be substance abuse, partners with major debt problems and the prisoners will be repeat offenders with significant criminal lifestyles. In these families, everyone is suffering. But however broken it may look, the project wraps around all of it.
The impact of Invisible Walls Wales has been astounding. Research is being conducted by the University of Wales on behalf of the Welsh Centre for Crime and Social Justice and is due to be published in early 2017, but it is expected to show that reoffending rates among high risk families have decreased dramatically, to around 10%. We have already seen a significant turnaround in school attendance. All children enter the project categorised either 'at risk' or 'isolated' - no child has left the project in either of these categories.
We have also fundamentally changed the environment for prison visits. Prison visit halls are unique spaces, where worlds collide; the only place where inside meets outside. Visits halls have traditionally been austere, clinical, boring, dirty and intimidating places, doing nothing to mitigate the anxiety and fear that naturally exist when entering a prison. To tackle this, we revamped the hall to create a colourful, inviting, cheerful, warm environment and it now resembles a community centre rather than prison. Now, visitors arrive in a low-key, informal reception, pass through security decorated with Dylan Thomas themed murals and covered walkways and the results are clear. Across the prison estate, 48% of prisoners receive regular family contact, at Parc this has now risen to 69% and the evidence shows that people who maintain links with their families in prison are 52% less likely to reoffend.
There is still a long way to go and family intervention programmes, such as Invisible Walls, are not currently the norm. But by prisons engaging with prisoners' families, I have seen that our approach can go a long way to healing those broken bonds.
Prison, My Parents & Me airs on 15th November on BBC One at 10:45pm and then on BBC iPlayer.