Valentino Garavani, known to most simply as 'Valentino', is one of the world's last great living couturiers. The legendary fashion designer has dressed everyone from Jackie Onassis to Princess Marie Chantal of Greece and Julia Roberts. Though no longer designing for the eponymous label, Valentino, along with his friend and business partner Giancarlo Giammetti, now work to catalogue and educate the public on his body of work. To specifically showcase his couture legacy he has chosen to work with Somerset House on a major fashion exhibition this Autumn.
On 29th November Valentino: Master of Couture will open at Somerset House in London. Celebrating Valentino's contribution to fashion history, particularly that of couture, the landmark exhibition brings 130 couture pieces to London, all of which have never been showcased in Britain before. To match and highlight the significance of these pieces, a site-specific installation was designed by Antonio Monfredo and Patrick Kinmonth, who had previously worked on Valentino a Roma, the 2007 exhibition in Rome that marked his 45th Anniversary.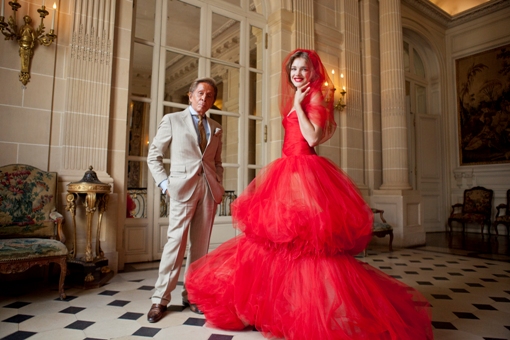 Valentino with Natalia Vodianova
Couture can be quite an opaque subject to those outside of the industry. Fashion exhibitions in general often struggle to convey the beauty and significance of pieces that are meant to be worn, not placed on mannequins in a display case. However, they are becoming more dynamic and therefore more popular. The Alexander McQueen retrospective at The Metropolitan Museum of Art in 2011 broke attendance records. Valentino: Master of Couture will undoubtedly dazzle its visitors, highlighting London's status as a contending fashion capital.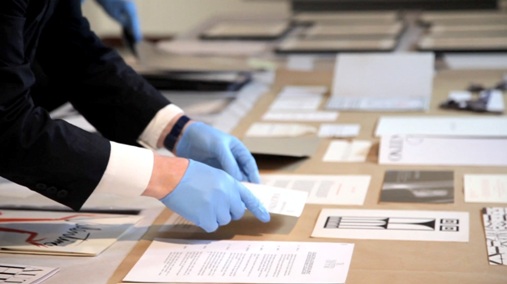 Sorting through ephemera to be displayed in the exhibition
The process behind staging an exhibition of this scale is almost as interesting as the end result. Crane.tv was granted exclusive access by Somerset House to film the weeks running up to the opening of the exhibition: builders and unsheathed mannequins in empty galleries; interviews with each of the co-curators; the glitz and glamour of the launch party. By discovering the process behind the final presentation, the experience should hopefully be enriched, unmasking a new perspective on the visitor's experience of this unique exhibition.
In part one we interview Alistair O'Neill, fashion historian and co-curator, who introduces the viewer to Valentino and ideas of couture. Part two, released on 21st November, will focus on the major building work while part three, released on 30th November, will show the dressing process, press preview and launch party.
Text by Angelica Pursley for Crane.tv
Crane.tv App now available for Nokia devices from the OVI Store