How A Week In The Mountains With A Group Of Strangers, Changed My Life, My Business & My View Of The World.
'Maybe short notice but we are running the alpselerator next week. Starts Sunday 20th finished Friday 25th. 6 early stage startups stay in a big chalet, do meditation, take walks, share meals and accelerate their businesses. - That message popped up on my Facebook on the 10th November.
Exactly two weeks later, I am four days into that trip, and I'm surrounded by snow-capped mountains and waterfalls reflecting on how my business ideas have changed, in such a dramatic way, in such a short period.
I'd heard stories from other people that had visited here in the past and that a certain strange voodoo exists. Like the time the two founders of a design agency went up a mountain and came down with the idea to close their successful business and build a community of Happy Start-Up's'. It is partly due to that very decision that I am sat here now.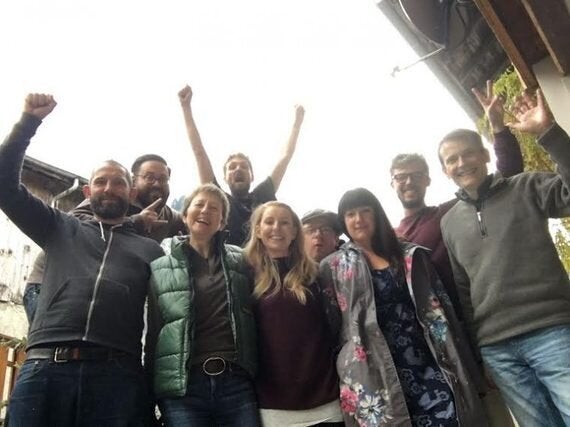 The Class Of 2016 | Image Credit Dan Flanagan.
I came with one idea, well not one as such but a mix of several all combined in as one.
Unfortunately, these ideas didn't have a clear 'next steps'.
This story began fifteen months ago when I quit my job. A job that I hated, a job where my job was to make money for brands that had too much money and didn't do very good things with that money- I wasn't proud of what I was doing.
When I quit my job - my revolution started. In a few short months from leaving a life that made me unhappy, stressed and unfulfilled, I had found my tribe, and I thrived.
Back in June I went away to the amazing, 'Happy Start-Up Summer Camp', and met people from all over the world that all thought the same as me.
This week in the snow, the people surrounding me are some of those people, and some that I had never met. They come from vastly different backgrounds to my own.
However, the differences seem to gently complement each other as we naturally start working on not only our own but each other projects. Books get written, twelve-month plans get sorted, newsletters get designed; podcasts get recorded, and films get storyboarded shot and edited. Not while we are changed to a desk, sweating over spreadsheets but as we sit around tables or on armchairs while change-makers, change things.
This attitude doesn't don't the fit in 'normal' world. But in the words of Jimmy in 'Quadrophenia'. 'Who wants to be normal eh?'
The last few days have been filled with pockets of time. Time to breathe, time to think, time to create, time to walk, time to work and time to visit the GP to pay him 30 euros to get tissue paper removed from my ear-hole (but that's another story) and most importantly, time to talk.
The talking comes thick and fast.
Well, nothing is straightforward when the ideas come from the Willy Wonka-esque warped mind of Jack Hubbard.
Jack lives in the mountains with his young family, in a place called 'Dream Valley'. A place where people come in one way and leave another.
The philosophy of 'No office required' means you can be more productive and effective by taking time away from the desk and the laptop.
By taking a few days away I now clearly see what I want to do with my life. I can now see what makes me happy, curious, challenged, puts fire in my belly, what will pay the bills and feeds my family doesn't have to be a different thing. They can be one and the same.
While I was away, I was introduced to the concept of writing a 'Business Bucket list'. We've probably all got personal bucket lists, but have you ever considered doing one for your business? I hadn't but I do have one now, and I've already started working on it.
That means in twelve months I've gone from 0 to a 1,000 people on the dance-floor. Now, just imagine where I am going to take that 1,000 in the next twelve months. That is the power of revolution.