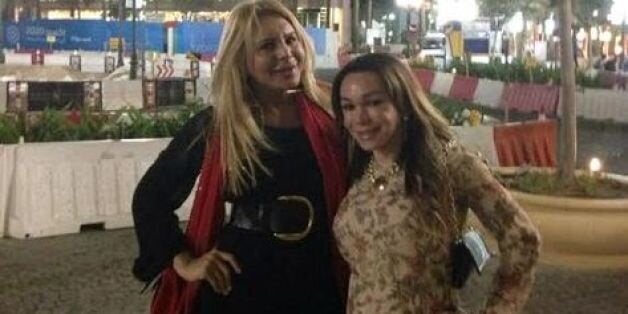 DUBAI, The United Arab Emirates -- Two transgender women from Brazil were detained and their passports confiscated while on vacation in Dubai.
Hairdressers 38 year-old Karen Mke and 33 year-old Kamilla Satto have been detained last month while attending a local nightclub with police charging them with the crime of 'imitating' women.
On Tuesday it was reported that the pair, who were on a tourist visit, are now awaiting an imminent trial with the possibility of imprisonment, fines and/or deportation to their home state of Amazonas in Brazil.
Mke and Satto attended, along with their friend Jean Campos, a hotel nightclub when they say they were accosted minutes later by its security men.
They reported that they were asked to submit their passports and when the security staff saw that their registered names were masculine they experienced abuse.
"We were well dressed, according to their culture and yet were accosted. We found the incident untenable and prejudiced.
"My friend [Campos] decided to call the police and it was the worst thing we did.
"When they arrived and realized we were trans, they placed us in a [police] car without saying anything, and we remained detained for two days," reported Mke and Satto.
The pair said that police informed them that they were detained because it is forbidden for "men to dress as a woman".
Dubai punishes the "imitation of women by men" under a law prohibiting "indecent acts" with fines, deportation and possible imprisonment of six months to a year.
The pair cannot leave Dubai as their passports have been confiscated by the authorities, and have now run out of money and forced to reside with a Filipino family.
"We just want to go back to Brazil and make clear that we merely came here to get to know the local culture, and not to attack Islamic laws and moral precepts," explained Mke.
Brazil's embassy confirmed the case and said the pair will have to wait for a court session to be held on March 23.
Abdulla, chair and founder of the UAE LGBT advocacy group criticised the Emirate's government: "The abuse and humiliation Karen Mke and Kamila Satto received during their stay in our country is deplorable, is this an example of things to come during the world expo to be held here in Dubai?
"Intolerance and hostility and more human right violations towards visitors that we should be welcoming?
"We call upon the government of the United Arab Emirates to move swiftly and resolve this case."