Bouncers of an Edinburgh bar sneered at and refused entry to a gay couple, who were told to "prove" their relationship in order to be allowed in.
Derek Couper and David Leitch were on a night out with another gay couple as well as a female and male friend, when they tried to get into Shandwick's bar, Edinburgh on Friday 26 July.
The bouncer refused entry saying it was "a couples' night", but when 22-year-old Couper, who is a law student and parliamentary aid, told him they were a gay couple: "he laughed, looked at the other bouncer and then told us to prove it.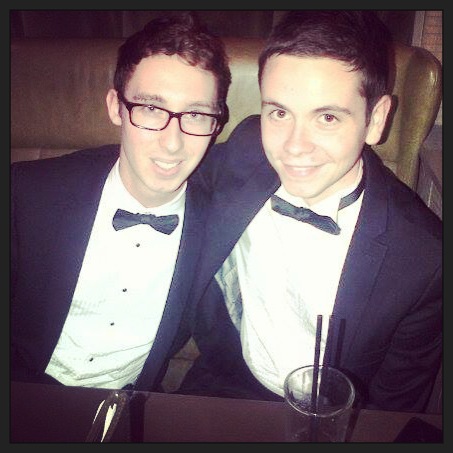 Leitch on the left, with Derek. Image: Derek Couper
"I think he wanted us to kiss. We thought he was joking but he said, 'Use your common sense, if you can't prove it, you can't come in'".
Couper tried to reason with the bouncer: "I told him that under the provisions of the equality act, this kind of discrimination is illegal, I even cited the particular clause to him.
"But he just sneered and replied: 'Get a grip, that's total nonsense.'
"The behaviour of the bouncer was wrong, I felt as if he was trying to humiliate us.
"All this was done in front of people queuing, probably with the intention to humiliate us, but I was pleased that they were witness to the discriminatory behaviour.
"It was, nevertheless, a very degrading experience."
Couper said that it seemed like the bar may have had some unstated policy regarding an equal mix of men and women, which was then covered up with an anti-gay policy.
He explained: "Our friends, a male and female, were at the front of the group and would have probably been allowed entry, despite them not being a couple.
"We were all well dressed, and sober, so it couldn't have been about him fearing we would cause any trouble."
Couper said he filed a complaint with the bar and will be meeting the managers this coming Friday afternoon to discuss the incident.
"People should not be treated differently because of their gender or sexuality, that's just wrong, and if it can happen in a tolerant and open city like Edinburgh, imagine what can happen in smaller towns throughout Scotland."
He added that this incident should highlight the issue sending a strong message to other businesses and organisations across Scotland and the UK, that discrimination is ethically wrong, illegal and should not be tolerated.
A spokesperson for the bar said that Shandwick's has begun an investigation into the incident and will be reviewing the contract of the bar's security firm.
Commenting on the incident, Rob McDowall chair of the Scottish based LGBT Network charity, said: "This story confirms that up and down the country gay people are often reduced to a sideshow due to the ignorance and insensitivity of bigots.
"I can find no reasonable explanation to justify this type of behaviour other than the desire to humiliate and poke fun at a young gay couple.
"I would urge the couple to make a formal complaint to ensure this type of behaviour doesn't go unchallenged in Scotland's capital city."