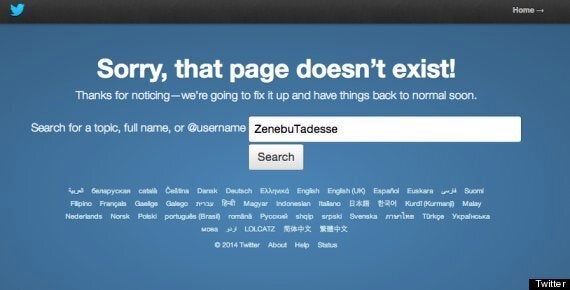 Ethiopia's Minister of Minister of Women, Children and Youth Affairs official twitter account has been deleted on Tuesday night, after she slammed Uganda for passing it's anti-gay law.
In the first remark ever made by an Ethiopian official regarding LGBT people, on Monday evening, Zenebu Tadesse, criticized Uganda's harsh anti-gay law which imposes life imprisonment for LGBT people and obliges citizens to report anyone they suspect.
There is no place for hate, discrimination in my beloved Africa. It's not Governments' business to make dress code or anti-gay laws #Uganda.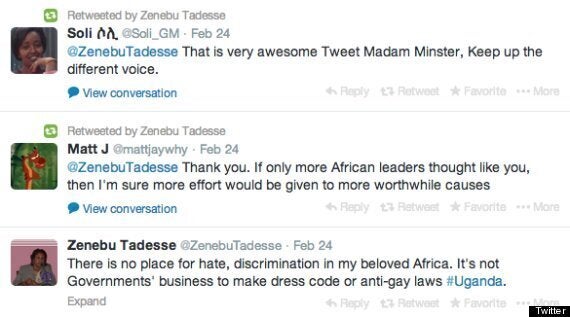 Tadesse retweeted some messages of support of her tweet while rebuffing criticism, and stating quite clear that it was condemnation of Uganda's law, not an endorsement of LGBT rights.
LGBT rights advocate, including Frank Mugisha and Human Right's Watch Daniel Bekele, hailed the courage of the first African official to condemn Uganda's anti-gay law.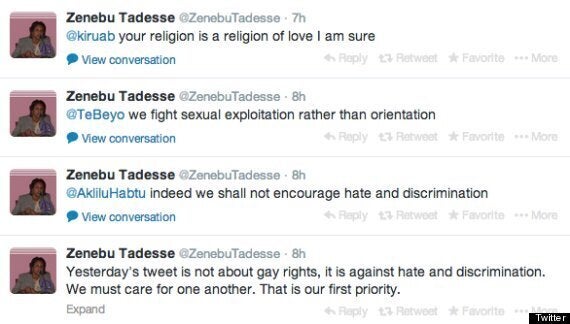 However, a few hours later, two new tweets appeared stating:
This is to notify that the Honourable Minister's account was hacked by unknown person(s). We are rectifying the matter.

Please disregard all other tweets sent from this account meanwhile, as they are not from the Honourable Minister.

Many twitter users from Ethiopia stated that they that she was forced to retract her statement as it was to progressive and may face both local and inter-African backlash.
Shortly after her account was deleted altogether from twitter.
The Twitter account of minster Zenebu Taddesse was hacked and the condemnation tweets against the recently signed Ugandan anti-homosexuality bill and ban on miniskirts doesn't reflect the minster and Ethiopian government stance at all, they are all tweeted by anonymous hackers not by the minster.
While Shemeles Kemal, an Ethiopian government official, added:
The government is investigating the matter and the identity of the hackers and we will take appropriate measures once the hackers are identified.
Tadesse herself told to Tadias Addis, an online newspaper:
I'm really saddened and traumatized by the action of the hackers, this is neither mine nor the government view, homosexuality is a crime under the Ethiopian criminal code."

How can I say this, it doesn't even fit with my personality at all.
Ethiopia has already a harsh anti-gay law which punish same-sex acts with up to 15 years imprisonment.
In addition, under its anti-terrorism law anyone who states what the government deems terrorism (which can include human rights criticism) can be imprisoned for 20 years, without a warrant.
Ethiopia's anti-advocacy law bars charities and nongovernmental organizations that receive more than 10 percent of their funding from abroad from participating in activities that advance human rights and the promotion of equality.
Essentially these three laws taken in total make it impossible for any health-services, charity, advocacy or even clubs or bars to openly support or cater for Ethiopia's LGBT population
Reacting to news, Mercy (pseudonym to protect his identity), director of the underground Rainbow Ethiopia, a health and support group for Ethiopian LGBT people, told me:
I don't think the minster account is hacked, she must have been silenced or scared away by the backlash. But we still appreciate her good intention and support
Soleyana, a Human Rights activist from Ethiopia told me:
Her account was not hacked, this was just silencing from her own government.

We know that Freedom of Expression is curtailed in Ethiopia.

The deletion of her twitter account is a bad sign that different opinions on Human Rights issues are not entertained within the ranks' of Ethiopia's government.
The mere fact that a single not-that-much-pro-gay statement resulted in the death of Zenebu's twitter account probably speaks volumes on the direction to which the leadership is leaning.
The dead twitter account of Minister Zenebu can be taken as a symbolism of the looming danger on real and perceived Ethiopian gays.
International human rights advocates also reacted to the news of the removal of Taddesse's twitter account and the subsequent official rebuttal.
Veteran British Human Rights advocate, Peter Tatchell, told me:
It is wonderful that the Ethiopian minister took a stand against Uganda's harsh new anti-gay and dress code laws but shameful that she was pressured to renounce it.

This is symptomatic of the way liberal, progressive Africans are being forced into silence by repressive governments. It is a violation of the principles of the African Charter on Human and People's Rights.
While Senator Lisa Shoman, one of the leading politicians of the Caribbean, a Human Rights lawyer, and former Foreign Minister of Belize said:
As a human rights advocate and political activist I am concerned about the 'silencing' of Minister Tadesse's voice on the Twitter.

As a woman I am concerned that a vital voice on anti-discrimination and hate may have been compelled to retract her stance.

Neither is acceptable, nor is the apparent violation of the freedom of speech.

I am more concerned now, than ever for her safety.

Bravery has its own reward and in this case, punishment. We are, none of us free, until we are all free.
While activist Melanie Nathan, a native of South African commented:
The fact that the Minister is now being silenced is indicative of how hard it actually is for Africans who understand homosexuality and it's unjustified oppression to speak.
Related