HARARE, Zimbabwe -- Zimbabwe's gay community is breathing a sigh of relief after a court thwarted an attempt by the country's authorities to shut down its main LGBT rights advocacy group, on Wednesday.
Harare Magistrate Donald Ndirowei dismissed the State's prosecution of Gays and Lesbians of Zimbabwe (GALZ) by quashing charges of running an "unregistered" organization.
Prosecutors preferred charges of running an unregistered against GALZ chair, Martha Tholanah, in August 2012 after police raided, harassing members, conducted a search, seized equipment and material at the organization's Harare office.
The prosecutors claimed that Tholanah unlawfully took part in the management of GALZ by "engaging in gays and lesbians activities" in contravention of Section 6 (1) (3) of the Private Voluntary Organization (PVO) Act Chapter 17:05.
Magistrate Ndirowei ruled that GALZ is not obliged to register under the PVO Act and therefore the State could not prosecute the organization as a High Court order issued last month exempting it from registering is still binding.
The Magistrate said he could not be seen interfering with a ruling of a superior court.
The High Court ruled on the 14th of January, 2014 that the State returns the GALZ property.
The Presiding Judge, Justice Chigumba, also declared invalid and set aside the warrant of search and seizure issued by the authorities and executed by the police when they raided the GALZ offices.
Chigumba said the seizure was unlawful and contravened the rights of GALZ further stating that it is not obliged to register in terms of the Private Voluntary Organizations Act.
Zimbabwe's authorities still refuse to return GALZ's property they seized in 2012.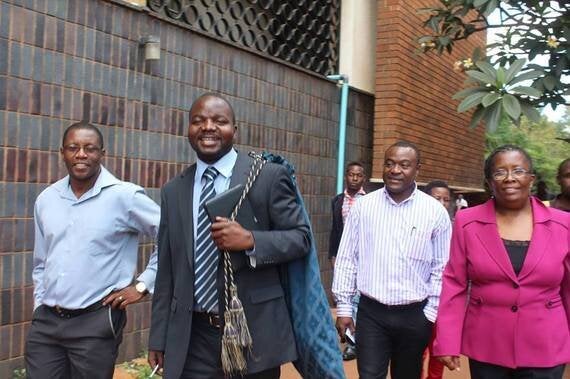 Martha with GALZ's legal team leaving the court on Wednesday after their victory.
Speaking with me shortly after the court hearing, Tholanah stated: "I am just happy that this is over. There is hope in the justice system, and I hope this prevails.
"Special salute to members of GALZ who have continuously suffered a lot of harassment, but have remained steadfast in claiming their birthright as citizens of Zimbabwe."
Last weekend, during his birthday party, Zimbabwe's President Robert Mugabe ranted against the gay people: "We don't accept homosexuality here. God made men and women so they can bear children."
Mugabe has been continually attacking LGBT people since 1995 saying they are "worse than dogs and pigs" "unnatural" and "degrading human dignity."
Male homosexuality is illegal in Zimbabwe, and in 2006 the country's government amended the law which now states that sodomy is any "act involving contact between two males that would be regarded by a reasonable person as an indecent act," thereby criminalizing holding hands, hugging, or kissing, punishments range up to 10 year imprisonment.
Zimbabwe also enforces its Censorship and Entertainments Control Act prohibiting "import, print, publish, distribute, or keep for sale any publication which is undesirable (defined as "indecent or obscene or is offensive or harmful to public morals or is likely to be contrary to public health" and has been used to harass LGBT people and activists.
Popular in the Community