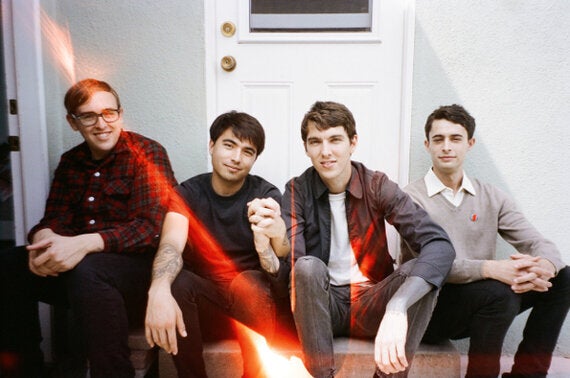 I speak to Barry Johnson from gutsy punk rockers Joyce Manor on the band's inspirations and aspirations
It's always irked me that something that seldom gets mentioned about the first wave of punk rock is how it unleased a new breed of singer/songwriters into the world. They took early inspirations from the likes of Dylan and Woody Guthrie and mixed it with the no-holes-barred honesty and energy of punk.
In The UK the likes of Joe Strummer and Billy Bragg led the charge for folk-influenced politically aware songwriting while the Buzzcocks brought in cynical and funny tales of lost love and growing pains.
In the US bands such as Husker Du and the Replacements brought a brought a more lyrical edge to punk and post-punk songwriting by adding in elements of power pop bands like Big Star and the works of Tom Petty.
Joyce Manor are one of a new generation American bands who are taking the post-emo punk sound and imbuing it with world weary tales of life growing up in American suburbia. It's a kind of classic rock for people who grew up listening to The Offspring and Rancid.
The band's raw blend of melodic punk has seen them getting attention from some of the big names in the genre, Including Bar Religion guitarist and Epitaph records boss, Brett Gurewitz who has signed the band up to the legendary label for their latest release 'Never Hungover Again'
Before the band hit the UK for some live shows, I caught up with lead singer Barry Johnson to chat about the band and how it feels to suddenly be in the punk premier league.
"There's a rumour circulating on the internet that you formed the band while drunk at Disneyland, how true is this?"
Very true. We were drinking malt liquor energy drinks in the parking lot when we came up with the idea and the rest is history.
"Who were/are your major influences for song writing?"
Toys that kill, Weezer, The Smiths, Velvet Underground, Guided by Voices, The Ovens, Big Star, New Order, The Clash, The Kinks, Neil Young, The Beatles, The Cure, a lot of stuff like that. I tend to like songs that are simple and interesting.
"I notice that Frances Quinlan (singer/songwriter of the band Hop Along) is on the front cover of your latest album 'Never Hung Over Again', are you guys close? Do you see your bands as having a similar ethic?"
We are close. We have done a handful of shows with them and partied with them a bunch. We are huge fans of Hop Along and I think Francis is a true artist. I think we are very similar in that we are somewhere between being a punk band and an indie rock band.
"What was it like to sign to a legendary label like Epitaph this year?"
Incredible. We all grew up on Epitaph stuff so it's crazy to have a record out on their label. They are all so sweet and dorky we feel right at home with them.
"How would you say your song writing's changed between the recording of 'Of all things...' and 'Never Hungover...'?"
This record was far more collaborative than our last two records. For this record, I would write the skeleton of the song and bring it to Chase (Knobbe, lead guitar) for ideas. Often his guitar parts would shape the structure of the songs and vocal melodies creating something that didn't belong to either of us. It was really exciting and new for our band.
"What was it like recording with Tony Hoffer (producer of Beck and Belle & Sebastion) on the new record?"
We actually didn't record with Tony Hoffer. We record with Joe Reinheart who plays in Hop-Along. Tony Hoffer mixed the record and did a phenomenal job. Before we hired him I did some research and found out his favorite bands were New Order and Crass. As soon as I read that I knew we had to have him mix the record.
"A lot of reviewers have been comparing you, favorably, to The Replacements and Jawbreaker. How does that feel?"
Too flattering. I love The Replacements and Jawbreaker and I think it's really an insult to those bands but I'll take it.
"Are you looking forward to coming over to the UK?"
Absolutely! Both my mom and dad are from Manchester so it's always feels nice to be there. I feel strangely at home and comfortable around the people there. Everyone is so easy to talk to.
"What's going to be next for your band?"
Hopefully just more of the same. Playing shows and making records. No plans to do a Broadway show or clothing line just yet.