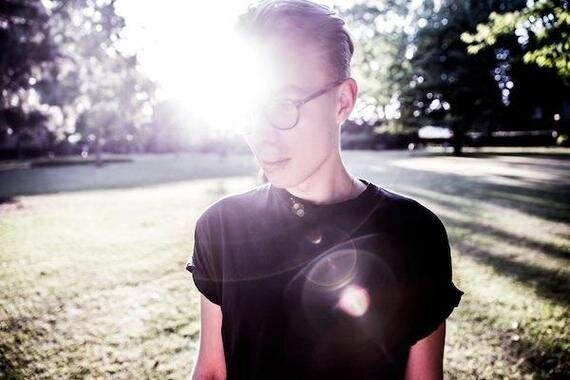 It seems it's a good time to be an ambitiously minded British singer/songwriter. Over the last few years we've had stunning albums from the likes of James Blake, King Creosote, and even more electronic inspired acts like Darkstar. Now is an age when young performers can looks beyond the cliché's of girls and nights out and venture into more poetic territory.
Douglas Dare is one such songwriter. On first listen it's easy to compare his melodic piano stylings to the likes of Blake or even the less sophisticated Tom Odell. But a closer inspection reveals the influence of artists as diverse as Nick Cave, Jon Hopkins (in the tasteful beats that accompany his playing) or even the late Elliot Smith.
Now, after the release of his debut EP, we sit down with young musician to see what makes him tick.
Huffington Post: You've recently released the Seven Hours EP via Erased tapes, how does it feel to get your material out there?
Douglas Dare: It's a fantastic feeling, it's been a long time in the making for me. Having it out there for people to hear is a real pleasure. As far as other people are concerned it's a brand new thing and it's fresh, and it is actually, it's just really interesting to get people's responses now.
HP: Am I right in thinking you mainly composed instrumental music when you first started playing what was it that inspired the change to lyrical songwriting?
DD: Yeah, when I first started, I was playing for other people and just playing piano, I didn't sing at all. And it was when I was a bit older that I started to sing and I thought I'd love to get involved in song writing. I mean I still love the instrumental music and I still do compose instrumental pieces, but it just became that I wanted to write lyrics and I think my music started to come together more.
HP: Speaking of the songs coming together how did you find working with (Douglas' producer) Fabian Prynn?
DD: It was great because I met him at university so I've known him since I was 18 and we mutually hit it off musically. We have very similar tastes and you know what it's like when you meet someone and you can bounce off each other when talking about albums you both know, then you end playing together and it just clicks. I never have to send him reference tracks or anything, we just see each other working and we seem to get it. I've worked with many other producers, and we made some good things, but it never had the same click. It was an immense pleasure (to do the EP with him), and I'm really happy with the result
HP: What were those shared musical influences if you don't mind me asking?
DD: Not at all. When I first met him we were both listening to White Chalk by P.J. Harvey and I remember going to his flat where he had it on and we just ended up talking about it a lot, we both knew it inside out, so it become a very strong shared interest we both had. We have many other influences, we both loved the new Bowie album, and we always just end up talking for a long time about albums we both love. We both end up getting really excited about little details and I think that's partly why we work together so well.
HP: Do you have a specific ambition for what you're trying to say with your music, or are you simply channeling your personal experiences?
DD: When I first started to write I didn't feel like I had personal experiences enough, or anything I wanted to write about specifically, so I steered away from being too autobiographical. I would look at short stories and historical events that inspired me, and books of course. I definitely started that way. When I came to write the EP I was older and had moved to London and all sorts of other things had happened to me, so I felt that I had more to write about of a personal nature. Saying that, I do steer away from writing too much about myself. I enjoy songs and poems that can speak to everyone.
HP: I'm aware a lot of your lyrics started life as piece of poetry and prose, Do you still work a lot in that medium?
DD: When I first started writing songs I was very keen to get my writing up to scratch. I knew I could play the piano the way I wanted, but I wasn't as confident with writing, so I read a lot, and would write a lot of poetry, but to be honest that's lessened now. I still do do it, but it's more that my aim is song writing. I would like to get back more into just doing the poetry, because now I'm becoming more "oh how is this going to fit into a song" and I don't want to lose what I originally had which was just concerning myself with how the words were going to fit together on the page.
HP:Who are you key influences from the world of Poetry?
DD: Byron for example, I do like to look back and read older works of poetry, but I have been trying to broaden my tastes a little bit. There were people I even studied at school who ended up inspiring me, people like Caroline Duffy. I loved the candid nature of her language. Going back further I love Ted Hughes who was much darker, and I think you can hear that in my music anyway, and people like Hughes and Sylvia Plath are people I always go back to. I end up reading Sylvia Plathe and I get into the language, it's almost a bit like watching a period film and you end up wanting to speak in that sort of language afterwards. It's the same with me and poetry as it sets the tone a little bit for me. Recently I've been trying to go through Patty Smiths back catalogue as I've just read "Just kids", and I was like "right I have to go back and read all her poetry".
HP: Are you currently working on a full length release, can you tell us a little bit about it?
DD: I am yeah, it's really fresh. Just a couple of weeks ago I started laying down the demos for the full length. It's very exciting, and kind of unbelievable for me because it was just off the back of doing the EP and now we're like "right, debut album, here we come". We've only just started with five or six demos, but all the songs are finished. I'm constantly writing new stuff though, and I'm always thinking what could actually go on the album. I'm hoping to get it all together by early next year.
HP: I believe you grew up in the town of Bridport in Dorset? How did the arts scene there compare to Say Liverpool where you attended university?
DD: Bridport is obviously a tiny place, but it does have a buzzing art scene. It' attracts a lot of people because it's a lovely place to live and there's a lot going on. We have had quite a good heritage there in terms of artists like P.J.Harvey, who lived across the road from me, and that was always someone there who showed me that you could make music that wasn't pop but still be successful but then have a normal life in the countryside. Going to Liverpool was a big culture shock to me coming from such a small town. I met a lot of musicians and off course Liverpool is very much a music town, but I think it plays up to it a bit much. The Cavern club is a tourist trap for example and I feel the city has lost some of the organic nature of making music. Saying that, LIPA, where I studied, was a wonderful place to meet creative people.
HP: Where would you like to see yourself in the next year or so? An international tour perhaps?
DD: Yeah I hope so. There have been talks of hopefully going over to America to do SXSW which I'm really looking forward to, and also doing some shows on the east and west coast which would be amazing. Nothing's set in stone but it's definitely on the cards. I hope to be gigging as much as I can.
HP: A cheesy questions I know, but if you could collaborate with anyone alive or dead who would it be?
DD: I think it would have to have been Elliott Smith. I think it would be a hard process and I don't think we'd be talking, but I like to think some magic could happen... or it could have been an absolute disaster and we wouldn't come up with anything (laughs). Even if it that was the case it would still be amazing to at least meet him.
Douglas Dare's debut EP Seven Hours is out now, and Douglas will play the St. Pancras Old Church on November 13th
Popular in the Community