In the UK alone, 75 percent of citizens have had their identity copied, stolen or misused, according to ActionFraud. Additionally, the National Crime Agency cites that 84 percent of all cases of identity fraud take place online and cybercrime costs the UK economy more than £3.3 billions per year. The increasing focus on cyber security has prompted the UK government to add 'cyber security specialist' recently to its Tier 1 Visa Scheme, the UK Cyber Security Forum to introduce new offerings for SMEs, and companies to start focusing specifically on addressing problems in the industry.
Enter Irra Ariella Khi, an Oxford grad and serial entrepreneur who is co-founder and CEO of VChain, a tech startup that is changing the way data is protected, verified and authorized using blockchain technology. Based in London and Tel Aviv, VChain protects the integrity of data through patent-pending technology without the need to store any personally identifiable information.
VChain's management team is decorated with accomplishment; in addition to Khi, Alexander Gorelik is the firm's CTO who has more than 15 years of Full Stack Development experience. Their advisors include the former Federal Cybercrime Prosecutor Aravind Swaminathan, Blockchain Specialist Chris Hitchcott, and renowned Oxford Scientist Professor Peter Dobson.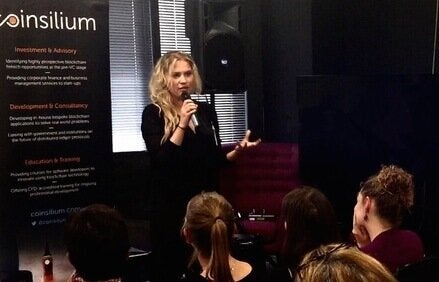 Khi speaking at Women Investing in Blockchain session for London Tech Week
During an interview with Khi, she walked me through the state of cyber security and how VChain is playing a role in evolving the industry. "Currently, the greatest importer of cyber security products to Europe is Israel," Khi shares. "National security is on higher alert there and cyber security is ingrained into the core infrastructure of most businesses. Europe, on the other hand, is more relaxed and largely not on alert, that is unless an incident takes place."
"We live in an illusion of privacy," Khi continues. "Personal human data is the number one commodity on the dark web and this costs as little as £5 to obtain. Creating a secure product that can safeguard our identities without becoming 'Big Brother' is a challenge the industry has faced for years and we are tackling exactly this at VChain."
From an industry perspective, cyber security innovation and blockchain advancement so far has concentrated on fintech and payment clearances for obvious reasons, and it is considered "low hanging fruit" for security providers. However, as unauthorized travel and instances of terrorist acts within Europe has increased, it has sparked heated debate about airline and immigration records. Appetite is increasing for aviation industries to adopt cyber security technology, and the UK government is actively funding a Future Aviation Security Solutions (FAAS) programme to improve aviation security capabilities.
"The trend ultimately is moving from post-mortem or detective analytics to preventative measures that stop cyber threats, pre-empt hacking and prevent inaccurate information from impacting security in the first place," Khi says.
VChain's solution in protecting the privacy of data is innovative, not only through the use of encryption and hashing, but continuous identity checks saved within the immutable ledger. "Encryption is not secure enough," Khi says. "If you have the key to encrypted data, you can restore it to its original form. Hashing is a one-way operation that cannot be reverse engineered. Our team at VChain has also developed a unique way of splitting data into pieces and distributing it. Therefore, we don't store and can never have access to all of that data." Khi states.
In terms of next steps for the company, VChain is focused on a recently deployed proof of concept with live client data. "We launched our first product for authenticating ID documents and validating their ownership, which is being trialled by two different airline operators at the moment, and will be useful for the rest of the aviation industry as well as the international travel sector," Khi shares.
Getting to this stage of building a deep tech business did not come out of nowhere. Khi, born to Jewish and Polish parents who met at the Physics Institute, was challenged intellectually from a young age. Understanding and competency was valued in her household, and learning was encouraged above all. While attending the University of Oxford, she was one of the earliest members of Oxford Entrepreneurs, a network of students and alumni affiliated with entrepreneurship. The group is now the largest society in the UK, and alumni startups thrive in the UK and abroad. Since university, Khi founded multiple companies, ranging from video platforms to mobile businesses, and after a stint as an international fashion model, she transitioned back to the startup world through scientific studies and began building VChain with her Israeli co-founder Alex in 2015.
Launching and growing a company is no easy feat, and when asked what advice she shares with young adults, she recommends following both the traditional route and eventually your passion: "The corporate world will allow you to gain valuable experience that will lead you to the next stage of your career, while learning about and identifying the problems you want to solve," Khi says. "Then, provided you have your organisation process figured out such as with 'Getting Things Done', you can focus on pursuing your passion to change the world in a big, meaningful way, once you've identified a problem and a solution that really matters."
Related