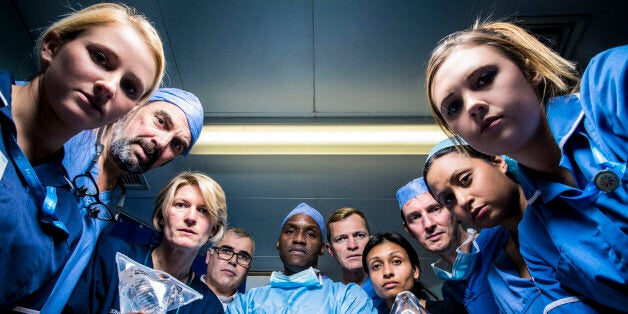 Along with the Channel Editor for BBC Two, Patrick Holland, we decided we wanted to make a series that showed the truth about the NHS. But we had to find a fresh approach - after all, an access series on hospitals isn't new in itself.
We also had to consider whether viewers actually want to see the stark reality of what's happening in our hospitals - cancelled operations, overstretched staff, under-resourced wards and the reasons behind all of this.
Or is a more sanitised, polished view of the NHS that seems to dominate our screens still what we all want to see?
Managing directors of production company Label 1 Simon Dickson and Lorraine Charker-Phillips initially pitched a hospital series that particularly focused on surgeons and the pressures they face - both psychological and real-world. We liked it but, as the people behind 7 Days, The Family and One Born Every Minute, we knew they were capable of something even bigger and more ambitious.
We discussed the idea of making a fast turnaround series - so every episode represented the last seven days in a hospital. It quickly became an impossible idea, not least because of getting patients' and their families' consent. It also felt like it wasn't the best way to tell the story of the NHS now.
Our ambition was to make something that felt immediate, something captured and transmitted in the same season but with great emotive stories. But what was the story we wanted to tell?
Stories of bed blocking, missed targets, outsourcing of operations are everywhere in the press. But the reasons often feel reductive - more money would solve the problem. We suspected the answer was a little less simple and probably more uncomfortable. We asked Label 1 to develop the idea over a couple of months and they subsequently gained access in principal to Imperial College Healthcare NHS Trust in London. What they found was staff, almost without exception, desperate to be listened to and open their wards, units and theatres for the wider public to see the state they are in.
Once the production team started to research the series what they found was things we'd never seen before - the extent of cancelled ops, the failing targets, outsourcing of some procedures and 'health tourism'. But they also found extraordinary resilience, remarkably understanding patients and an ability to perform some of the best care and surgery in the world. It was ripe for TV. After the production team delivered a taster tape we quickly commissioned a series of six. We wanted it on air as quickly as possible and the ambition was to make each episode represent a week in the Trust. Most importantly, we wanted to understand how decisions are made in a place where they don't have the resources to treat everyone as best they can, as quickly as they can. How do they prioritise and who makes the decisions?
To capture this process we decided the best approach was to film in a crunched period of time - that way we would be able to have multiple film crews in different departments across the Trust. Label 1 quickly hired a large production team and in the space of a few weeks were up and running. With a brilliantly talented filming team, the nuances and detail of decisions were captured, with the patient always at the heart of the story.
Constant decisions about who goes where to film what happened on an hourly basis. And with some extraordinary luck, it felt like we had something new. That was in the closing months of 2016.
The result is something heartrending, terrifying and yet life affirming. Like a lot of cutting-edge real-life television, it can be a little uncomfortable to watch at time, but I think the result is honest.
Hospital - starts Wednesday 11th January, 9pm on BBC Two
Related