We at Royal Ramblings have been on the road, seeking out the best UK wrestling promotions. Our third stop was at Southside Wrestling.
Some promotions ooze professionalism and Southside is one. Using social media to excellent effect, they already had us hooked though the slow reveal of the impressive card for their show. Once there, a prompt start, introductory videos and an announce team all helped demonstrate that they're the real deal.
The Circus Tavern in Essex is a big venue but feels intimate. Southside were eager that their debut show at the venue be a good one. A 'Five man tornado tag match' was booked and the first entrant, El Ligero, appeared only to be attacked by his former and recently turned tag-partner Kay Lee Ray and her new colleagues, Jimmy Havoc and Joseph Conners (aka 'The Righteous Army). The excellent four-man tornado tag match that followed featured international indy star Andrew Everett and former TNA champion Chris Sabin. The low ceiling didn't appear to inhibit the high-flying and truly talented Everett who won the bout and deservedly so. This whole first section was thoroughly enjoyable, high quality entertainment.
The second match pitted British legend Martin Kirby against one half of 'the World's Cutest Tag Team' Joey Ryan. There was plenty of comedy including Ryan donating his chest hair to his bald-headed opponent who had complained of hair-pulling. There was also a nice back and forth over a lollipop which Kirby had used as a toilet aid, ultimately to his own disadvantage. Kirby had the last laugh though, low-blowing Ryan and rolling him up for the win.
Next out was Jimmy Havoc who faced TNA legend James Storm. The Cowboy cut an outstanding promo the result of which was a beer-drinking contest. This, for Storm, proved Southside was "more fun than a TNA show". The ever-brilliant Havoc cheated of course and the resultant fracas saw El Ligero return for what became a tag match against the Righteous Army. This hugely entertaining bout spilled out of the ring and at one point saw Storm using some fan's fists as a battering ram for Conner's head. A briefcase the Righteous Army had brought to the ring ultimately saved Conners from a Ligero top-rope splash and gave them the win. Storm cleared the ring though and cut another great promo to end a tremendous segment.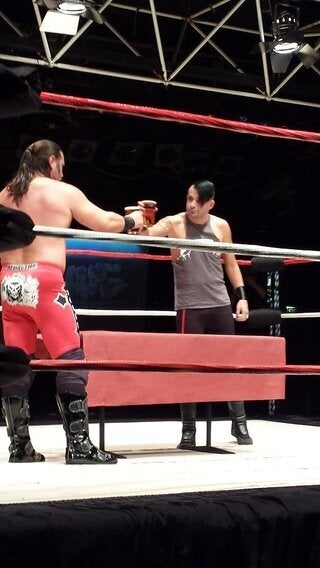 The next bout was to determine the first Queen of Southside. Kay Lee Ray was back and taking on Joey Ryan's partner Candice LeRae, Nixon Newell and the legendary Saraya Knight. It's no wonder that Saraya has developed such respect in the industry over her years in the ring. Stalking the canvas, she cut an imposing figure and oozed aggression from the offset. She formed an ad-hoc but ultimately short-lived alliance with Kay Lee Ray, who was soon taken out of the ring for punishment. Meanwhile, LeRae and Newell put on a good show, with the latter eventually hitting her devastating 'Vulture Culture Destroyer'. However, it was a returning Kay Lee Ray that took the advantage and the belt.
The pre-interval bout was a six-man tag match which saw Marty Scurll, Pete Dunne & DJ Z take on Mark Haskins, Robbie X & X-Pac. Robbie X was agile and impressive. Scurll, as ever, delivered in the ring and DJ Z was also entertaining, making a (futile) point of protecting his hair. The crowd was hugely enamoured with Haskins who pulled of some incredible moves however, for many, it was all about X-Pac. Tagged in, he launched himself over the top rope to chants of "you've still got it". We had an 'X-factor', crotch chops, roundhouse kicks and a near bronco buster. After Haskins got the win, X-Pac, who remains a class act, closed the first half stating that "the UK is where it's at now for professional wrestling". He's not wrong.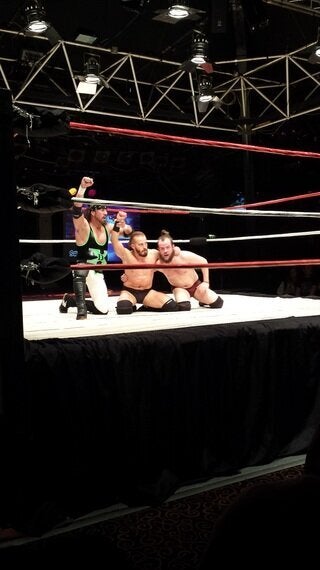 The second half started with Tommy End against CZW star Johnny Gargano. This match featured skilful grappling and astonishingly stiff kicks. End seemed determined to remove Gargano's head from his body, whilst Gargano nearly broke End in half with a spear through the ropes. Though End got the win, it's no surprise both men earned the first 'this is awesome' chant of the night.
There are not enough good things to say about the UK Hooligans who seem hell-bent on stealing every show they're in with sheer violent energy. We had Roy Knight send a Hunter brother into the ropes only for Zak knight to spear him through the ropes on his return ("not bad for a fat guy" he shouted. Indeed). There was non-stop aggression and audience interaction. The Hooligans should have won but one of the Hunters managed to steal a quick pin. The crowd booed as well they should because the Hooligans deserve to be champions. The London Riots came out to set-up a future bout - certainly one to get a ticket for.
Over three falls in the final, Mark Andrews and Will Ospreay put on one of the finest displays of wrestling we've ever seen. Andrews took the first fall within a minute and Ospreay the second shortly after. The match moved very fast, with the crowd drawing breath frequently. It was akin to watching a bout of continuous finishing moves. Ospreay ultimately retained his 'Speed King' championship with the shockingly brilliant 'Essex Destroyer' but the adoration for "both these guys" was well directed. Ospreay paid tribute to Andrews, now contracted to TNA but suggested they would face each other in a ring before long. Let's hope so.
Southside put simply, deliver a brilliant, well-booked show with awesome talents. We got more than our money's worth and were so impressed we've booked to go again. You should get along too (tickets here).
Popular in the Community