They did it. An independent wrestling company drew 4000 fans and delivered the biggest and best live wrestling event in some 30 years. It wasn't any company though, it was Insane Championship Wrestling (ICW) and its business as usual because world eating is what they do.
Before reading on make sure to buy your tickets here for Fear & Loathing IX on Sunday 20 November 2016 at the Glasgow SSE Hydro. Be quick, as having torn down the SECC, ICW are getting 10,000 fans together to bring the Hydro to its knees. It'd also be wise to sign up for ICW on Demand too, so you don't miss out on any future ICW bouts (all listed here).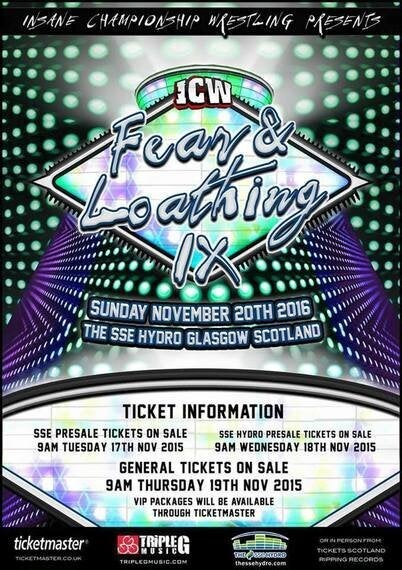 As many readers will know, ICW is the biggest and best independent wrestling promotion in the UK today. Fear and Loathing VIII was ICW's biggest show to date and boy, did they deliver the goods. The show began with head honcho Mark Dallas announcing next year's huge show at the Hydro to huge applause. It was striking that the intensity of the reaction was the same as if it were a regular, more intimate show and comparisons to ECW would be entirely reasonable. One ECW alumnus on hand was Mick Foley and it was a hair-on-end moment when his music hit. Foley suggested that the right combination of elements can create memories that last forever - he speaks with authority and no doubt the 4000 fans that were in attendance wouldn't disagree that ICW did just that.
It is said the first match on a card can be more important than the main event. So it was that Davey Boy and his former tag-team partner Stevie Boy had one of the biggest challenges in British wrestling history, bringing to a close a story a year or so in the making. Wee man - the storyline cousin of the two talents - cut a very fitting promo, referencing the horrendous Paris attacks and the endurance of the human spirit. Emotions already high, the intensity rose considerably when Stevie and Davey were finally let loose. Within one minute, they'd broken through the guard rail and the energy levels didn't drop with suplexes, dropkicks and flight aplenty not to mention the frankly phenomenal exchange of 'destroyer' flips. The early belt change raised the stakes and had the crowd hyped. A wonderful match.
The second bout was no less entertaining. Far from mopping up talent, this six-man match uniting Joe Hendry (complete with Zorb entrance), Noam Dar and Kenny Williams against Liam Thompson, Lionheart and Doug Williams saw 'youth' face 'experience'. Noam Dar was our personal favourite - exciting to watch and surely a future main eventer. Top spots included the five-man submission puzzle and the quick succession of signature moves. Then everything changed. The match that didn't necessarily play into existing storylines became critical when Jimmy Havoc appeared unexpectedly. The MVP of British wrestling owned the arena. He arrived, destroyed everything and left, leaving behind a big question mark over his future plans with the company. Kenny Williams then pinned Lionheart for the win but that wasn't all. We saw the return of Liam Thompson's former fiancé setting up another future bout and then the arrest of Lionheart by TV favourites the Scot Squad. ICW had clearly sat down with a blank page, thought up the wildest match options and then turned it all into reality.
Part of the brilliance of ICW is this aforementioned engaging drama. So it was that the match to determine their inaugural women's champion was by command of Commissioner Foley turned from Kay Lee Ray vs Nikki Storm - two ICW alumni making their way in the US - into a three-way involving Viper, avenging her unfair dismissal from the women's tournament by her adversaries. There were a number of hugely impressive corner spots in this match and a wonderful double DDT by Nikki Storm. Ultimately though the impactful Viper overcame to become the ICW champ.
It was another change of pace next as Rhyno and 'Iron Man' Joe Coffey engaged in a gutsy slog 'em out. The crowd support for Coffey (of interest to WWE if the internet is to be believed) was quite incredible as was the Gore through a table! The match was an opportunity well taken by ICW to build Coffey who constantly defied the odds with kick-outs and ultimately, the win. This was quickly followed by "The 55"'s Kid Fite and (how is he not signed!) Sha Samuels taking on Polo promotions. With so many managers and assistants at ringside this had a true ECW feel to it. Pacey, entertaining and fun - WWE could learn a thing from ICW about how to deliver great tag entertainment. Polo Promotions retained having told a lovely story and it was quite the celebration that followed.
Next, we were treated to a steel cage match with the New Age Klik (Wolfgang, BT Gunn and Chris Renfrew) battling Legion (Mikey Whiplash and Sumerian Death Squad). This whole bout was a joy to watch, from the choreography of SDS to the dramatic displays of the NAK. We had a head-stomp from the cage, double spears, a Superfly moment for Wolfgang and a table spot. This was no amateur endeavour but serious professional entertainment. The Sudden Death pin fall match between Whiplash and Gunn after a 'No Contest' had been called was remarkable - upping the ante once more in their career defining battle. This must be watched.
The penultimate bout saw Jack Jester face Big Damo in a pay-per-view worthy match. Jester was a brilliant heel, mocking and cheating but never short on talent, delivering a particularly impressive tombstone on the giant. Damo and his '23-stone' missile dropkicks and sentons were brilliant as ever. The chair-laden violence felt quite natural and worked well in closing this enjoyable encounter which ended with the rub for Damo from the former champ.
Of course the headline bout was all about the journey of the sensation that is Grado from clown to crown. Following a video reviewing the dramatic build up to the match and a live rendition of Drew Galloway's entrance theme we were off with ICW's own Haystacks vs Big Daddy moment. Galloway proved from early doors why he is considered one of the best in the world. Grado meanwhile, so natural with crowd proved he has fine-tuned both his act and his wrestling ability. Galloway was a wall of strength, be it catching Grado mid-air and delivering a backbreaker or popping up when lying over the corner turnbuckle. Grado meanwhile demonstrated real depth even pulling off a Grado-can-rana! Whilst the crowd were the third man with constant chants throughout the bout, it was the story of the match that had them enthralled and which made Grado a believable challenger. The finish came when a frustrated Galloway knocked out the ref allowing outside interference from his Black label colleagues only for Commissioner Foley to deal out justice 'Socko' Style whilst Mark Dallas counted the 3 for Grado. A great finish to a great night.
The biggest show in 30 years and the best. ICW. Put simply, it's the greatest.
Related