If there is one wrestler that perfectly captures the energy, excitement and popularity of British wrestling it is the ludicrously talented Jimmy Havoc. We have referred to him previously as "the perfect heel", "ever-brillaint" and suggested of one bout that the match "as with so many others, was all about Jimmy Havoc". If you haven't seen him live, stop reading and go and buy a ticket to do so. Havoc entertains a crowd like no other. A long-time favourite of ours, we had the honour to interview the man himself. We just about made it out alive and below is what we learned. Read on.
You seem to relish being bad guy, what inspired your journey to the dark side (Progress Wrestling seems to have been key) and might we see you in a different role in the future?
It's something I've always wanted to do. I wanted to be good though and not just do it for the sake of it. We started with Progress and basically had that in mind from before I even started working with them. It gave me a bit of time to really think about what I was going to do and how. Then literally because of how successful that was, everywhere else decided to do it as well, which is quite nice. If the story calls for me to be a face again, I'm quite happy to do that. The last couple of years have been good though, both creatively and match quality-wise I've had the best time.
How has the British scene changed since you started?
It's improved massively, especially over the last couple of years. Since companies like Progress, ICW, IPW, Southside and PCW - they've all started to come to the forefront of wrestling, it's just improved it so much. They're all getting good press but not just within the wrestling community. ICW are getting mainstream press, they've had two shows on BBC, and they were recently in the Guardian - proper publications. Progress, we're much more with the Rock community, we've got Download, we've done Sonisphere and that's helped to raise our profile. The popularity of WWE is always going to have a direct correlation to the indies and with WWE doing so well, especially with a brand like NXT, that has affected us massively in terms of houses. Pretty much everywhere I work now sells out. I'm not saying that's directly correlated to the fact that I'm on the show......I'm quite happy to insinuate that. I sell out venues, that's fine.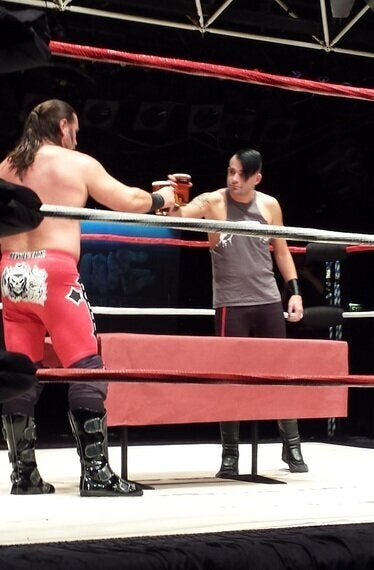 Above: Havoc and James Storm duel over beer
You've earned a reputation for wrestling in 'Death Matches', whats been your worst injury and do you worry your reputation will prevent a big company signing you?
The worst injury I had was a broken finger. It literally bent all the way back and I put it back in at the start of the match - that was it. That was the worst injury I've ever had. If you think that will stop a big company from signing me ... they're not going to sign me because I'm sh*t! It's nothing to do with injuries, I'm just not very good! If you want me to do a 15 minute, indie-rific RoH head-dropping match, that's going to hurt me much more than doing a 20 minute light-tube death match. Because worst case scenario I'll have a few surface cuts and it will sting a bit in the shower the next morning. That's as bad as it is. All the bumps I take during death matches are pretty safe. They're pretty flat. They look worse purely because of the spectacle you put behind them. But you want me to get dropped on my head ten times during a "normal" match, that's worse for my body than anything else you're going to do. I did cut my bum open recently, which really hurt. That still hurts quite badly now. Especially putting the antiseptic wipes on it this morning - that was bad.
Have you had to adapt your style over time?
People ask me this all the time - how have you adapted from the death matches. I've not adapted from them. I'm a trained wrestler. I know how to wrestle. I've always known how to wrestle. I just choose to do the death matches because I enjoy them. People say "I can't believe you're doing this to your body, I can't believe people are forcing you!" No-one is forcing me to do anything. I do this because I enjoy it. I don't need the money. I'm not homeless and feeling that I need to put my body through this to survive. I have quite a nice house with my parents, I'm doing alright, Ive got a car, don't have a job, don't need to work - I do it because I enjoy it. That's why I do it.
I know, I was only joking about being sh*t, I'm amazing. I've watched myself back, I'm really good.
What's your goal - Wrestlemania?
If a wrestler gets into wrestling and says they don't want to be at Wrestlemania, they're lying. Im under no illusions I'm ever going to get there but yeah of course it would be amazing. My goal when I started wrestling was to have a match because I loved wrestling and I thought it was cool. I've far exceeded any expectations I've ever had in that respect, so right now, I'm just enjoying it. I'm getting flown to Milan in December for the weekend, I'm going to Australia next year for three weeks....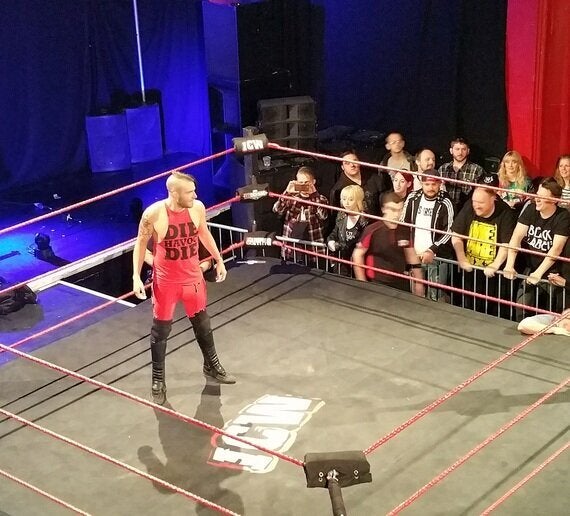 Above: Jimmy Havoc stands alone in an ICW ring, having killed all his opponents
You were listed as one of the top 500 wrestlers in the PWI list..
Number 357, not that I remembered that specific number. That's quite nice. Even things like that - that blows my mind. As someone who is my size and of my considered abilities, to be considered as one of the top 500 in the entire world, yeah it's cool! I'm not going to lie, I marked out for myself a little bit.
I'm really good at pretending to be angry. So I do that to people quite a lot just to wind them up. We had this kid come backstage at a show and as a joke I said "what do you think you're doing back here". Then I went off on one and I was ribbing everyone. That scares people, pretending to be angry. The other ribs, I'm not allowed to say
Who would you most like to wrestle?
I've always wanted to wrestle Foley, that would have been good. Leva Bates? [Jimmy looks across the table at her] yeah, we'll wrestle each other...
Related