Know her as Laurel Van Ness, or Chelsea Green, this Impact Knock Out is proving that she has the depth, talent, and ambition to make it to the top of the wrestling world. Appearing on UK screens every Friday night (Spike UK, 9pm), and as recently announced, now broadcast with 7Sports in Germany, Austria and Switzerland too, Laurel has been wowing audiences with the unexpected twists and turns of her character. It isn't just on-screen but in real life that Laurel has wowed us, with the story behind her name, a big reveal about her British links and much more besides. Read on, and see Laurel on GFW's Impact every Friday!
Many people think you started your career on Tough Enough but you trained at Lance Storm's academy. What was that like?
Well, I think what people don't know is that when I started with Lance, I had never seen a wrestling ring up close. I had never locked-up with anyone...I didn't even know what a lock-up was. I knew nothing about wrestling! Sometimes that's a great thing, and sometimes that really annoys people in this industry but that's the truth. I had no clue how to wrestle. I had to learn everything, absolutely everything. To start from the bottom. It took me about two weeks to learn how to 'bump'. It normally takes people about two days. So, I started out very, very slow but it was a very cool experience. Lance is someone who can get you in the door with WWE, and introduce you to people that matter, and that's kind of what he did for me. He got me to the door and I had to get myself through it.
Reflecting on your Tough Enough experience, how do you see it now?
It was an amazing experience. It was one of the toughest experiences, physically, mentally and emotionally really. No-one understands what it's like to want to go after your dream and so much so, but then be competing toe-to-toe with six other girls. On Tough Enough you're in a house with your competitors, living, eating and breathing with them. That's really tough. Essentially, you're like brothers and sisters, but competing. When do you get the opportunity to do that? One day you love them and the next day you're competing against them, and want nothing more than for them to be going home. It's strange and it tugs at your heartstrings in weird ways but it was such a good experience because for me, even though I was eliminated, it was a stepping stone to everything else I've done since then.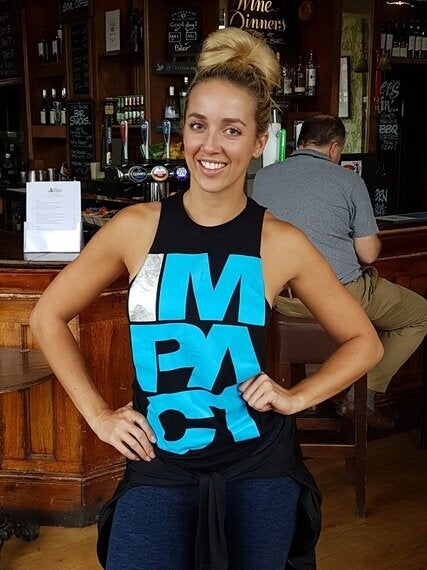 Now you're with GFW, how are you finding it?
I love it. I've been there just over a year, so I'm pretty new, and there's such a great vibe in the locker-room between the knockouts. That's something I really appreciate in this industry; it's very hard to find women that you click with because no matter what, you're always vying for that top spot. You're competing with the people you're closest with. It's not like that with us. We all know our role in the company, know our place and so we bond and travel, hang out and group text message together. I love it and the company has been amazing to me and given me opportunities that I wouldn't have had, if I wasn't there.
The name Laurel Van Ness, where did that come from?
Not me! The name Laurel is such a strange choice because I think when you look at me there's not one person that says "Oh yeah, I could see you as a Laurel". No-one. Madison Rayne came up with the name because Laurel is a superhero on TV (you'll have to Google it). So people attributed it to a 'badass name'. Originally, it was going to be Laurel Vanderbilt. We wanted something rich-sounding, or posh. Vanderbilt was a very posh name but it's also a school and a family so we couldn't associate ourselves directly with that. So they came up with a 'van'-something and I guess they narrowed it down to Van Ness. I didn't know, until the day I was walking out there for my match, that it was going to be that and originally, when we put it up on the jumbotron it was spelled wrong! It was 'Vanness' - one word - but its Van Ness! So, it's been quite a journey with the Laurel Van Ness name!
Have you had creative input? Who has helped?
Well Dutch Mantel, Abyss, JB, they've all had a lot of creative input. I think no matter what, they give me something that I can run with. They give me a general vision and I take it and turn it into whatever I do when I walk out there. I never know what that's going to be, but it seems that people like it, and the creative team likes it, and everyone in the office likes it. It's been really nice to have that input and not feel I'm walking on eggshells. To be able to say "this is what I want to do" or "this is what I think" and they take that and they turn it into something amazing.
Have you enjoyed working with Grado!?!
So it was about a year and a half ago, before I joined Impact, that I was in Japan with Viper (Piper Niven) and Kay Lee Ray. They were talking about Grado this and Grado that. I never would have thought 18 months after I heard of him in Japan, I would be Grado's future wife! I love it. It's so much fun.
Talking of perfect unions, shouldn't we have another UK Impact tour already?
Oh my gosh! Yes! I want to come back so bad. All my family is here. I used to live in Devon when I was 8 years old. My mum, my grandma, and grandpa are all British. I would love to be able to come back and have my family watch an Impact show live!
Do you have a good rib story?
I'm not a ribber, but there is a rib that went wrong. My entrance music at an event here in the UK was supposed to be 'Cherry Pie' and instead, the promoter had changed it to my boyfriend's [Zack Ryder] entrance music! Luckily the person playing the music got it wrong and played my music! I would have been angry, but it would have been a good one because I'd have been very confused, but still had to have come out and gone with it. It didn't happen, so I was kind of thankful!
You mention your boyfriend. Do you ever see each other given your hectic lives?
That's the thing, we barely see each other. We try to. We make an effort - if he's somewhere I want to be, if he's doing a show in New York, I'll fly out there because why not?! But it is really hard. It's a balance, a very fine line, and you have to find time for each other. At least he knows and understands what I'm doing. He understands when I kiss Grado!
Finally, who would you like to work with in GFW?
I wish I could have said Gail [Kim]. It's coming to an end with her but I'm happy she's going to be our agent. So, I would have to say, Allie. I think she and I have the same vision and mindset when it comes to matches. From what we've done so far, the little things, we mesh really well in the ring. We had our story line cut short, and I think everyone really wanted to see those blow-off matches between her and I. I think we could still revisit that. We haven't gone too far, so I'd like to take a step back and return to that story line.
We want to see more of Laurel Van Ness be it against Allie, Gail Kim or anyone else! Make sure to catch Laurel Friday nights on Spike UK at 9pm!