Be it WWE, WCW, AAA or elsewhere, regardless of his home Rey Mysterio finds himself welcome across the world by adoring fans. We at Royal Ramblings were lucky enough to welcome him to our base in the UK and ask the great man some questions. In the first part of our exclusive interview with Rey Mysterio we learned about his thoughts on the industry, his plans to return to a major company and those matches he was most looking forward to. In this, our second part, we talk his evolving style, his favourite rib and his future plans. Read on!
You're back in AAA after some 20 years. What has changed for you over the past two decades?
I think most definitely my style has been changing throughout the years and that's because of the injuries that I've had, the multiple surgeries on my left knee. That has made me adapt and modify a lot of my movements. It has restricted me from doing springboards and having full flexion. My knee bends only to a 60 degree angle. Normally, like on my right leg, my heel can touch my glute if I just pull my leg back. On my left side, there's still a big percentage missing. That has made me change my style in the ring. I think that also has to do with the years and experience. You know, maturing throughout this industry, this sport. But again, still trying to keep the fans on their feet and entertained every time that I step into the ring.
Tell us your favourite rib [practical joke] story
I'll tell a rib story that didn't happen to me but when Eddie [Guerrero] told me this story, I loved it. So I guess Eddie and Art Barr - the Love Machine, both of them rest in peace, were in Japan and they were wrestling the Nasty Boys. I guess they chopped off some of the hair of the Nasty Boys. The Nasty Boys obviously knew who it was but didn't make a big deal of it. On their flight on the way back to the USA, something that was put into Eddie's drink made him pass out and then Art Barr/Love Machine passed out as well for some reason. When they woke up and they had landed, eventually they realised that they had no eyebrows! They were flipping out! This is part of the rib industry. Part of the deal of ribbing. You know if you get someone, eventually it's going to come back and bite you in the ass. So it did and he was really, really upset but he took it. You know I've been around a lot of good ribbers but I guess in this stage of wrestling, all of that is gone. It's part of the backstage fun that is missed. It was around for so many years and all of the sudden, the evolution of the sport just changed and the locker rooms just aren't the same anymore.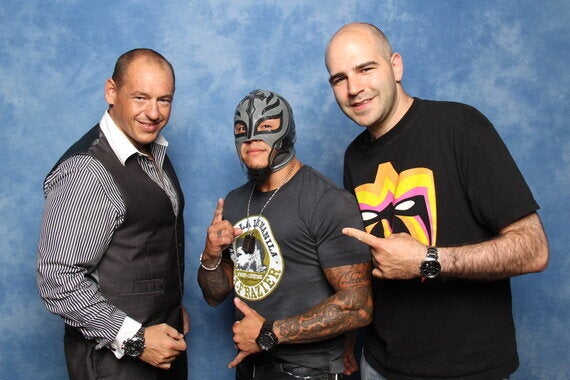 RR's Danny with the legendary Rey Mysterio and British hero Steve Lynskey
What does the future hold for Rey Mysterio? You're in AAA, you have a new merchandising deal and you've recently been in the UK for a spoken word tour - what's next?
I'm definitely taking this stage in my career and my personal life a step at a time. My main reason for leaving WWE was to heal up my body, to give it a rest and to spend time with my wife and my kids. So I kind of divide it into 50/50. 50 percent, I wanted to heal up my body. That other 50 percent, enjoy the time with my family that I've missed throughout the 13 years that I travelled with WWE. So everything that's coming at me at this point in my career, I'm handling one step at a time. A lot of deals have been popping up on the table. I did just come out with three T-shirts that were designed by myself. I've always wanted to do some kind of merchandising/clothing line/action figures because I know the fan base that I have are very loyal and dedicated and they've always loved the action figures and other merchandise. So I wanted to do something on my own, be my own boss, and that's happening right now. There are video game deals that are on the table, possibly movie projects that might be coming soon. So I'm taking it one step at a time. This is all new to me. I haven't been an independent wrestler since I was 15 years old, so it's almost like a new stage in my life.
A good time to be Rey Mysterio?
It's a good time for Rey and a good time for his fans. You can continue to follow Rey on Twitter and get his merchandise here. Look-out for future UK and other appearances because you never know when he'll come jumping out of the sky!