If Wrestlemania is WWE's premium annual offering then 16 Carat Gold is the Wrestlemania of Westside Xtreme Wrestling (better known as wXw).
wXw should sound familiar to regular readers. We have interviewed top star Bad Bones and the company has worked with IPW:UK on a number of fraternal exchanges. Those that follow NXT closely should also know that wXw helped to produce WWE's first ever German signing, Axel Tischer, spotted on camera during the WWE Network show 'Breaking Ground'. However, reading about them is one thing but seeing a promotion in action is another and so earlier this month we were able to go and see wXw's annual tournament showpiece live and in person.
wXw has long been known beyond the borders of Germany and so is well prepared for welcoming foreign fans. The information available online was a great help and the kind people behind the company's social media page are not only quick to respond but sympathetically replied to our repeat inquiries. Most of the team speak English and so language barriers were not a problem. Oberhausen, home to the company's training school and staging ground for 16 Carat, was easy to reach via Dusseldorf airport and train and a lovely little town to spend an afternoon in.
Entering the 'Turbinehalle', it was clear why wXw uses the venue for its shows. The hangar-like construction feels roomy with its lofty ceilings and walkways and yet the wrestling hall provides the intimacy of a small rock gig venue when full. Fans surround the ring and so are able to get intimately involved in the action.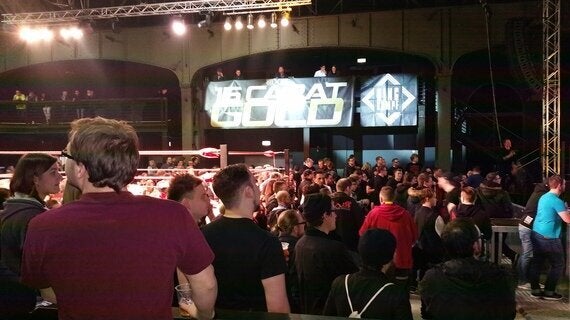 After collecting our beer tokens and visiting the merch stalls, where talent were on-hand to sign pictures and take photos, it was time for 16 Carat Gold to get started. The event has evolved over a decade and the team have built the show into a full weekend extravaganza. The action had actually started prior to our arrival with a secret show that had taken place on the preceding Thursday. Across the weekend, there were four shows planned including a 'shoot-style' wrestling event named Ambition. So it was that as early as 6pm there was a pre-show warm-up with commentary, video interviews and most excitingly a 'Dark' Alternate Four Way Match to determine the 'reserve' entrant for the 16 Carat tournament.
The warm-up match pitted German talents Aaron Insane and Mike Schwarz against 'The Jewish Cannon' David Starr and the UK's own Tyler Bate. The match itself was a great starter, with some nice spots, hard-hitting action and great wrestling showmanship. As our partner for the night, the excellent Oli Sandler (read more about him here) said "That's how you do a pre-show match". The stand-out for us was the wonderful Tyler Bate. If you haven't seen him in person, you are missing out. Bate vs Galloway at Southside's 5th anniversary is a good starting point if you want to see why this man is gaining such a brilliant reputation at home and overseas.
The tournament proper started with the immense Zack Sabre Jr going toe-to-toe with wXw main-eventer (and Progress wrestling alumnus) Big Daddy Walter. The collision of styles here worked well and Sabre Jr's technical fluency is simply breath-taking. The pace didn't let up though and we were then treated to Evolve champion Timothy Thatcher going over Sasa Keel in a solid showing.
wXw balance their card carefully and the short match between Toni Storm and Leva Bates was well placed. Leva Bates is always great to watch in the ring, fun, engaging and talented. Toni Storm meanwhile has the name on everyone's lips. A talent from one of the major US companies recently told us they'd been hearing good things about Storm and its easy to see why. Storm, a regular on the UK scene - at Southside, IPW, Progress and more - is supremely talented. Like Tyler Bate, if you haven't bought a ticket to go see her its worth doing so before she's signed to NXT!
Back to the tournament and we were into the rest of the first round matches. Ilja Dragunov (a current wXw champion) defeated 'speedball' Mike Bailey in good offering. Their different styles complimented one another and Dragunov's puppet (to his puppeteer managed) gimmick is frankly brilliant. Next, Royal Ramblings favourite Will Ospreay had a stand-out match with Lucha Underground star Shane Strickland (Killshot). There was even time for a short dance break to get the crowd hyped. With jaws left wide open at some of the spots in the match, it's no surprise Ospreay has been signed to New Japan. He's already a worldwide superstar and his stock will continue to rise. Another international bout saw Angelico (with the best entrance music in the biz) defeat Trevor Lee and then in a great grappling match, Drew Galloway defeated Silas Young before Sami Callihan saw off a challenge from Kim Ray. From high-flying to hard-hitting these bouts delivered big. It made for a very exciting, crowd-engaging tournament and of course, set wXw ultra's into a frenzy wondering what the next two day's match-ups would bring.
The final bout of the night was an epic hall-wide brawl, as Germany's Axel Dieter Jr. faced the UK's Marty Scurll in an I Quit Match. Scurll, despite being a villain, is 'over huge' with the German fans and with so many from the full-throated crowd invested in the match it was impossible not to get excited about the outcome. Dieter Jr ended up the victor but (SPOILER ALERT) would end his tournament as runner-up to king of the indies, Zack Sabre Jr in the final round.
Over the course of nearly 4 hours, wXw put on some top quality entertainment. The atmosphere, the production value, the card, the talent and so much more had been carefully and thoughtfully weaved together to make for a great night. 16 Carat is named Europe's biggest and most famous wrestling tournament. Perhaps it ought to be called its greatest. Make sure you get there next year to see what all the fuss is about.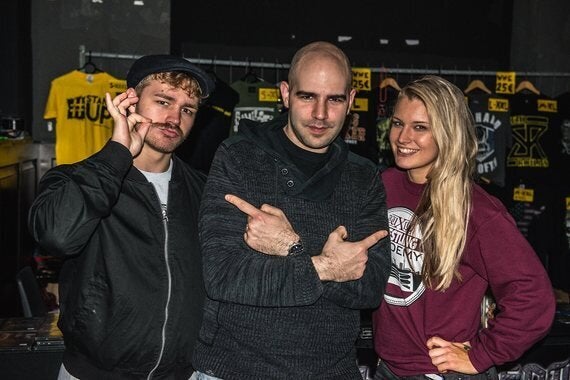 Royal Rambling's Danny Meets 16 Carat Stand-Outs Tyler Bate & Toni Storm
Credit: The Ringside Perspective