Insane Championship Wrestling is not just a wrestling company, it is a phenomenon. The promotion has taken over Scotland and is now slowly making its mark across the UK and beyond. Having had the opportunity to be to an ICW show, we can't recommend it strongly enough (and you can get tickets to their forthcoming events on 3 and 31 May in Glasgow here). Over the next few weeks, we'll be running some ICW specials, reviewing the show, talking about the company and perhaps most importantly, speaking with the talent that are continuing to help build it. Our first interview was with Chris Renfrew. A previous ICW 'wrestler of the year', a former ICW tag champion and a standing member of ICW's 'New Age Kliq', Renfrew is a most serious talent. Speaking exclusively to Royal Ramblings, Renfrew discussed the tour, ICW's future and more. In the words of ICW's millions, "here we, here we, here we f'n go..."
How was the ICW tour for you?
Brilliant! One of the best experiences of my life. Every crowd has been brilliant in their own separate ways, reacting differently but always loud - not a bad word to say about any of the audiences.
The recent tour was ICW's biggest to date. How has it helped the brand and you personally?
Well I actually work for Insane Championship Wrestling - that's on a level that apparently didn't exist in British wrestling beforehand. I work for an independent promotion in Scotland. That's pretty much the definition of achieving something personally, in my opinion. I now go to a job I aspired to do and I did it here. I was always wanting to create that, rather than say, go to America because I wasn't made for that. A lot of of us aren't. Apart from big Drew (Galloway) because he looks like a Disney prince! He's a bit different from us because he looks American but we're wee hobbit people! But seriously, it's created jobs for people in wrestling, so that's the dream.
ICW has a game coming out - is there a limit. What will ICW do next?
Well, the sky's the limit. The game in itself is pretty amazing. We had a mock game on the iphone that was absolutely terrible a few years ago but the screen shots we've been shown (for this game) are amazing. So if that was a success in its own right, you don't know what revenues could open up. People might just buy it for a wrestling game and it makes money in that sense but then you start getting exposure and people think "maybe I'll go check these guys out" but from there, who knows. Again, getting all the guys to work full time in wrestling would be the ideal job, doing shows up and down the country most weekends so the guys could earn a living wrestling in this country. That's the dream.
How strong do you consider British wrestling to be now?
I think it's the strongest it's been since its heyday. We'll never re-create that and get 80 million people tuning into to watch Haystacks and Big Daddy because there's so many entertainment revenues now. It's a very different world but we're definitely making enough noise that people are starting to pay attention to us.
There's so many promotions out there now, where do you place ICW?
In Britain, in fact in Europe I'd say, I think we are the top promotion because no one else is touring like us - everyone's kind of regional. We broke the mould because we decided that we want to be bigger. We don't want to just run a show in Glasgow every month. We want to break the mould and take over. If you look at the competition, WWE are in their own world and we're not stupid, theyre top dog and you shouldn't try and pick a fight with them as that would be ridiculous. But is TNA any better than us? We are drawing the same audiences they are on the house shows. I would say our product is better to watch and more entertaining for the fans. Obviously, we cater to the adult audience but I think the competition is TNA in general to be honest. I see us moving up to those levels.
So ICW will take over Europe?
Definitely. Once we take over Britain and are comfortable that we can run regularly and keep drawing good numbers that make money, europe's the next step. We don't want to get ahead of ourselves, Its all happened so fast and we have to stay grounded but Europe next, why not.
Could a TV deal be in the offing...
Well, why not? If you want to make money then you want to put us on TV. People are tuning in - we got big numbers for Insane Fight Club - the two documentaries that aired, so people are clearly interested in our product. TV's a big deal but it's changing. It might be streaming it might be Netflix. With all these subscription services, I think TV itself may change and that would really suit us because the internet provides a bit more freedom.
Passion and vision, Chris Renfrew has it and so do ICW - be sure to read our next instalment, coming soon.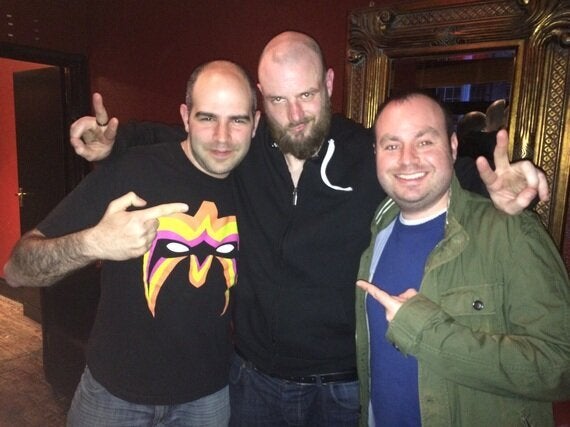 Related