If you've been to a wrestling show recently, chances are you've seen a fast-moving, bespectacled, fan-beloved and yet understated photo wizard at ringside shooting the talent. This man is Oli Sandler AKA The Ringside Perspective and he is the go-to guy for many key UK wrestling promotion's photography needs.
We sat with Oli to discuss how he became involved with British wrestling and what he believes are the secrets of his success.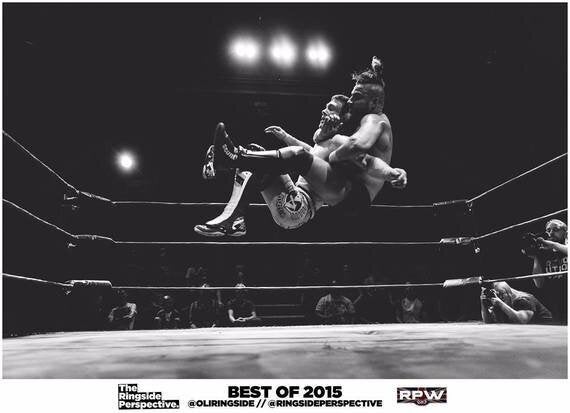 Above: Marty Scurll applies a mid-air Chicken Wing to Will Ospreay
The first thing that strikes you about Oli is how passionate he is, not just about what he does but wrestling in general. Perhaps it's because he started his wrestling relationship with a bang. "I was about 11 years old and in Canada with my parents. There was something on that they wanted to take me to - so I went to see what turned out to be Smackdown at the SkyDome!"
No fair-weather fan though, Oli had experience of all sides of the business from an early age. "Before I used to watch wrestling I played all the videogames including EWR, a text-based booking game on the computer" he said with a smile. Despite being a self-confessed childhood wrestling geek, it wasn't booking that had Oli hooked but rather "I was always into the stories" he told us. "People say they like the comic book side of it but not me. I liked that I never knew what was going to happen, it was so exciting".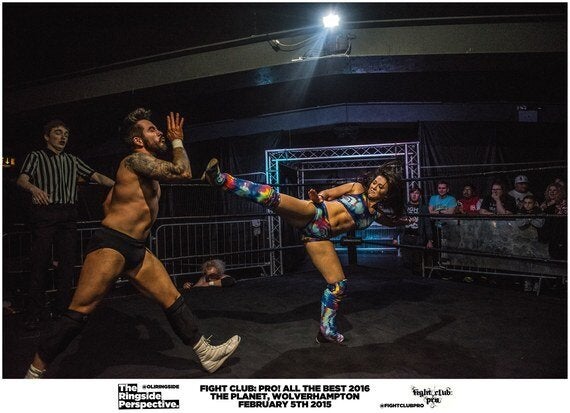 Above: Nixon Newell kicking some sense into her opponent
Although Oli is now a seasoned professional, his earliest foray into photography was not pre-planned. "I had failed two A-levels and had to find a third" he admitted. "I saw photography and thought, this is easy, I'll struggle along and see what happens". Luckily for Oli he "ended up discovering my talent for it" and it wasn't long before he started the professional track at university.
Oli's entry to the wrestling business was a bit bumpier though - quite literally. "I went to a training school that was near my house but I'm a failed wrestler like many people that work in wrestling" he explained. In spite of the bruises, Oli started taking photos for the promotion he trained with and then successive companies followed. Oli explained that through British legend Alex Shane, he met Dan Edler who runs IPW: UK. Dan and Oli struck up a partnership and a friendship and in the three years or so he's been shooting wrestling, he's barely missed a show.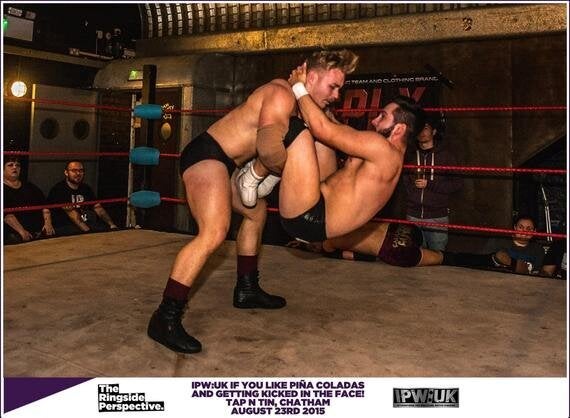 Above: Tyler Bate having a knees up
Reflecting on his success to date, Oli believes his to be a simple formula. "I just worked really hard on raising the quality of my photos and trying to better myself with every shot. I also tried to never undercut or upset anybody as I knew it wouldn't do me any favours".
Of course, it's not just Oli's business prowess or professional formula that has seen him hired repeatedly but rather the fact that he delivers great shots. Asked what makes a good wrestling photo, Oli is clear. "Telling the story in a captivating way. A wrestling photo often tells a story without needing any other photos or a caption to accompany it" he explains. It transpires there is little Oli won't do to get that perfect shot..."One of my favourite recent photos is at York Hall with Zack Sabre Jr for RevPro when he won the title. I knew the shot I wanted to get immediately. It's a big venue and it was packed. The match was finished, he'd taken up the microphone and I thought this is my chance. I ran, leapt over the barrier with 'super-human agility' (!) pushed my way through all the fans, outside, upstairs and back in again. I came onto the balcony and got this one amazing shot of Zack standing in the ring, holding the title above his head with all the fans pushing in close to the barriers trying to get close to him. For me, that's one of my favourite photos I've ever taken. I satisfied my artistic side, got the photo which I know the promotion loves and that fans love. It helps the business, it helps me, it helps the promotion, it helps Zack and it helps British wrestling and it shows that we're big and relevant. That for me, that's what is important".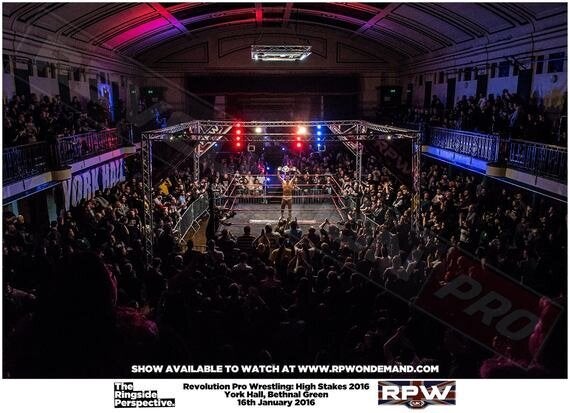 Above: Zack Sabre Jr is the champion
Taking these great wrestling stories and presenting them in digital form is quite the task for Oli. Given much of his income results from commercial restaurant work and that he rightly devotes time to his girlfriend much of his editing happens on the go. "I've had to spend a lot of time refining my work flow" he remarks. "I take approximately 2000 photos at a show which I edit down to as few as possible". Challenged on why he takes so many shots, Oli told us "anyone who says 'I just shoot less' they're missing the point. I find I have to shoot much more to get far less photos". Again, demonstrating his love of wrestling drama, Oli finished "It's not about capturing a move necessarily, it's about what's happening with that move. The emotions, the reactions, the facial expressions, the selling. It all builds a picture."
This expert perspective serves Oli well. Mobile phones have had little impact on his efforts "if my job was as easy as a guy with an iphone I wouldn't have a job to do" he said, continuing "you just have confidence in yourself and the work you're doing". Oli's confidence is growing and he's now building a network of trusted contacts and a business model which allows him to offer opportunities to others. He is careful to manage his professional reputation too. Of his unique wrestling branding he warns "If people crop my logo out or don't credit me when posting on social media I have a go at them. However Oli allows himself one reprieve from his sharp business approach. "I try to get people to share my work as much as possible, but I'm actually terrible at sharing my personal favourites! Because my standards are so high and I enjoy pretty much everything, if you ask me what my favourite shot is from a show I'll most likely not be able to answer you! Everyone I shoot is my friend and I don't enjoy picking favourites, I'm trying to give a bit more recognition where it's deserved. That's my aim for 2016".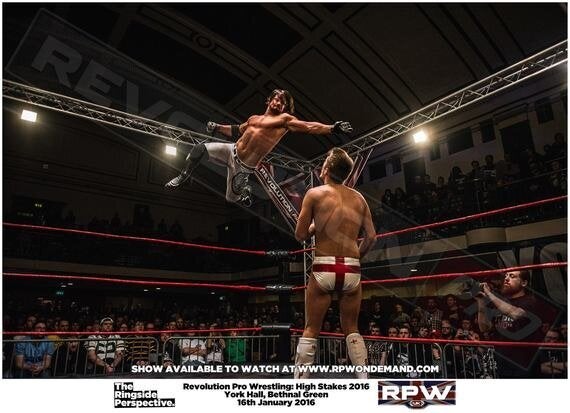 Above: AJ Styles aerial attack
It's not all business for Oli, who has some great stories too. Our favourite (and we won't do it justice) saw a discombobulated Oli arrive at Southside Wrestling just in time for Tatanka's entrance. "Tatanka kind of beckons me and says 'hey kid, come here baby'. Takes his headdress off, looks me dead in the eye and says, 'don't let it touch the floor, very bad if it touches the floor brother'. Tatanka's given me this thing in front of about 1000 people - I'm just staring at it, obviously like a deer in the headlights and my friend whispers in my ear "either wear it or put it on the stage, no-one's ever going to know or care"
Business, fun and creative integrity, Oli has the whole package. The question is where he goes next. "My end goal would be to work for WWE, of course" he says "but realistically to make a living just off wrestling photography. For the scene to be good enough that I could be paid a decent wage from each show. That's the goal". "I'd actually also like to be not just the guy for wrestling shows but who's called upon for the wrestling industry. Not just the ringside photographer even though that's my brand but things like I did with Rockstar Spud, for Starlight. I want to be the photographer that people go 'I need HIM in my business'. "I'm very passionate about it, clearly" he finishes.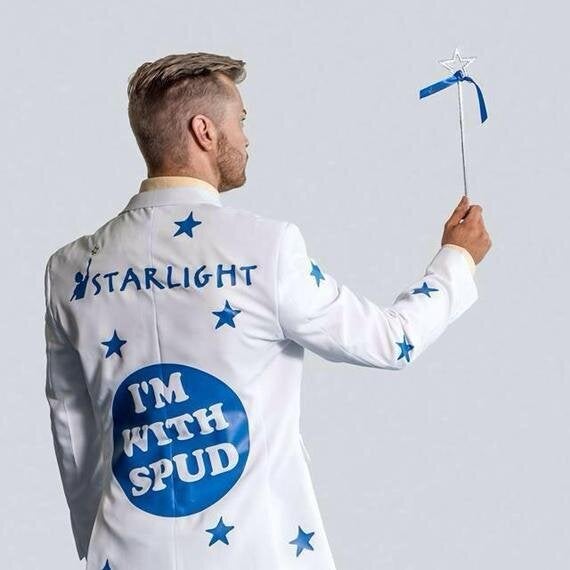 Rockstar Spud, Starlight Children's Foundation Ambassador
Passion and determination sum up Oli. Likeable and down to earth it's no surprise he's the darling of the UK Indie scene. If you haven't already found him online you can see Oli's work as The Ringside Perspective at Facebook.com/ringsideperspective, on Twitter @OliRingside and on Instagram @RingsidePerspective. All his photos are available as prints and if he's to make a living off wrestling events he'll need your help so get booking!
Related