"It was all a dream" begins Jay-Z's Hip-Hop classic but for Royal Ramblings, dreams have turned unexpectedly into reality and for one British Wrestler dreams may yet come true. Last month, we wrote an article in which we 'dream booked' the TNA UK tour and matched the best of British with stars of the TNA roster. Well, amazingly TNA head honcho Dixie Carter was reading:
TNA had previously promised this year's tour would be the most fan-friendly ever and the company is certainly making good on its word. The people have spoken and during TNA's IMPACT TV show it was announced that three top-tier British talents, all of whom featured in our dream booking post, will fight it out for the chance to appear on the forthcoming TNA UK jaunt. Fans can choose their favourite be it Jimmy Havoc, Will Ospreay or Big Damo by voting online here.
Big Damo, the 'Beast of Belfast', emerged from a tiny fishing village in Ireland but has been impressing fans and fellow wrestlers across the world (see our previous interview with him here) With a decade of experience behind him, Damo is an ICW mainstay and has even debuted for one of TNA's promotional nemeses. Speaking exclusively to Royal Ramblings, Damo was pulling no punches with his fighting talk. He told us: "I aim to be the first ever Irish person to compete in a TNA Impact Wrestling ring". "But make no mistake if you vote me in, I'm not going there just to compete...I'm going there to take over." It seems TNA talent have been put on notice! Anyone that has seen Damo live will know he doesn't disappoint. If you haven't, make sure to cast your vote for the big man pronto.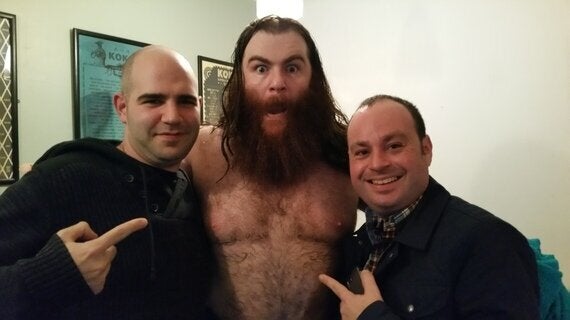 Above: Damo shortly before making sure Royal Ramblings vote for him
Will Ospreay featured in one of our earliest reviews of an independent show (IPW) in which we labelled him a "ball of energy". Ospreay is one of the best high-flyers in the UK and takes inspiration from among others TNA alumni, as he told us when we interviewed him.
Speaking exclusively to Royal Ramblings, Will was threatening to be so dangerous, the authorities would need to be involved. "Everywhere I go my sole mission is to leave with the police being bombarded with phone calls". "They'll say Will Ospreay just committed a crime and 99% of the time I'm guilty of stealing that show". "If you know what I've done in Ballrooms, church halls, school halls & in fields, what extent will I go to with thousands of people egging me on?" Well we at Royal Ramblings certainly want to know, perhaps we'll have to split our votes for Will and Damo.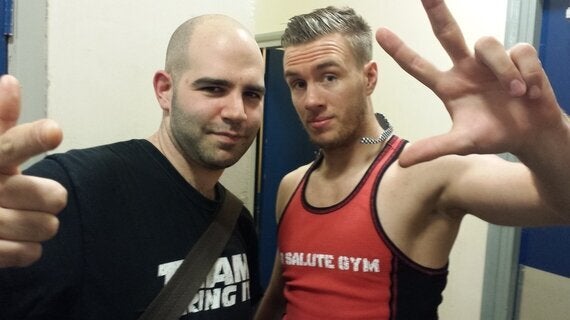 Above: Will Ospreay pitching to be your choice of the three
Last but not least in the TNA voting line up is the ubiquitous Jimmy Havoc. Nothing has changed since we first rightly described Havoc as a serious talent. For many, this man is the reason they will get a ticket to a show. Havoc previously told us that he started wrestling because he loved it and that he's exceeded his expectations. Last year he made the PWI list of the top 500 wrestlers, perhaps this year could see his TNA debut. There are, it would seem, no limits for Jimmy Havoc.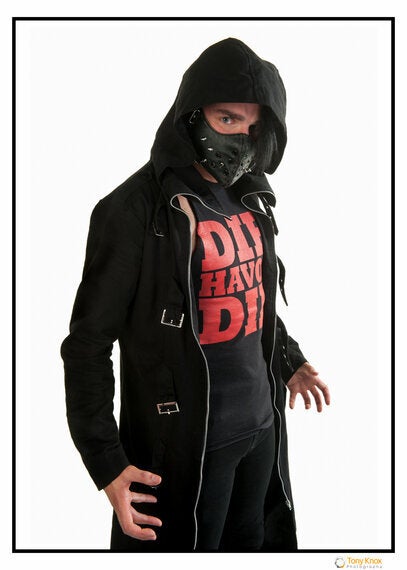 Above: The ever-menacing Jimmy Havoc as pictured by Tony Knox
Speaking exclusively to Royal Ramblings, Havoc was as dark, menacing and emphatic as ever: "Everywhere I wrestle, I make a statement. No matter what you see on a show, I guarantee that the one person you'll go home talking about is me. You put me in a TNA ring, it'll be no different".
Well with only the pair of us to vote, we're going to be recruiting friends and family to ensure we get a fair spread across these top three UK talents. Each and every one of them deserves to be booked and if we were to really see our dream-booking mission fulfilled, we'd love to see them all on the tour. Ultimately which one makes it is now down to you, our readers and other TNA fans. Make sure to vote online here and ensure you're there to see the winner debut by getting your tickets for the tour here!