The aspects of entertainment that wrestling does not reach are few and far between and so it should come as no surprise that the Edinburgh Fringe, the pinnacle of the comedy calendar, is not devoid of wrestling input this year. Running from the 5 - 29th August in and around Edinburgh Scotland, the Fringe will play host to some of the world's top comedians and other entertainers.
At the heart of the wrestling on show at the Fringe is of course the most impressive of UK independent promotions. The Scotland-based, world-eating and ever-impressive Insane Championship Wrestling (ICW). The company that has featured in no less than two BBC documentaries, that is soon to be broadcast across the world on i-PPV (check out the FITE TV App), that has run two national tours a year for the past few years and that has brought us stars like Drew Galloway, Noam Dar, Big Damo, Joe Coffey and more will be making its mark in Edinburgh.
ICW will present a comedy double bill (tickets here) at Studio 24. Running from 20:00 to 23:00 on 7 and 14 August this comedy extravaganza will be centered on Colt Cabana's hugely popular podcast Art of Wrestling. The stars of ICW will be bringing their improv comedy show Have I Got Chairshots For You and let us not forget that one of ICW's favourite sons is the incomparable professional comedian Billy Kirkwood. Don't forget that there's always more ICW to be had. If you love the show are a wrestling fan or are planning to be in Scotland, make sure to check the company's events page here and to get tickets to their massive 'Fear & Loathing' show in November with Mick Foley and Kurt Angle among all the huge ICW stars!

Independent wrestling legend, Colt Cabana, as many will know is the host of the longest running wrestler to wrestler podcast. For the 4th year in a row, he will be bringing 'The Art of Wrestling' show to the fringe for a Live podcast taping. Previous guests have included amongst others Steve Austin and Dean Ambrose. You can also read what Cabana had to say to Royal Ramblings when he granted us an audience at the fringe a few years ago.
Another excellent wrestling themed offering at the fringe comes by way of narrative sketch comedy duo Max and Ivan. Max as some might know, used to perform under the moniker 'Max Voltage' and has performed wrestling at the Fringe before. In 'Our Story' he and Ivan draw on the wrestling past to great comedic effect (tickets through their website here).
Ivan's take on an old school wrestling trainer (and Max as his beau) conjures images of the enigmatic Knight family. There is some wrestling prowess on show (you expect to be treated to a wristlock reversal) but best of all some well-designed audience participation. Max and Ivan are a wonderful comedy duo and you would do well to book tickets to their show which plays at the Pleasance Queen Dome throughout August at 8.20pm.
If one were to shout hoooooo!!!! at a passerby in the street, it might conceivably be received as a grotesque and misogynistic insult but not if you're a wrestling fan. No, you would instantly recognise the call of the one and only Hacksaw Jim Duggan. The man himself will be in Edinburgh for a short run of shows, giving a behind-the-scenes look at the crazy life of a pro-wrestling legend. Whilst non-wrestling fans will also be giving the show his signature thumbs-up there will be time for Q&A so wrestling geeks like us can ask anything they'd like. If you've watched Hacksaw in Legends House of the WWE Network you know this man is hugely entertaining outside the ring as well as inside of it. Hacksaw will be on from 4-7 August at 530pm at the Stand. Tickets are available here.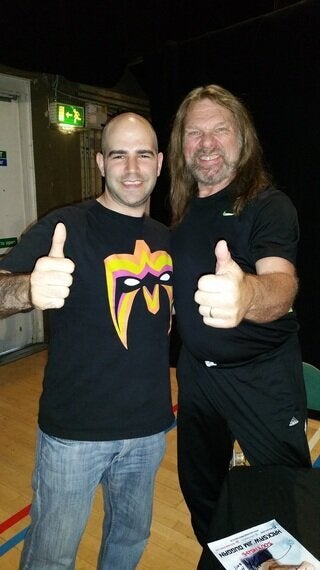 Above: RR with the Hacksaw himself
There is another show at the fringe but one we haven't any personal insight into. Darius Davies 'Road to Wrestlemania' is billed as "the true story of following your dreams and having them crushed along with your bones!" Davies reportedly weighing 10 stone at age 18 embarked on a career in wrestling. Training, steroid use and broken bones followed! Audience members are also promised a viewing of a cringeworthy Tough Enough audition tape! This free show in the Gothic room at 1815 throughout August looks like it will be a good romp for wrestling fans. Details of his show are here.
Our final pick for Edinburgh is the show which has been getting bigger and bigger each year. Colt Cabana is again at the helm with comedy partner Brendan Burns. The duo will sit and commentate on wrestling but not any old wrestling but bad, bad wrestling. Be it gimmick matches or sloppy action, Burns and Cabana won't hold their tongues in this assault on the worst ideas to have made it to the ring in the sports entertainment industry. At the Pleasance Theatre throughout August at 10.45pm, with the occasional surprise guest wrestler or comedian, this is not one to miss so get your tickets here
Popular in the Community