As WWE began their UK tour (tickets are available here), the Royal Ramblings team was fortunate enough to be granted some time with "The Celtic Warrior" Sheamus. Intelligent, passionate and determined, the superstar shared his thoughts on WWE's future and his hope that Wrestlemania might one day come to Dublin! Sheamus is one of the many superstars that fans can see in cities around the UK in the coming weeks.
We know you're a huge Liverpool FC fan, so you must be delighted Raw and Smackdown are being filmed in the city. What for you is special about the UK shows?
It's coming home. I'm from Ireland but the UK is where I started my career. It was in the UK where I gained most of my experience and got in the ring with people like Robbie Brookside, James Mason and others who had been wrestling for years. I also had my try-outs in the UK, in London and Manchester and elsewhere. So it's very special for me to come back here. It's close to being home - I'm not getting a chance to go to Ireland on this tour but the culture's very similar so it's great to be back.
We have tours and TV filmings but will we see a WWE Pay-Per-View event in the UK again?
I hope so, the only issue is the time difference. It wasn't an issue before but now there's the internet and results can get posted out. Once we've figured out how we're going deal with the time difference, I don't see why not. We had SummerSlam at Wembley in 1992 and I think it would be fantastic to do something like that again. A Wrestlemania would be unbelievable. I think it's the next step. Doing a 'mania outside the United States is the next step - somewhere like London would be amazing - or Dublin of course!
What's your best 'rib' story - a joke played on you or by you?
Well I know some guys pranked Steve Lewington (known in WWE as DJ Gabriel). They strapped his bike to the ceiling of the training facility and it took him forever to get it down, it was pretty funny because he took that bike everywhere he went.
You started out in WWE's training system, what would your advice be to stars in WWE's NXT programme about how to make it to top?
I'd tell them to have a lot of patience. You have to be patient. You don't come to WWE to be at FCW, which is where I started. You come to WWE to go to Raw or Smackdown. It can be monotonous though. You know you're there to get better and do shows but it can be like Groundhog Day sometimes, so you need a lot of patience and focus and to know why you're there.
The writers are doing a good job at NXT. A lot of the producers go down there, as does Triple H and so the talent gets to see them and knows they're being looked at directly. When I was at FCW, we didn't have that. All our matches were taped and sent up to the office but whether they watched them or not we don't know. I felt there was a huge disconnect at that time between the talent and the creative team but at NXT they can make the most of those people. I think there's a better chance for them to impress and it's clear that the information going back to the office isn't second hand -everybody who's involved gets to see first-hand how good the talent is and what the talent is doing.
So who should we look out for at NXT as a future WWE star?
Of the talent out there I think Finn Bailor (Fergal Devitt) will be a fantastic addition. I think Sami Zayn is on the cusp, Adrian Neville and also Becky Lynch (Rebecca Quin) - I think they're going to be tremendous talents. I know The Ascension have also been on the cusp for a while, I thought they would have debuted by now as they're very talented but there's a lot of talented guys there. It's unfair to say who will or who won't make it. I'm sure they'll all be given an opportunity and it's what they do with that opportunity that counts.
Would you like to see Intercontinental and United States Championship titles merged?
Yeah, I was hoping they'd be merged a couple of months back when we had a Pay-Per-View Battle Royal match. That would have been a good idea. I think you can easily make the titles more important by putting them in better storylines or highlighting them. The Intercontinental title has been highlighted a lot recently with Dolph Ziggler, he's been doing a great job. My issue was that I didn't get a chance to defend my US title enough. I was in a lot of six-man and non-title matches. I want to defend the title every week! That was my intention when I won the championship but it wasn't up to me. Now Rusev has it and hopefully he can take it and put some heat behind it.
You bravely refused to submit to Rusev. He seems rather dominant, can he be beaten? Will you have your vengeance?
I think every man will be beaten, it just depends on when and by who. I would definitely love another crack at him and I want to prove that I can beat him. I think given another opportunity I could but he's definitely a very formidable opponent. He's hungry, he's new and he's definitely trying to make an impression but I'd like another crack at him.
Triple H has recently joinedChris Nowinski's Sports Legacy Institute board, a charity which seeks to educate about concussions. You've suffered from a concussion in the past - how important is it that WWE is taking a lead in this area?
Dealing with concussions and the Wellness Policy is huge for everybody involved in WWE, from the management staff to the talent. Every year we do a baseline concussion test and if someone has a concussion in the ring or if they suspect you have one, you have to go and take the test. You won't be able to get back in the ring until you've passed the computer test and then an exertion test in the ring. So it's not a case of an immediate return if you have a concussion, it's not that at all. If you're concussed, every possible effort is made to ensure you're able to get back in the ring but are at 100% before doing so. We've had Chris Nowinski come and talk to us about the symptoms and effects of concussions in order to help to educate us. Whatever your knowledge base, you may not know you have a concussion, so we had a 2 hour educational seminar where he explained to us what to look out for.
We'll end with something different, which we asked of Jack Swagger. Can you give us your one word response to the following prompts:
Ultimate Warrior: Anomaly
If Sheamus is planning to reboot himself, fans of all ages will want to stay tuned to WWE. One thing is for certain, he won't be doing anything by halves.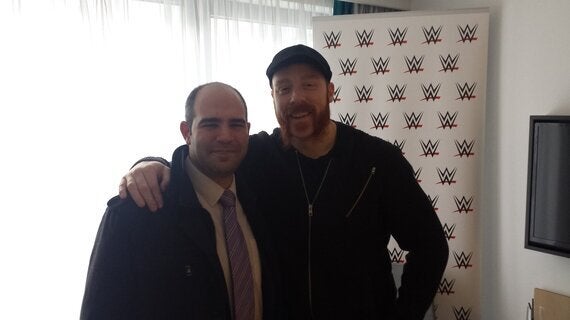 Popular in the Community