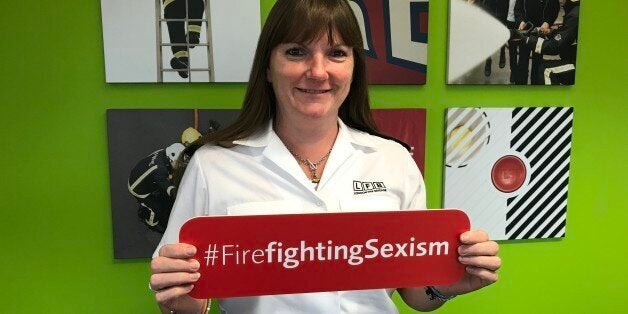 On Monday I was very honoured to win the Leadership Award at the Woman of the Year ceremony. To be in the room with so many inspirational and successful women from across all industries and professions was truly humbling.
It has been one of the most challenging years in London Fire Brigade's history and I accepted the award on behalf of all of my firefighters, control officers and fire and rescue staff who have worked so hard to protect the capital, many of whom are still coming to terms with what they have witnessed.
Monday's ceremony also gave me the opportunity to speak to the UK's first woman firefighter. Sister Mary-Joy Langdon joined the service in 1976 in a completely male dominated world and it was a pleasure to spend some time with her, especially on the day we launched our #FirefightingSexism campaign.
What we are asking for is simple, call us by the job title we've had since the late 1980s. That means stop using the word fireman and call us all firefighters. Using the correct term means you don't leave me or any of our 330 women firefighters behind.
When I arrived on my first day as a firefighter in 1988, the officer in charge told me that he didn't agree with women being in the fire service and that three men on the watch had already requested a transfer because they didn't want to work with a woman. As the only woman on my watch I felt I was being judged the entire time and was working twice as hard as the others because I wanted to prove them wrong. Nearly 30 years later, attitudes have changed but nowhere near enough.
Recently we launched our biggest recruitment campaign in six years and research shows us that women are still being put off a career in the fire service because it is seen as a job for men. Using the word 'firemen' to describe us all reinforces this. Children from an early age see Fireman Sam and it sows a seed that's difficult to change. If they changed his name to Firefighter Sam they would be bringing him into the 21st Century and help us move away from a predominately male and pale workforce.
It never occurred to me that it was unusual to join the fire service. I was a confident person. My parents were very level headed; there wasn't any stereotyping in my household. But I'm sure that's not the case everywhere in fact from some of the tweets I receive I know that's not the case.
Why should I and women firefighters across the country still have to see us being referred to as men in every newspaper, television advert, classroom and even official documents. Sometimes people say fireman to my face and when I politely correct them they usually sheepishly agree that it's an outdated term.
London is a complex and challenging city and it takes a diverse selection of skills, strengths and specialisms to protect it - qualities that both men and women possess. I want to shake off outdated language which we know is stopping young girls and women from considering this rewarding and professional career. If people keep using the word fireman it reinforces this lazy stereotype. Please join our #FirefightingSexism campaign and post your support on social media and please correct people politely that firemen are a thing of the past.
If firefighting now appeals to you please apply now, I can assure you that it is the best job in the world.