Fifteen years ago world leaders came together and set the target of halving global poverty by 2015. For children, this meant making vast strides on education, nutrition, and health.
Achievements since then have included millions more children surviving past their fifth birthdays, a huge reduction in the number of children dying of malnutrition, higher rates of enrolment in primary school, greater access to clean water, lower rates of extreme poverty and fewer children in danger.
The framework for these achievements were the eight Millennium Development Goals, set by world leaders, which helped drive tremendous progress for children, proving how much can be achieved by galvanizing global efforts around concrete, common goals.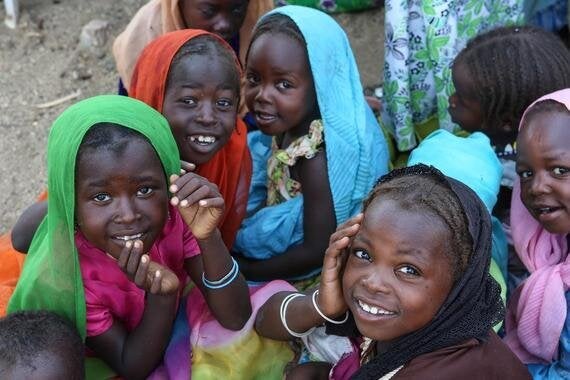 Girls smile during an outreach health session in their community
We can now look back and see that despite all these positives, millions of children have been left behind and the world must rise to challenge to reach every child in danger.
So even as we mark the successes, we cannot - and we must not - ignore the failures.
Unequal opportunities and unaddressed challenges have left millions of children living in poverty and danger, dying before they turn five, without schooling and suffering chronic malnutrition.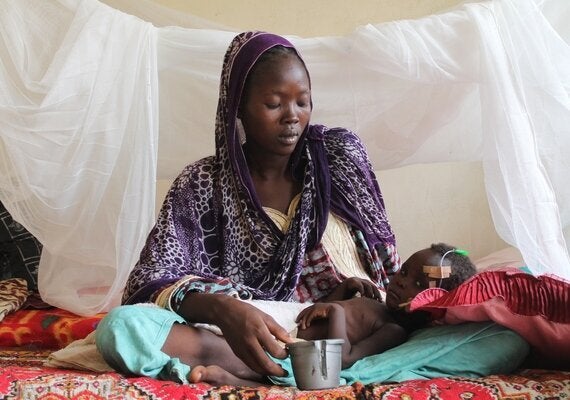 A young child begins treatment for malnutrition
The next set of global targets will be the Sustainable Development Goals, which will be committed to in September at the UN General Assembly.
These will set the development targets that we will work to over the next fifteen years. If we do not ensure a focus on the most disadvantaged and marginalised, the global community will yet again fail millions of children.
It is in countries like Chad that this is so vividly shown. Chad is one of the largest countries in Africa, but also one of the poorest. The country has had a troubled recent past, experiencing a devastating civil war and a recent influx of refugees that has put further strain on the already overburdened public services.
Chad faces considerable challenges: the country has the third highest rate of under-five mortality, with one in six children dying before their fifth birthday, mainly from preventable diseases and malnutrition; a girl in Chad is more likely to die during childbirth than attend secondary school; and only five percent of one-year-olds are fully vaccinated. Whilst progress has been made, much more needs to be done.
Unicef's work in Chad cuts across education, health, nutrition and child protection. For example, Unicef are supporting the Chadian Government with a project aimed at strengthening education for almost a million children. With the support of the Global Partnership for Education (GPE) and Educate A Child (EAC), Unicef is building almost 1,600 classrooms, using eco-friendly insulation materials that help keep indoor temperatures down - important in a country like Chad, where temperatures can reach 50ºC. Unicef is also constructing hundreds of boreholes and latrines, essential if we are to ensure that girls are to have equal access to school.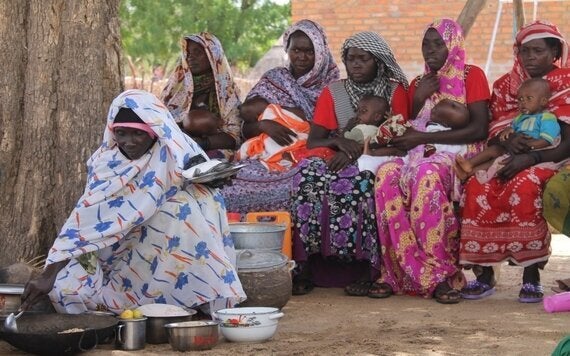 Mothers are taught cooking skills by Halime, who tragically lost a son to malnutrition
Unicef has also helped train a network of community health workers with basic medical skills, who live and work in often remote and hard to reach communities. The health workers act as the eyes and ears of the health services in villages and communities, and are responsible for a broad range of services, such as immunisation, giving health advice to mothers and pregnant women and identification and treatment for diseases such as pneumonia, diarrhoea and malaria.
Through projects such as these Unicef is working to improve the lives of Chadian children, but the truth is it is not enough. If the SDGs are to be a success, it is in countries like Chad we must ensure that we reach every child, especially the most disadvantaged and the hardest to reach.
But we must also ensure that we address issues that the MDGs failed to cover, such as violence against children. Children affected by violence remain some of the most marginalised, and are often the least likely to benefit from any wider progress that is made.
For too long, the world has tolerated widespread violence against children that leaves millions of children unsafe in their homes, schools and communities, presenting a significant barrier towards reaching overall development aims.
Chad, for example, has the third highest rate of child marriage in the world. Child marriage often compromises a girl's development by resulting in early pregnancy and social isolation, interrupting her schooling, limiting her opportunities for career and vocational advancement and placing her at increased risk of domestic violence.
The UK can play a leading role in making this happen - bringing together other countries, building political will, and implementing action plans to keep children safe at home and abroad.
The future of countries like Chad depend on us ensuring that the promises we make to the world's children in September are upheld, and that we fulfil our commitment to ensure that no child is left behind, no matter their circumstance.