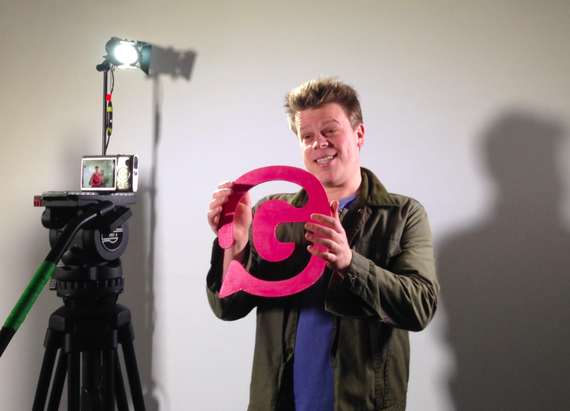 On Thursday last week I took the glorious 3 hour train ride from Kings Cross to Newcastle Central ready to greet a cosy room, in the 'Town Wall' packed full of friendly faces from the tech and investment scene in the North East for our 'Taking Givey to the Crowd' event! It was an awesome time to share our story with faces new and old recounting the war stories and successes alike that we have enjoyed along the way! This event along with 2 awesome articles in the FT and the Guardian in recent weeks has made me reflect on my Journey North.
I really didn't always feel this cheery about the North East though, believing the Southern dream that there is nothing decent north of the M25 you can imagine I was not best pleased when I rang Jon Bradford (@jd) from Techstars London more than 2 years ago and asked him if he knew of any cash available for our new start up and told me there was £100K up for grabs if I went to Newcastle and got accepted into Ignite100.com. I gulped and thought well if that's the deal then watch out geordie shore here I come!!!
Very quickly my misconceptions were blown out of the water meeting a small, accountable community of talented designers and developers hungry to work on interesting projects and make a name for themselves. It wasn't just talent I found but a whole ecosystem with leading events like @HerbKim's Thinking Digital and Paul Smith's forthcoming Campus North Tech Hub. A healthy ecosystem of investment from the European Regional Development Fund but also local business angels plowing time and cash back into the next generation of tech business in the region. I realised that this place is well positioned to patiently incubate some seriously ambitious projects that can go on to shape society and so I found myself the perfect pot from which to grow Givey!
Whilst the North East suffered a 10% unemployment rate in 2013 I believe the patient bets that grant makers and investors are making in the region, have the potential to transform the North East in just one generation with many businesses now coming through that have the scope to create hundreds if not thousands of roles for those coming out of the progressive University courses like Paul Richter's Innovation, Creativity and Entrepreneurship (ICE) program at Newcastle Business school, to keep hold of the ambitious talent they have nurtured and not experience the brain drain that so desperately damages a regions ability to develop.
I have watched this tech regeneration happen when I worked with Google in my early years as CEO of broadplace, watching, how over a 3 year period in my visits they filled their two towers in Dublin almost single handedly regenerating an economically defunct area in Dublin! I see it happening as we speak with Twitter being convinced by the city of SF to move their 2000 odd San Francisco bods into the run down area around their 1355 Market Street office rather than retreating to the Valley where all the Googles, Apples and even more recent successes like Evernote have rooted themselves for the sake of cost saving.
For me Newcastle has been nothing but honest, open, hard working and brimming with one simple word that ambitious ideas people need around them more than anything else......execution!!! There is one person who embodies this better than most, her name is @DiGates, originally introduced to me as a mentor of ignite100 our relationship grew steadily and now we are proud to say she is Givey's CMO and leading our UK operations. Di has continually lent her hard earned credibility in the North East to Givey which has led to the building of our fantastic team of @fuselagetown, @pootsbook and @marcqualie all of whom are respected leaders in their respective areas, Check them out! I am lucky that they chose to spend their time realising the Givey dream! Along with the support of investors, NorthStar's @drrichex and IP Group's @Nickedgar we raised $1m at the end of 2012 to build and launch Givey's unique Instant Matching platform for businesses to match employees giving!
The innovation friendly culture stretches to the investors as well, with our existing partners IP Group and Northstar Ventures pledging their continued support for our crowdfunding investment. This makes Givey the first business on the Crowdcube site to take VC investment before going to the crowd and then blend a round of VC and crowd cash! Once the VC investments get added to our total, our initial target of £500,000 will seem significantly de-risked to onlooking Angel investors. You can check out our progress here on Givey's Crowdfund
Now more than 2 years since I set out on my journey north we begin to turn our Givey Goggles to the West Coast of the USA in pursuit of a partnership with one of the worlds largest businesses to take Givey to global scale to achieve the cultural shift we are seeking in making giving part of all of our daily lives, I consider the North's role in our global Strategy. Was Newcastle just good to start or does it play an important role in Givey's future scaling?
I have thought long and hard about this and believe that our best quality product will be built out of the hard working, talented and honest community I have found and wish to continue to contribute to in the North of England.
I don't however believe that the North East should work alone! There needs to be a sense of partnership and symbiotic appreciation of what the SF mothership ecosystem has to offer, especially for the highest growth ambitious projects. I anticipate our Series A investment will be led by A West Coast VC with a US focused marketing strategy but with the bulk of the Engineering and Execution happening from the our growing team in Newcastle! I believe this to be the strongest, most effective strategy to help us achieve our vision and I am proud to be a part of a confident community that support me and the Givey vision, allowing it to blossom through encouraging us to take the best opportunities for investment and customer acquisition regardless of location.
If you are working on an ambitious idea, want to work with talented, honest people and then take your business to the world then I suggest you grab your coat (and hat), get on a train to Newcastle and ask @Paul_a_smith for a beer! He will tell you in no uncertain terms if it is he thinks Newcastle is the right place for you to plant your idea.