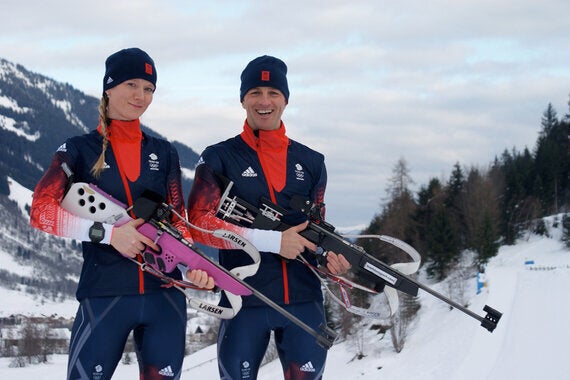 Photo: British Olympians and serving soldiers - Corporal Amanda Lightfoot is now without funding after the British Biathlon Team lost their sponsor. (Crown Copyright)
It's a strange contradiction of sport that it can both live in the past, basking in past glories, and at the same time forget events which took place as recently as February 2014. I refer, of course, to the Winter Olympics in Sochi.
The British have a strange relationship with winter sports. It's not really in our DNA. We're a mild, wet, island. We lack the necessary environment to create great Skiers of either the nordic or alpine persuasion. Over the years we've produced some world class figure skaters, but those days appear to be behind us. Skating can't even make it as a talent show anymore. Only once every four years do we lift our heads to become armchair expects in the rudiments of the four-man bob.
For a country which used to espouse the virtue of "It's not the winning that matters, but the taking part" now we demand return for our investment. No more Eddie the Eagle. Now the focus is on sports where we think we have the most opportunity to medal.
At the last games in Sochi our haul was 1 gold, 1 silver and 2 bronze. For this UK sport shelled out its biggest ever allocation of funding, £13 million. The largest portion going to Skeleton, which for the uninitiated is that sport where people chuck themselves down a long tube of ice on what appears to be a tea tray.
At £3.4 million Lizzy Arnold's Skeleton gold medal did not come cheap, but compared to Bobsleigh, which received £3.3 million and delivered no medals, it could appear a good investment. Curling received a whopping £2 million. Team Scotland was rebranded as Team GB and produced a silver in the mens and a bronze in the womens. It was also a favourite of the BBC who seemed to show little else but the frantic sweeping ice for hours on end, much to the amusement of some on Twitter.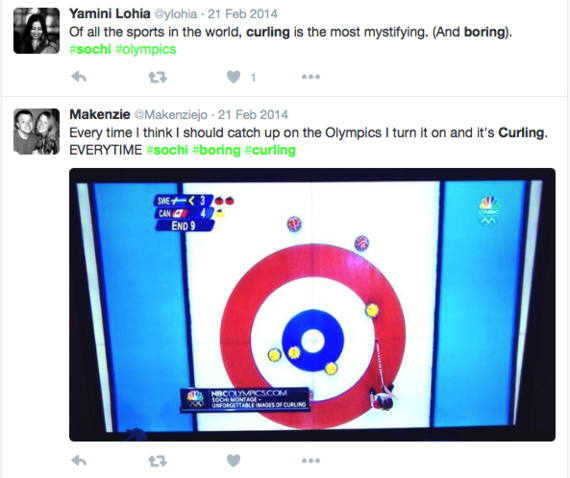 Speed-skating moves a lot faster, but despite funding of £2.6 million it produced no medals. And though they like to reminisce about 30-odd years ago in Sarajevo, Figure Skating received just £174,338 with predictably poor results. I dare say that come the 2034 Olympics we'll still be talking about the Bolero one night in Sarajevo...
Ski and Snowboarding are lumped together for funding. When you breakdown the £1.5 million it received amongst Alpine Skiing, Cross-country Skiing, Freestyle skiing, and both Freestyle and cross varieties of Snowboarding, it amounts not very much to support 21 athletes and their teams.
Jenny Jones' bronze in the women's slope-style was arguably the best value for money medal we've ever had. And Jones has been largely self-funded, working part-time jobs of such excitement as being a cardboard inspector just to get her shot at the Olympics.
For others there is no funding at all.
Biathlon is a wonderful sport.You would think it was tailor made for television. It combines the endurance of cross-country skiing with the skill and accuracy of an Olympic marksmanship. It is tough, one of the toughest sports out there, and it's exponents look like superheroes. Small wonder then that our biathletes tend to come from the ranks of those still serving in the British military.
Yet it is suffering from UK Sport's catch22 funding. Without medal hopes it receives no funding, yet without funding it can never seriously contend for medals.
And it has just got worse. A lot worse. With the loss of their main sponsor the British Biathlon Union won't be able to afford to send their biathletes to events outside of Europe. Which means that three of the nine vital World Cup events, those in Canada, the USA and Russia, will have no British representation. It's the equivalent of a Premiership football team not playing Southampton, Bournemouth and Norwich because they can't afford the coach fare, yet are still expected to be competitive in the league.
In a previous blog I featured the story of a remarkable biathlete, who in just four years became able to compete at the top level. Most biathletes start at 9, she started at 19, and yet she was good enough to make it all the way to the Olympics in Sochi.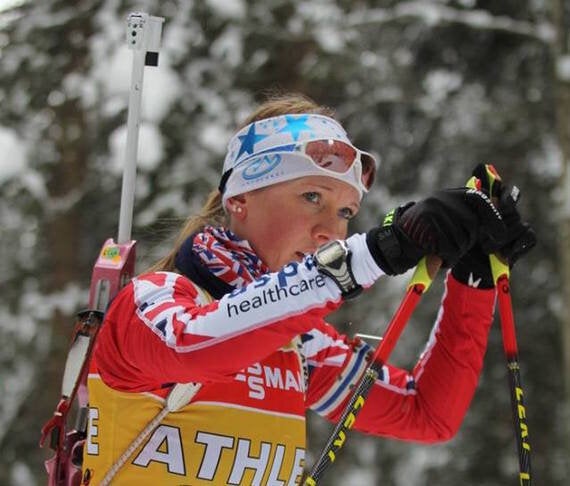 (photo: courtesy of Detlef Eckert)
A serving soldier, Amanda Lightfoot represents her country every single day of her life. Yet despite an encouraging summer in which she was a single shot away from a podium finish, she heads into this winter with great uncertainty. She's currently paying her own way, using the salary she earns serving our country to fund competing for it. Surely, that can't be right.
If anyone is interested in sponsoring her and her teammates they can contact info@britishbiathlon.com