It may not surprise you to know that Muhammad Ali was a huge influence on my career. I used to watch every Ali fight and documentary I could lay my hands on. Not only was he a phenomenal boxer, he is a moral person who has always stood up for what he believes in. Last week I launched a campaign for the great man to receive an Honorary Knighthood and the reception to the idea has been incredible. The petition is aiming for 25,000 signatures and in less than a week we've managed to get over 18,000. I'm very confident that soon we'll be able to reach the 100,000 that it requires to be discussed in Parliament.
You may be wondering why I've taken it upon myself to launch this petition and also asking why now? Well 'The Greatest' will be in the UK this week to open an exhibition at The O2 that celebrates his life and achievements. To have such a memorable event happening just round the corner from where I grew up will be very special for me. That is why I'm asking for people to recognise that such an inspirational figure deserves an Honorary Knighthood and will be fighting to make this happen.
Ali has a special relationship with the UK, having first visited in 1963 to defeat Henry Cooper. He returned in 1966 to beat Cooper once again, followed by his defeat of Brian London three months later. He has won the 'BBC Overseas Sports Personality of the Year' award three times, and his social influence resonated in the UK almost as much as it did in the USA.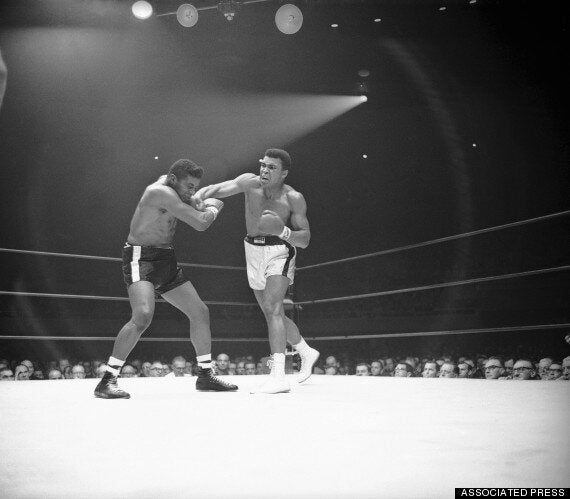 Ali is now 74 and it is highly likely this will be his last visit to the UK as he battles the Parkinson's disease that has debilitated him in recent years so now is the time to make this happen. This is a man who is one of the most recognised sports figures of the past 100 years, crowned Sportsman of the Century by Sports Illustrated and Sports Personality of the Century by the BBC, but Ali is so much more than just a boxer.
Everybody knows about Ali's abilities in the ring. His achievements throughout his career are undisputed. He remains the only three-time lineal world heavyweight champion, winning the title in 1964, 1974, and 1978. Ali's legend was cemented by several historic bouts, notably his first title against Sonny Liston, his trilogy with rival Joe Frazier and the 'Rumble in the Jungle' with George Foreman, where he regained the title he had been stripped of seven years earlier.
Although he was an incredible boxer, his insistence on fighting for his principles elevates him beyond all others. He sacrificed almost four years of his career during his prime because he refused to fight in the Vietnam War. At the time he was vilified but he stood firm despite losing his name, his livelihood, and people's respect. He became the villain but he didn't back down. He was a key figurehead in the black social revolution in the 1960s and his activity as a campaigner for civil rights is unrivalled by any other athlete. This proves his greatness not just in the ring, but outside of it as well.
Ali was a rebel and a showman who transcended sport, race, and nationality. He is without doubt the most socially significant athlete of all-time, if you ask anybody who Muhammad Ali is, they would know. Even in his old age he has raised an enormous amount of awareness for neurological diseases, such as Parkinson's from which he suffers. Throughout his life, he has supported a vast number of charities and causes raising huge sums of money, many of which you can see here.
Boris Johnson said this week: "From race relations to religious freedom, he fought tireless and principled struggles all his life. I can't think of a more fitting recipient of an honorary knighthood." Many other MPs have backed the campaign, and with the further support of notable figures such as Sir Bob Geldof, John Bishop and fellow boxer Anthony Joshua, I believe we can achieve this special recognition for someone who fully deserves the honour. Please pledge your support by signing the petition by visiting the campaign page at change.org here.
David Haye is a former World heavyweight champion and unified cruiserweight world champion. #HayeDay returns to The O2 on May 21, tickets are available on general sale now via AXS.com
Related