A flimsy pink sheath is laying across sand. It's dishevelled, presumably used for its creation, as inside at the tip-end, is the white gooey unguent.
I am not walking across a beach but there is sand, and the above description is indeed of a condom. A pink condom. A filled condom. And I'm about to eat it.
I'm in Hong Kong eating with Alvin Leung (the self-styled "Demon Chef") at his two Michelin star restaurant, Bo Innovation and "Sex on the Beach" is Alvin's signature dish, and it's about to hit London - that's if we don't run out of Durex.
Okay, so it's not a real condom, but a sweet edible creation made by dipping a cigar tube into a kappa and konjac mixture. Using a pipette, Alvin then squeezes a few drops of a honey and Yunnan ham mixture into the fuchsia-coloured prophylactic, which is then placed onto powdered shiitake mushrooms made to look like sand.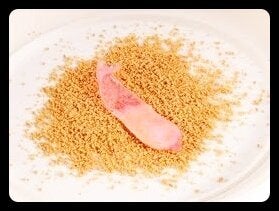 It's loony, a completely deranged idea, but it tastes good. Really, it does.
Alvin says it's all for a good cause, aiming to raise awareness of HIV and AIDS. It was initially unveiled at Identità Golose Milan in 2010, an international chef congress, however I first saw it a few months later at Identità Golose London where Alvin demonstrated the dish and challenged chefs in the audience to produce the plate themselves, donating all proceeds to charity. Priced at HK$68 (around £5.50) at Bo Innovation, the dish's proceeds go towards AIDS Concern in Hong Kong.
So, will London accept the edible condom? Will they get it? Is it proper and correct to serve at a dinner table? Bo London is due to open on Mill Street in Mayfair in late-September and Londoners will be able to judge for themselves.
Related