In this Rugby World Cup we have been left with the age old question, what is it about rugby union that accounts for so many injuries, causing squads to be depleted by casualties and therefore substantially affecting the plans of the coaching staff? And why has the Welsh team been at the forefront of this injury crisis?
One in four rugby players will be injured during a season, with rugby injury rates more than 3 times higher than in football. A lot of injuries occur in pre-season to prepare players for competition and indeed we have seen that, in the Wales squad, with injuries to Rhys Webb and Leigh Halfpenny in Wales' final warm-up game against Italy.
57% of injuries to players occur during matches, most frequently in the second half, whilst more than half of all injuries occur when a player is tackling or being tackled.
In rugby it is the equivalent of a collision between two immovable objects, two players running at speed into one another resulting in injury.
Perhaps the fact that it's a fast-paced, highly intense team sport also contributes to the risk factor of players getting injured; that players are willing to put themselves on the line for one another, willing to risk physical injury, maybe even permanent physical injury to stop the opposing side scoring a try.
Is it down to bad luck that Wales have experienced so many injuries in their backs? or is it the pre-season conditioning that has cost Wales, the intensive training which has led to over exertion in matches, resulting in injury?
You'd have to consider the latter. Four years ago, Wales' gruelling pre-World Cup training included sitting in cryotherapy 'ice' chambers for muscle conditioning to help combat risk of injury, but perhaps this year Gatland has pushed them further, conceivably beyond their limits in preparing for the World Cup.
Certainly we saw this in the England v Wales game, around the 66 minute mark. England were on the break and bearing down on the Wales line, but they were prevented from scoring by a series of last ditch tackles, namely from Dan Biggar, Liam Williams and Hallam Amos, the latter two both coming off with concussion and a muscle sprain respectively. Who can forget the image of Biggar and Williams lying on the turf face down, waiting for the medics to arrive? It has been somewhat symbolic of Wales' campaign so far and indeed of the home nations' World Cup, that injury crisis has been a forefront not only in the Welsh team but in rugby sporting news in general.
How do we get round this crisis? The late call ups of reinforcements, players ignored by the initial selection process have now been brought to the forefront of Gatland's plans. We see the return of James Hook to the Wales squad, an unconventional player, yet one who possesses great talent, perhaps talent that is still yet to be fulfilled.
Wales and indeed other nations are now reliant on these players to come to the fore, and step in the shoes of legends. Perhaps it is a good thing that The World Cup has allowed players to come in for injured ones, otherwise it is possible that due to the brutal nature of the sport, there may no longer be full strength squads facing up to each other.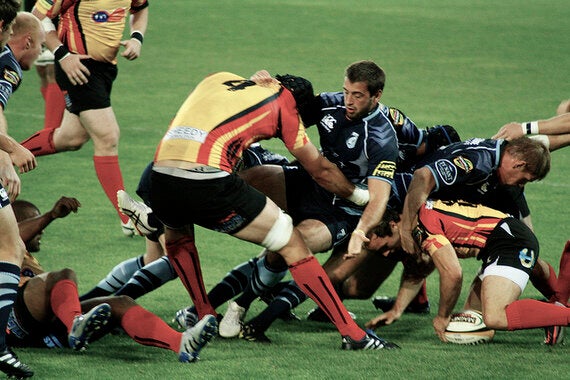 Image credit: Daniele Febei
Popular in the Community