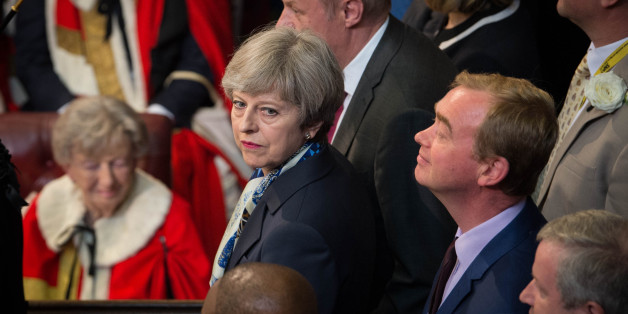 PA Wire/PA Images
This week marked the official State Opening of Parliament by the Queen. This was the Queen's 64th speech however this one was far from usual, with the new government on this occasion set to be propped up by the DUP. The Tories so often warned us about a coalition of chaos during the election campaign, but little did they expect to be talking about their own chaotic government.
Not even our Queen could be bothered to take her government's flimsy legislative proposal seriously. It seems to me that everyone seems to see the elephant in the room, but refuses to acknowledge it.
I was delighted to be re-elected as MP for Brent Central and like so many of my colleagues I was immensely proud to be trusted with an increased majority. This was such an important election and I am pleased that the country has sent Theresa May and the Conservatives a clear message; that they should have no blank cheque for their Brexit negotiations, and they cannot take people for granted.
Theresa May put her party before the country. She arrogantly expected to crush the opposition. I warned that irresponsibly holding this election would cost the public over £100m, and it has turned out that unfortunately I was right, in fact I underestimated the cost which is close to £130m. And this is at a time when the government continues to implement its damaging austerity measures.
Our leader Jeremy Corbyn recently said that elections often throw up results you may not expect. After all who can forget the "mic drop" moment at our first press conference, when Jeremy reminded the press that he was 200/1 to win the leadership election. Far from strong and stable, the scrutiny of this election has exposed Theresa May to be weak and wobbly, with no plan for the problems facing this country. The people wanted a positive vision and said no to a Tory majority, and no to a hard Brexit which threatens to damage our economy.
One of my heroes, Robert Nesta Marley, famously said "you can fool some people some time, but you can't fool all the people all the time" and I often reflect on this message when thinking about the result of this election. Theresa May and the Conservatives need to reflect on it too. As the PM travelled the country going to stage managed event after staged managed event, Tory ministers went into hiding and they all refused to talk to the public or answer questions from the media.
Well Theresa May and the Conservatives certainly did not fool the people of Brent Central with their attacks and negative politics. They've now learned the lesson not to take the public for granted. The Tories underestimated the people and the people, particularly the young, fought back. The people - especially those in Brent - instead wanted unity over division, hope over fear and policies over personal attacks.
I was so pleased to stand at the general election on a positive, progressive manifesto. A socialist manifesto which was for the many and not just the few. It was a proper Labour manifesto and I am sure that it will serve as a blueprint for the Labour Party for years to come. And I am confident that before long we will see a Labour government to implement this great agenda. After all, we need it.
Following the Queen's Speech it is important that the government sets out any agreement that it makes with the DUP. We have come too far on LGBT and women's rights to turn the clock back on hard-earned rights and the public deserves a firm commitment that they will not be rolled back. Equality is equality - one for all and all for one. Once you truly believe that you understand the struggle.
The Tory record in government is after all one of broken promises. Whether it is the introduction of the unfair Employment Tribunal Fees, its refusal to grant British Sign Language full legal status as given to other languages, or damaging economic policies which disproportionately impact on those from diverse backgrounds, this government continues to punish the most vulnerable in society.
That is why I am looking forward to getting to work in this new Parliament (no matter how short or long it lasts). I will be working closely with colleagues, both in my role as Shadow Minister for Diverse Communities, and also in forming global, progressive partnerships through the newly established Parliamentary Black Caucus, to scrutinise this government and provide a strong voice for those who feel ignored or unrepresented.
I have always believed that Labour on its worst day is better than the Conservatives on their best day. That is why we simply must keep hope alive. Now more than ever we must stand up to the Tories and that is what we, the Labour Party, will do. We are and always will be the party for the many and not the few.