Parenting advice can be overwhelming. Do's, don't's, best practices, things to avoid... advice from every direction... parenting tips overload.
Maybe one of the best forms of advice is to throw that baby manual right out of the window. Listen to advice given and if it's not right for you then take it with a grateful pinch of salt. Wing it, your own way.
We seem to forget the simplicity at times and overlook the fact that often the most basic of tips are usually the ones that are the best used. And once in awhile you will stumble over something that's been under your nose right the way along and you haven't even noticed the genius of it. A secret to parenting that revolutionises one of the most messy situations of babyhood... The vest tip.
It can very often mean the difference between battling a 'poonami' baby and making a nappy changing nightmare less of a mess.
It took me 5 children to discover the vest tip. That's ample poop messes that could have been avoided. And after posting the tip on my Facebook Page it seems that I was not alone in my lack of knowledge.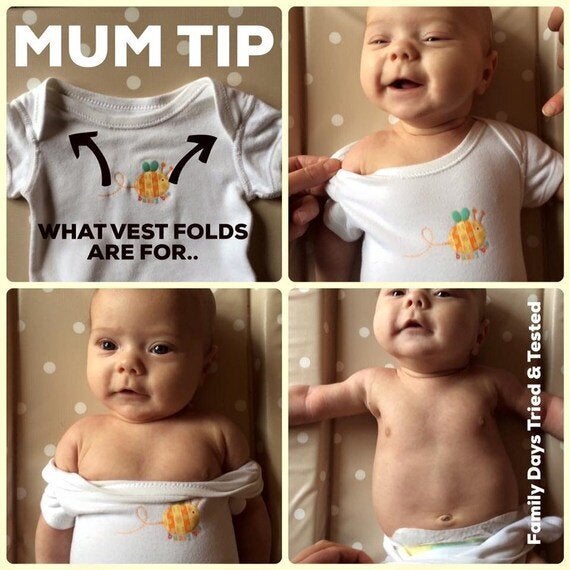 There really are a mountain of tips out there. Advice that will make your head spin, advice that seems overthought and really not helpful at all. So I asked everyday mums what they thought was the best advice they'd been given and the simplicity in their answers were surprising. Read the New Mums Tips here.
Mums don't want advice on sleep schedules or gadgets. They don't need elaborate thinking. Mums just want the basics. Tips that will help maintain their sanity, practical tips and the tried and tested ideas in the most teeny weeny of actions that sometimes are the most invaluable.
So, if I was to offer up one tip for new parents it would be this. Vests are a very well thought out design. They have folds in the neck to enable you to roll them down over the body. This avoids making a nappy explosion into an ear lobe poop covering disaster. The vest tip is both your saviour and your mess limiter. It's a little piece of genius that we often miss.
What works for one may not work for another... but the tip vest is possibly the most genius tip you'll ever come across.