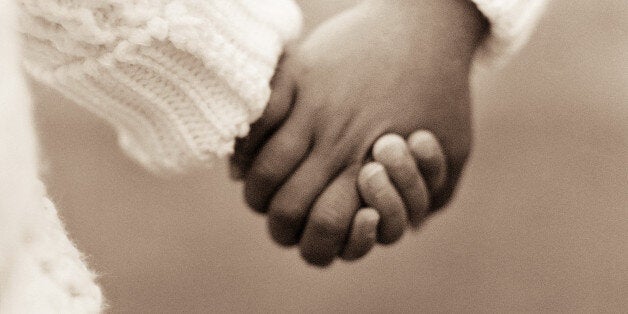 I've just finished supper with my toddler and it struck me that today was a lot like my path to adopting. Let me explain, I'd spent an age trying to decide what to cook, prepared it, presented it on a fun plate to make it look enticing, placed it in front of Bunny, and then waited and waited and waited, then a bite and it's spat out, another wait and she picks up a morsel wipes it around her high chair and then drops it, more waiting and a lot of talking, me trying not to be anxious and grumpy about the time its taking and then finally she takes a bite and it stays in and she smiles as she decides she likes it. Phew.
For me the path to adoption was very similar, it took two years and one week from the initial meeting until the first day of introductions. In honesty it felt so much longer and this was within the new speeded up adoption process.
The stage of weekly meetings with my social worker lasted 6 months and I was interrogated with more self-assessment questions, at times it was enlightening and other times intrusive. Do they really need to know about a relationship that was over 10 year ago and how can I really know what I'm going to say to fourteen year old Bunny if she one day refuses to go to school? How can anybody answer that in anything but the abstract when you have no experience of parenthood and haven't met the child who will be yours yet? Adopting has meant I have had to think about many possibilities before the child is much more than a very strong wish.
Looking back it feels that one of the few decisions that was mine to make was the agency I wanted to work with. As a single adopter I looked at a number of options. I went to a local authority open evening but nobody there sounded positive about single adopters and particularly prospective adopters over forty but they were keen to find black adopters. So with that in mind I kept looking and found The Adolescent and Children's Trust (TACT). Their open event was much more positive and being an older single adopter wasn't seen as an issue and TACT had other black adopters I could talk to, so my choice was made. After that so many of the decisions that were made were about me rather than by me.
Whether I could move from the self-assessment stage to the stage two assessment was down to my social worker and whether I was approved to adopt at all was down to a panel of nine people. Then there was matching and the waiting and the looking and the waiting. Now I can truly believe that the disappointments and rejections along the way led me to my Bunny but at the time it was hard. Despite the statistics of children and young people in the care system, and particularly very young black children, the number who can be placed for adoption is fewer than you would expect following a court case that has led to an increased number of Special Guardianship Orders. So I was in a competitive matching situation.
I got an initial home visit from some local authority social workers who seemed to have decided within minutes of meeting me that I wasn't who they were looking for, eventually citing my weight as an issue for choosing an alternative family. Another home visit and a social worker believing a couple would make better parents. Finally I was introduced to Bunny's profile and I was besotted, entranced and all in, but her social workers thought they had found a better cultural match. I was astounded and heartbroken, her birth parents and I were all born in the UK but our parents were born on different Caribbean islands.
This is where my TACT social worker came into her own, supporting me after this decision and for whatever reason, a month later, Bunny's social workers changed their minds and she phoned me to ask if I would still like to be considered, and without hesitation, I said yes. And no it didn't feel strange to only know my daughter from a two page profile and a couple of reports. It finally came down to a panel of ten people who got to decide if Bunny and I were a good match. They agreed we were indeed a good match. I knew it all along.
Related