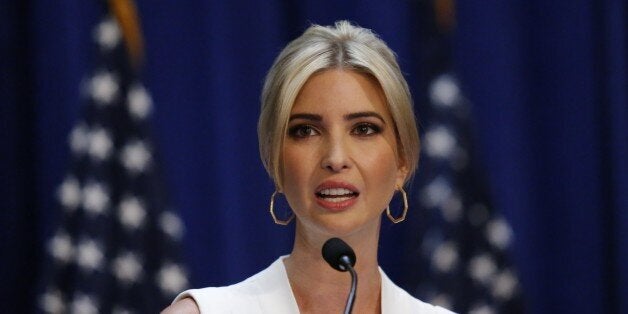 I'll admit that I am slightly obsessed by Ivanka Trump and the brand I can see her quietly building in the corner behind the all-singing, all-dancing circus that is Donald Trump. She is championing for women to be in charge of their own destiny (as her website would have you believe) and prides herself on speaking out for the rights of women. On her #WomenWhoWork page she says;
Our goal is to inspire and empower women to create the lives they want to lead. Through powerful, practical interviews on topics including career advice and skill building, style, personal finance, parenting, wellness and beauty, we're highlighting the incredible women around us who are working -hard-at all aspects of their lives.
She tells us she started this company for women who inspire her. From what I can see on her website video, those that inspire her are other women much like herself; powerful CEOs who can multitask and have it all. Although successful women (or men) have some important advantages not afforded to the majority of us; most notably in Ivanka's case, that of a good financial backing and some well-known family members. The Ivanka Trump brand is gaining momentum and I can't shift the feeling that most people just haven't noticed just how well she is doing it.
There's no way I could be the person I am today if my father was a sexist. I would not be one of his senior-most executives and I would not be working shoulder to shoulder with my brothers, I would be working for my brothers if at all. I think actions ultimately speak louder than words. My father has 40 years of history of employing women.
She defended the "labels" he has put on women, simply claiming, "You know what, he calls men some pretty rough names too". And that is a very dangerous thing to say. She utterly dismisses and his remarks as trivial banter when she likens it to what he says about men. Much like a domestic abuse victim who thinks their partner simply just gets carried away. This is a man who once said of her Ivanka's own mother, "I would never buy Ivana any decent jewels or pictures. Why give her negotiable assets?"
I don't really think CNN went far enough to question Ivanka. As someone proclaiming to be a feminist I would have liked to hear what she thought about her father's pro-life stance and the fact that he actually said, "there has to be some form of punishment". For abortion? Are you kidding me?!! When it comes to real world issues for women such as abortion rights, pay inequality, sexism, childcare to name but a few, Ivanka is notably silent and displays no obvious compassion to the needs of the vast majority of women.
OK, so the serious issues facing women in the US today are not the right to vote or the freedom to divorce but there are still some woeful inequalities that require real feminists to campaign for change. And much like in the suffrage movement, there are still women prepared to lose their lives in the fight to have the same rights and privileges as men.
Ivanka's #WomenWhoWork is in every sense a rose-tinted Trump version of feminism in which you can be a successful woman as long as you're beautiful and willing to clean up after the men when they do or say something stupid. Highlighted by her most recent blunder in which she (or rather her team) credited Emma Watson for a famous proverb by rabbinic sage Hillel the Elder. Something she should have been aware of, having converted to Orthodox Judaism. But what a perfect example of trying to appear meaningful to the world but underneath the suface completely lacking in any real substance.
Yes Ivanka, women work, that is a right we already have in most of the world. And while it never hurts to celebrate that, given her huge influence on a world stage, I think she could probably do with turning to page two in her 'Feminism for Dummies' book. Her particular brand of feminism is the equivalent of a Miss World offering her 'serious' bid for world peace. Sure it's something she probably wants but you wouldn't put her in the Joint Chiefs of Staff and give her the nuclear codes.