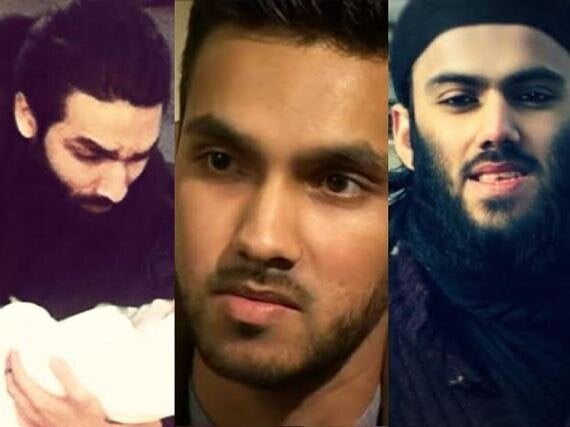 (Left to right: Tuhin, Mustakim and Ifthekar. Photo courtesy of 5Pillarz)
Ifthekar Jaman is arguably the most high-profile British jihadist to have died in Syria fighting with ISIS. I only became aware of his story weeks before his death when I found out that he was my wife's cousin. When the news of his death became public last December, it had shaken the quiet seaside city of Portsmouth, a place which had never been in the media spotlight for terrorism.
Whilst Portsmouth's Bangladeshi community are tripping over themselves in condemning ISIS and Muslims travelling to Syria, the character description I got from numerous Muslims who knew Ifthekar was totally different to the one that was being depicted in the media and by his own community leaders.
All the men I spoke to disagreed with Ifthekar's decision to travel to Syria, but testified that he was a kind and polite young man. He was never known to be a "Jack the lad" or someone who had no career prospects. Rather the image I got of Ifthekar was that of a responsible son, popular amongst his non-Muslim colleagues at the Sky call centre where he worked, and with the Muslim youth for his Islamic character.
Unsurprisingly, when I asked these individuals why they didn't want to be named and chose to keep quiet when Portsmouth was heaving with news crews after the Jaman family home was raided by counter-terrorism police last month, they said it was because they feared being labelled as "extremists", "ISIS supporters" or "terrorist sympathisers".
I first met Ifthekar's younger brother Mustakim and his parents at my engagement party in March at Fratton Park. At first glance, their mother, who is my aunt through marriage, reminded me of my own mother in manners and physical appearance. She spoke softly with me and referred to me as "footh", an affectionate term meaning "son" in Bengali. Their father, Enu Miah, was a simple man who didn't ask me the typical nosy questions many in-laws do, so immediately my impression of him was positive.
I didn't manage to converse with Mustakim properly that day because he arrived late and was one of the last guests to eat, and I was busy meeting other people. But my friends who accompanied me from Bedford met Mustakim, and gave condolences for the death of his brother Ifthekar. They all said "may Allah accept him as a shaheed (martyr)," which made Mustakim smile.
I stayed in touch with Mustakim after my engagement via social media, and we exchanged text messages to see how each other's family were keeping. Every time I visited their house, I was always warmly welcomed by his mother, who resembled my mother in the way she spoke to me and persisted on feeding me.
It was in June when I first spent time with Mustakim at his house. I asked him about the interview he did with the BBC Newsnight, and whether he really regarded all Shias to be non-Muslims, to which he responded "no". He explained how the BBC twisted his words by editing the clips. Mustakim also told me that he believed his house was "bugged" with surveillance equipment from a previous police raid in April.
We spoke about Syria and the numerous groups that were fighting on the ground, their ideological leaning and whether they were being used as pawns by external powers that were funding and arming them to serve their own interests. We also spoke about the Caliphate, and we had differences, not on the issue of its importance and necessity, but on the methodology of its re-establishment.
I would always text Mustakim when I visited Portsmouth. Their strong family bond reflected that of my own family, and it appeared it had only got stronger after Ifthekar's death. It was also true that their family had been isolated by the Bangladeshi community, including friends and family as they perceived Ifthekar to be the ring-leader who influenced the five young men that formed the "Britani Brigade Bangladeshi Bad Boys" to leave for Syria in October 2013. Despite these unsubstantiated rumours, I maintained my relationship with the Jamans with the full support of my wife, as I had never noticed any indication - physical or vocal - which suggested they supported terrorism.
I visited the Jamans' on the night of Eid ul-Fitr marking the end of Ramadan. His eldest and only sister, Tamannah, made us a cup of tea after I convinced their mother that I physically couldn't eat anymore samosas and biryani. On June 29th (which was also the first day of Ramadan), ISIS had announced the restoration of the Caliphate - so this was undoubtedly the main topic of our conversation.
We discussed whether ISIS - or as Mustakim referred to as "Dawlah" - qualified to be a Caliphate. We also discussed the manner in which Prophet Muhammad established the first Islamic State in Madina in 613AD, and we concurred that there was no use of violence or an armed insurrection to attain power. In the end, we both agreed to disagree and concluded the conversation with "Allah knows best".
My last visit to the Jamans' was on the second night of Eid ul-Adha. I went with my wife and it was a full house, all the brothers, son in law (Tamannah's husband), the parents and even baby Adam (Tamannah's son) were awake. The mood was naturally a joyous one as it was Eid. It was on that night I met the eldest of the brothers, Tuhin, for the first time. We spoke about Syria, ISIS, the Caliphate, Saudi Arabia, the Salafi movement, the Muslim Brotherhood, Hizb ut-Tahrir, Al Qaeda, Boko Haram, Gaza - there wasn't much we didn't speak about, and his position and outlook wasn't that different from Mustakim's. Their brother-in-law, who is a pharmacist by profession, joined us later and listened to our conversation attentively. I asked him, "So what are your views on all of this? Do you agree with your brother-in-laws?" And he replied, "I don't agree with them but they are my brothers...they're my family."
When it approached midnight we all sat down in the dining area and started feasting. Funnily enough, there was no talk of Syria, the Caliphate or anything political around the dinner table. We spoke about getting Tuhin married, I also made fun of Mustakim's red motorbike which I insisted was a "moped", and we spoke about why Asians have a phobia with dogs. I explained that there was a historical context behind the fear of dogs, and that was because the British kept dogs as hunting pets, sometimes to torture slaves and kill rebels in India, but Mustakim was adamant that dogs were "Islamophobic."
It was a night I'll remember. I liked Tuhin and their brother-in-law, and my last visit reassured me why I chose to maintain a relationship with the Jamans despite the community's negativity towards them. I had developed a brotherly relationship with the boys, I saw their mother as my own mother, and after my in-laws' house, the Jamans' was where I felt most at home when I visited Portsmouth.
On Tuesday 14 October, every single member of the Jaman household, excluding the youngest son, were arrested on Syria-related terrorism charges. Mother-of-one, Tamannah, who lived with her in-laws in Greenwich, South London, was also arrested. Upon hearing this news, my wife started crying.
We both couldn't believe that their elderly parents were arrested - they were released on police bail the next day. Tamannah was released without charge a week later. Mustakim appeared at Westminster Magistrates' Court on October 26th charged under section five of the Terrorism Act 2006. Tuhin appeared a few days earlier accused of planning to fight in Syria and was charged with terrorism offences. He is due to appear at the Old Bailey on 14 November.
On the arrest of their parents and sister, I can only say that this government and counter-terrorism officers have truly lost control of their moral compass, in the battle for hearts and minds in relation to Syria. While the government funds Muslim YouTubers to counter extremism, and covertly pressurises mosque leaders to condemn Muslims travelling to Syria, the family members of the deceased jihadists secretly mourn their sons, praying that they are accepted as martyrs.
I have stated in numerous articles and interviews that I unequivocally disagree with Muslims leaving the UK to fight in Syria. However, I am in no position to question the sincerity or the intentions of those who have decided to go. These young men and women have left the comforts of their lives in Britain to help the oppressed Syrians against a tyrannical regime. It will never be known for sure whether the deciding factors were religious, or the naive expectation of a glamourised 'jihadi paradise' - but I'm sure government friendly 'think tanks' will argue the case for the latter.